Event Information
Location
Multiple Locations ( See chart below)
Fairfield County, CT; Westchester County, NY, and Bronx, NY
Description
REACH PREP| Information Session for 4th Grade Families:
REACH Prep Admission is only open to 4th grade students. Learn about REACH Prep's free 12-year program and how to apply. Students and their parent(s)/guardian(s) are required to attend one session together in order to apply.
Please select ONE date below and click the green REGISTER button. RSVP is required due to limited capacity. We look forward to meeting you!
------------------------------------------------------------------------------
Sesión de información para estudiantes del CUARTO grado:
Familias con estudiantes en el 4to grado se pueden registrar para una sesión de información:
El primer paso en el proceso de admisión es asistir a una sesión de información. Aprenderá sobre los programas gratuitos de REACH Prep y recibirá una aplicación. Los estudiantes interesados deben de asistir con un padre o guardian. Por favor de elegir UNA sesión de información. Presione el botón verde (REGISTER) a la derecha y le llevará al registro. Sera un placer concocerles.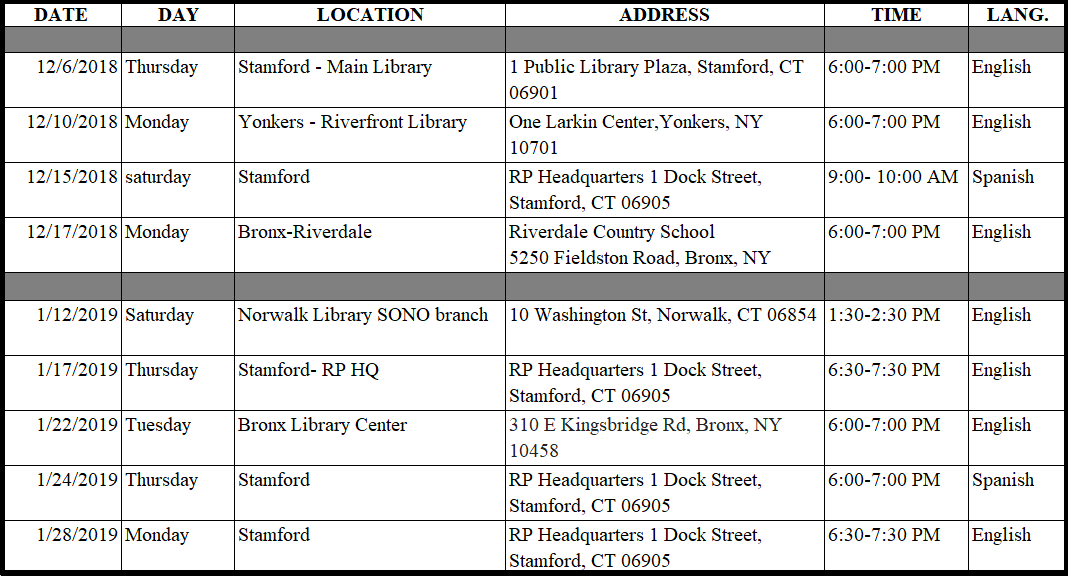 FAQs:
Do I need to fill out an inquiry form?
Yes, an inquiry form must be filled out before registering for an information session. If you have not filled this out please visit-----https://www.reachprep.org/inquiry-form.html
How can I contact the organizer with any questions?
Please email admission@reachprep.org or call 203-487-0750
Is registration required to attend an information session?
Yes, due to limited capacity please select one ticket per person.
Location
Multiple Locations ( See chart below)
Fairfield County, CT; Westchester County, NY, and Bronx, NY