Event Information
Location
Fairfield County, CT; Westchester County, NY, and Bronx, NY
Description
Admission Information Session Registration for 4th Grade Families
REACH Prep Admission is open to 4th grade students. Information Sessions are an opportunity to learn about REACH Prep's free 12-year program and the application process. Students and their parent(s)/guardian(s) are required to attend one session together in order to apply. The application to REACH Prep will be provided at each Information Session.
*Please ensure you have already submitted an Admission Inquiry Form (online or over the phone) before registering below.
Please select ONE date below and click the green REGISTER button. We look forward to meeting you!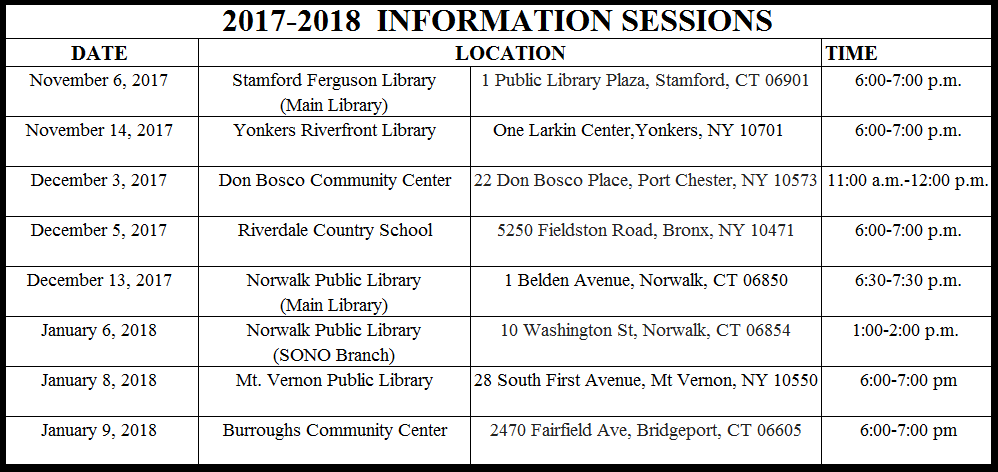 Registro para la Sesión de Información para Familias del 4to Grado:
La sesión de información es el primer paso. Es una oportunidad para aprender de REACH Prep's programa de 12-años y para hacer preguntas. Padres o guardianes deberan asistir con el estudiante es obligatorio. La aplicación tambien sera distribuido durante la sesion de información.
Porfavor de eligir UNA sesión de información arriba. La sesión de 3 de Diciembre sera en español. Presione el boton verde para el registro. Sera un placer conocerles!
Location
Fairfield County, CT; Westchester County, NY, and Bronx, NY