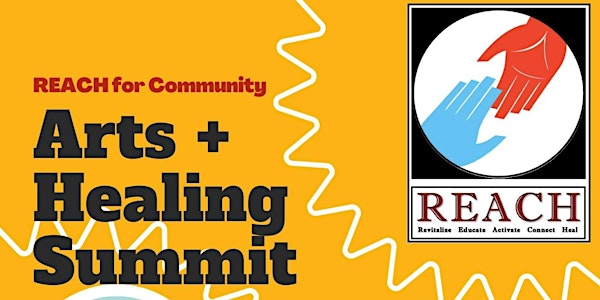 REACH for Community: Arts + Healing Summit
The REACH Arts + Healing Virtual Summit is here! Tune in for inspiring updates in the healing arts movement...then help us chart next steps.
About this event
REACH for Community is a new arts advocacy organization in LA County fighting to articulate and advance the field of "arts-based social work" -- starting with the power of the healing arts.
We're putting on a Virtual Summit on November 7th, co-hosted by our partners at Arts for LA, and would love your participation. This summit will bring together local and national leaders (Julie Baker, Bruce Lemon Jr., Sabra Williams) for an "in-the-trenches" movement organizing session on the healing arts.
We'll hear inspiring updates about ways communities have brought arts-based healing to the forefront of civic life...the places where doctors are literally prescribing the arts, and insurance companies and governments are funding the work! We'll look at what's happening in our region, then spend much of the time hearing from YOU.
This is a grassroots movement, and we need your leadership as we come together on strategies that can change the game for LA County, California and beyond.
Tune in Sunday, November 7th, 2-4pm.
Please help spread the word! This event is our nonprofit quite literally reaching for community. We know there are countless people out there who feel as passionately as we do about these humanist, empowering arts-based interventions, and we want to connect with you. Your support to assemble this community of leaders will make all the difference.
With gratitude,
Trevor Davis
REACH for Community