Description
For six Saturdays each January through March, sounds of laughter, shouts of praise and waves of applause can be heard both on and off the court in support of a group of young athletes, ages 6 to 22, who are having fun playing basketball with their peers.
Through weekly one-on-one connections with their volunteer partners, REACH participants are given a chance to
Develop gross motor skills
Enhance cognitive abilities
Practice socializing with peers and adults in a nurturing and supportive environment.
Join us! REACH Basketball's 2020 season begins Saturday, January 25. Space is limited. For more information, call (831) 372-2730.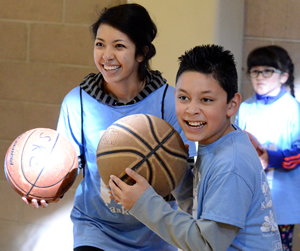 FAQs
What's the refund policy?
We are sorry, but NO refunds are available.
How do I avoid paying credit card processing fees?
Processing fees are an unavoidable consequence of the convenience of using a credit card. If you prefer to pay by check or cash, a paper copy of the registration form can be obtained by visiting www.SpecialKidsConnect.org or by calling (831) 372-2730.