Actions and Detail Panel
REACH Basketball 2017 - Saturdays in Seaside
Sat, Jan 21, 2017, 10:00 AM – Sat, Mar 4, 2017, 11:00 AM PST
Description
For six weekends each January through March, sounds of laughter, shouts of praise and waves of applause can be heard both on and off the court in support of a group of young athelete, ages 6 to 22, who are having fun playing basketball with their peers.
Through weekly one-on-one connections with their volunteer partners, REACH participants are given a chance to
Develop gross motor skills
Enhance cognitive abilities
Practice socializing with peers and adults in a nurturing and supportive environment.
Join us! REACH Basketball's 2017 season begins the weekend of January 21. Space is limited. For more information, call (831) 372-2730.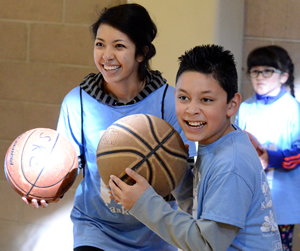 FAQs
What's the refund policy?
We are sorry, but NO refunds are available.
Are scholarships available?
A small number of needs-based partial scholarships are available. For more information, contact Special Kids Crusade at (831) 372-2730.
I am interested in registering for both the Seaside (Saturdays at 10 am at the Seaside Boys & Girls Club) and the Salinas (Sundays at 1:30 at the Salinas Community YMCA) programs. What is the cost to participate in both?
Great! We love to have our participants taking part in both of our programs. If you wish to register the same child for both programs, the cost is $95 and one t-shirt will be issued. Call (831) 372-2730 to complete the registration for both.