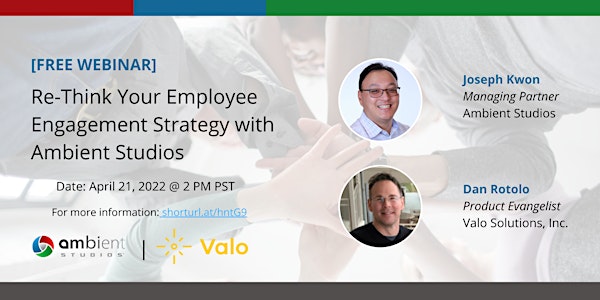 Re-Think Your Employee Engagement Strategy With Ambient Studios
Join us for an exciting webinar about how the "Great Resignation" could be affecting your company and its operation!
About this event
Established in 2012, Ambient Studios is a Microsoft Cloud Solutions & Engineering firm that was birth out of the desire to help businesses achieve more and do good through innovative, client-focused technology solutions.
Today, Ambient looks to partner with Corporate Communication, HR teams and business decision-makers to strategically and analytically drive employee engagement by leveraging various powerful software partners like Valo, tyGraph, Microsoft and more. Our featured partner of the webinar, Valo Solutions, is a forerunner in employee communications in Microsoft 365 and provides digital workplace solutions to help build a virtual workplace based on your employees needs. Communicate. Collaborate. Co-innovate. Consolidate with us!