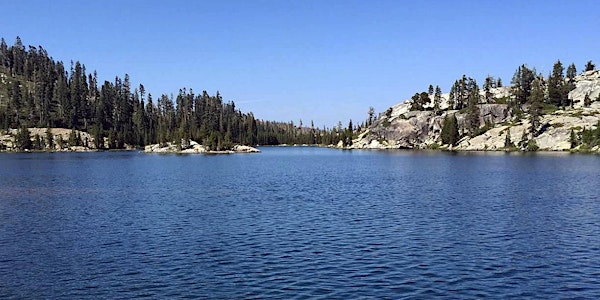 Re-Source and Rejuvenate Retreat
Imagine…Five days of support, connection, and communion in the beauty of the wilderness...
When and where
Location
Island Lake, Tahoe National Forest Carr Lake Road Nevada City, CA 95959
Refund Policy
Contact the organizer to request a refund.
Eventbrite's fee is nonrefundable.
About this event
Re–Source and Rejuvenate Retreat
Kickoff: Wednesday, July 21, 2021, 6:00–8:30pm Pacific Time, Westside Private Home (outdoors), address provided with registration
Retreat: Thursday, July 22, 6:00am–Monday, July 26, 3:00pm Pacific Time, Island Lake, Tahoe National Forest
Please Note: The 2021 Re-Source and Rejuvenate Retreat is SOLD OUT. If you are interested in taking a spot in case of a cancellation, please click the ticket link to be directed to our waitlist.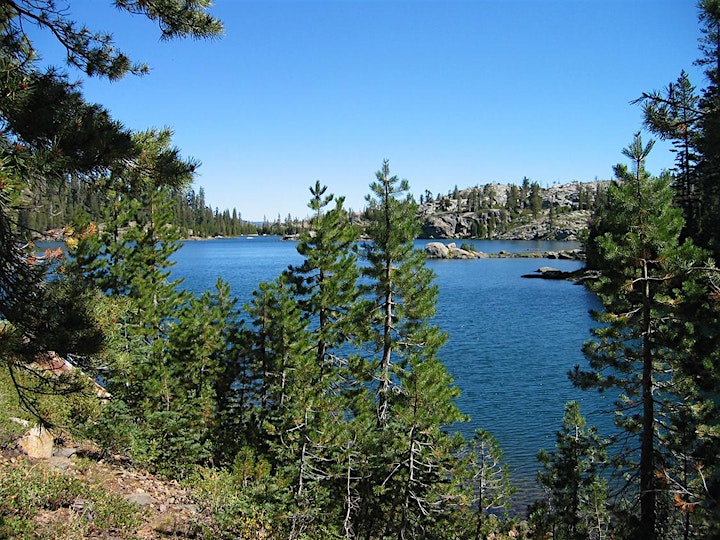 These are intense times, and you are feeling it!
If you care deeply about the world and its people, this may be a stressful time for you. Endless months of pandemic restrictions and losses, rancorous politics, continuing racial injustice, fires, floods, storms, and the wanton destruction of our Earth may be taking a toll on your well-being. You may be feeling alone, fearful about the health and safety of those you love, or just plain worn down by current events. Perhaps you have been coping well with everything that is going on but just feel like you need a break from it all. Or, you may be feeling so overwhelmed and hopeless that you fear you will lose your way.
Don't give up! The world needs you to express your magnificence, and radical self-care is a prerequisite.
It is possible to rekindle hope and ignite a refreshed sense of possibility. You can release stress and isolation and embrace connection and community. Peace and centeredness can deepen within you, and you can feel nourished and refreshed, even in these current crazy times. To make this shift requires that you get the support you need, that you are able to experience rejuvenation, and that you viscerally reconnect with wholeness and beauty in a context of encouragement and love.
This is why we created the Re-Source and Rejuvenate Retreat.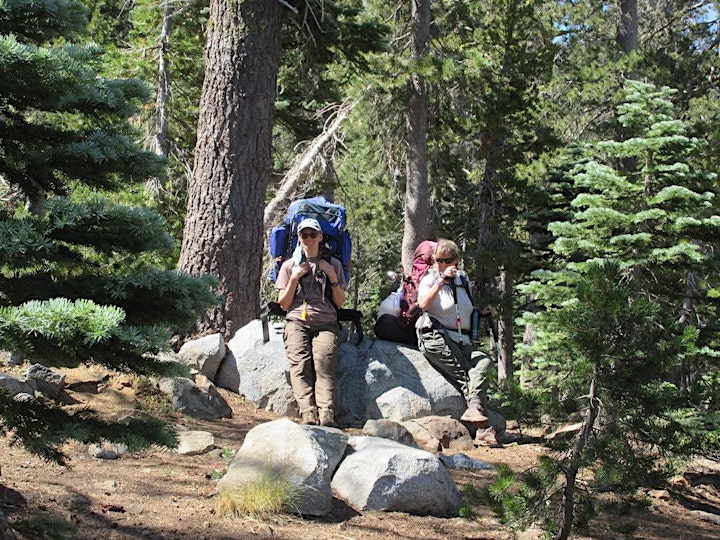 Yes, the times are stressful, but you are not alone.
Take a break from the tensions of living in our times, and get the support and rejuvenation you need to be your most centered, joyous, and restored self!
This trip filled very quickly in 2020 and had a waiting list. If you plan to come on the trip, get your tickets now to secure your spot.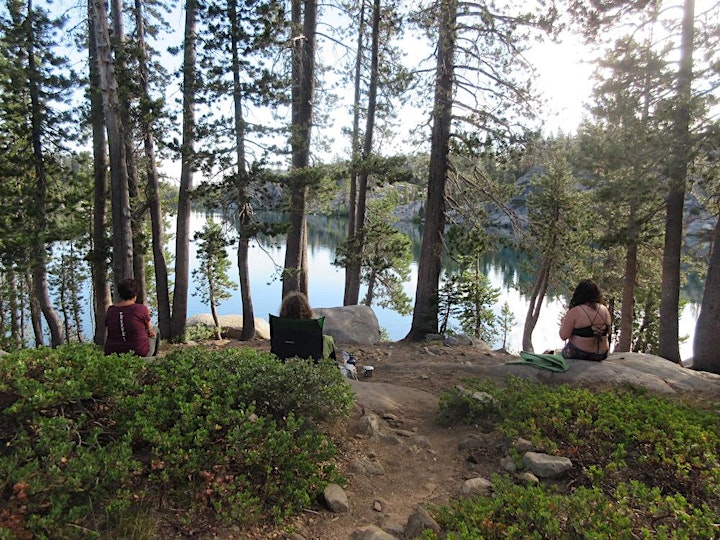 In this 5-day wilderness retreat, you will experience:
A pristine wilderness context in which to connect deeply with yourself, kindred spirits, the Earth, and the natural world
Rest, rejuvenation, fresh air, crisp water, and Earth-friendly gourmet backcountry meals and snacks
Freedom from distractions that draw you away from your clarity and well-being
An immersion in a powerful model of healthy and sustainable living in which we share our gifts and strengths to make sure that everyone can succeed—in short, together creating a microcosm of the world we want to have
Support to reconnect with your motivation, clarify your next steps, and sustain your commitment and passion upon your return home.
Through support with preparations and packing, powerful individual and group activities, and unstructured time in the beauty of nature, the Re-Source and Rejuvenate Retreat supports you to go from frayed and burnt to a joyful sense of inspiration and possibility.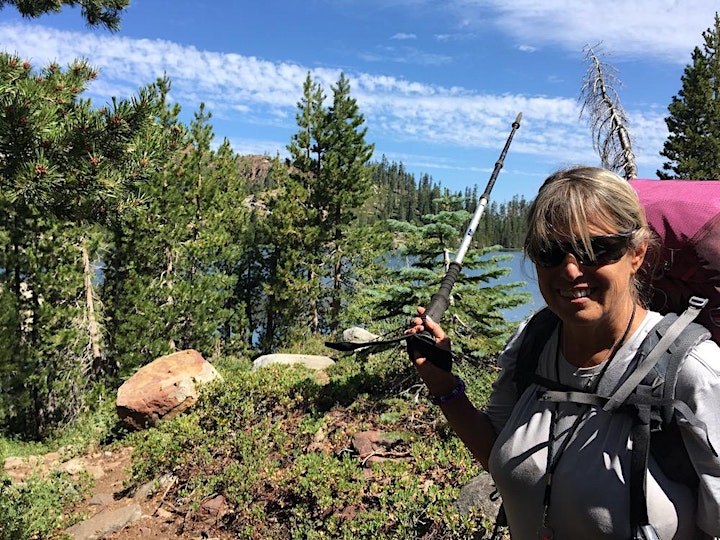 COVID-19 Protocols
We have extensively researched expert opinions about maintaining safety in outdoor group activities in the era of COVID-19. In order to protect the health and safety of all participants, we have adopted a set of protocols that will minimize our risk of exposure to the virus to the greatest extent possible. These include:
Limiting the group size to 10
Requiring all participants to commit to a minimum of 14 days of careful physical distancing in advance of the trip, and recommending testing shortly before the trip
Holding all activities, including the kickoff event, outdoors
Refunding fees if people are coughing or have a fever or are otherwise potentially infected with coronavirus and will therefore be unable to go
Traveling in separate vehicles
Wearing face coverings when in close proximity to others on the trip
Using touch-free wilderness hand washing stations
Requiring all participants to practice good hygiene
The full set of protocols will be provided to registrants in advance of the trip.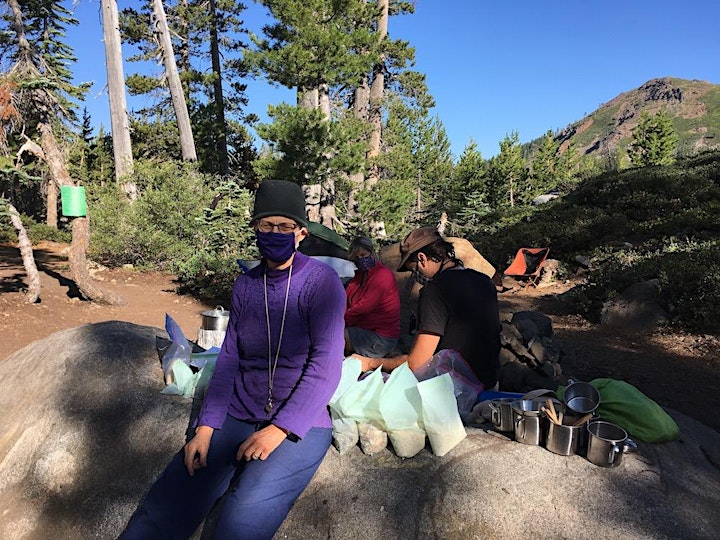 Endorsements
Beth and Golden's attention to detail, thorough planning and extensive knowledge of the Island Lake area set the foundation for the four delightful and fun backpacking trips that I participated in. I felt very safe and well supported by their leadership. It is a beautiful location. Debbie O'Connor., Capitola, CA
My experiences going to Island Lake with Beth & Golden Love as our leaders are some of the best memories of my life. My son and I loved it so much that we repeated the trip 5 times! They truly know how to co-create a safe container for a joyful & transformative experience in nature within a loving community space. They guide everyone in a peaceful journey with grace & ease. My son was only 2 years of age his first time on the trip! It was always a beautiful thing for us to be there with backpackers of all different ages & all levels of experience, all supporting each other, everyone bringing their special strengths & wisdoms to share with each other. We were empowered to work & play & relax & shine bright together! Thank you Beth & Golden for the magical moments that will live inside of me forever! Jorge Bru., Santa Cruz, CA
My retreat experience was terrific and I learned so much! The group leaders were caring and full of invaluable information and guidance. The food was soooooo delicious and nourishing! I would like to eat this way every day! I enjoyed being in a group setting that was in a beautiful location with an awesome community. I felt very supported as I am a novice backpacker. I needed a lot of support! The group leaders and community totally helped me every step of the way! I highly recommend this experience to anyone. The Loves were very available to prepare and support me on this journey! I felt totally blessed to be part of it. Thank you from the bottom of my heart!! Dawni Pappas
The retreat was great! Just what I needed to get away from the hustle and bustle and go deep with some sweet folks...we created a little community together...so Refreshing and THE LAKE ...so delicious...I look forward to it all year!! Emy Fehmi
Beth and Golden are amazing organizers, beautiful facilitators and the way they approached people with patience, compassion and respect is really an example of a peaceful and loving world I would like to live in. Ciro Alvino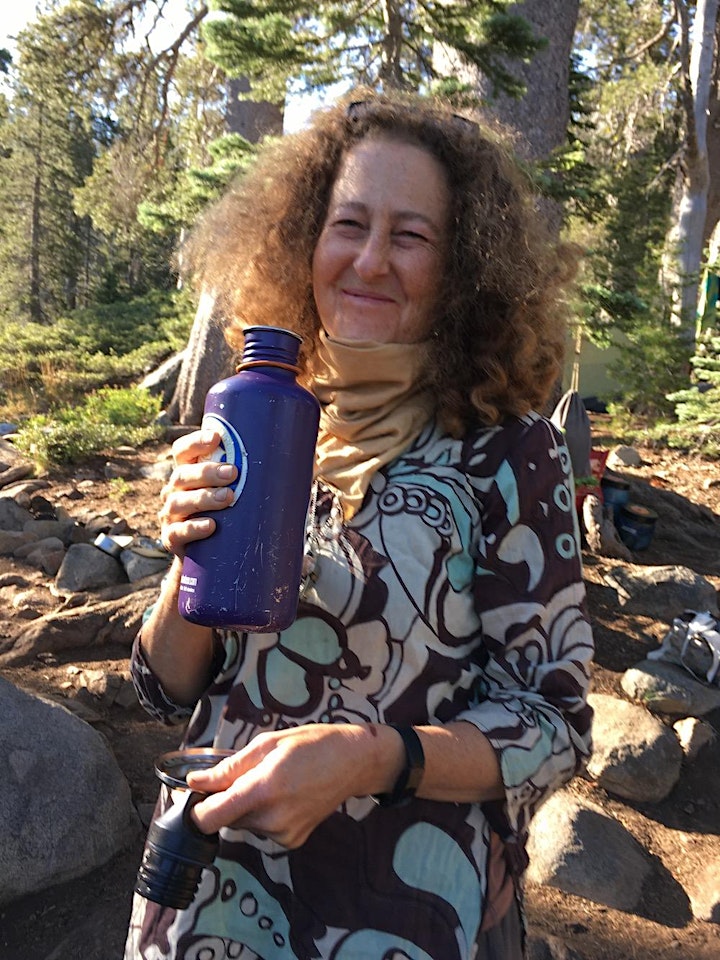 Retreat Logistics:
Pre-Retreat Preparation: Prior to the trip, your mentor will meet with you via videoconference to orient you to the retreat and help you with gear and other preparations.
Kickoff, Wednesday, July 21, 6:00–8:30pm Pacific Time: All participants will gather in the yard at The Love House on the Westside of Santa Cruz the evening before the retreat. Goals of the Kickoff include meeting everyone who will be on the trip, making group agreements, getting final packing support, and making sure preparations are complete to insure ease during our early morning departure on Thursday.
Retreat, Thursday, July 22–Monday, July 26: We will gather together at 6:00am Pacific Time on Thursday and depart shortly thereafter. With conscious cooperation during our travel to the wilderness, we will arrive at our beautiful lunch spot next to the Bear River on Bowman Road off State HWY 20. After lunch, we will drive to the Carr Lake trailhead, park our cars, and get ready for our hike. We will hike in to our base camp at Island Lake and set up camp. During our stay at Island Lake, there will be structured activities and plenty of free time to enjoy the wilderness, including taking day hikes to other lakes. We will hike out on the morning of July 26. After reaching the trailhead, we will drive back to the spot by the Bear River for our final meal together and our closing circle. People will be free to return to Santa Cruz after that, or to extend their adventure elsewhere!
Note about Meeting Spot for Departure: Since we will be taking separate vehicles, the July 22 gathering place will be determined when we know where everyone lives or is staying. We will caravan together from that spot. We regret the fact that taking multiple vehicles will have a larger impact on our Earth, but it is an important accommodation for the current situation.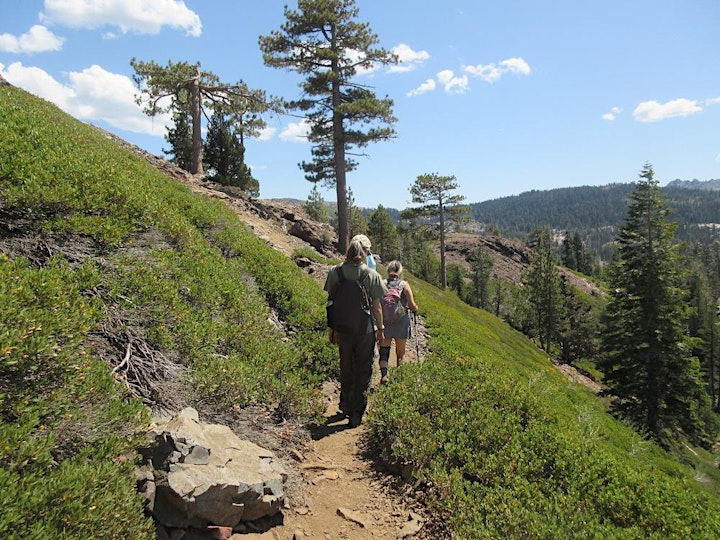 Additional Details
Who is the Re-Source and Rejuvenate Retreat for?
This retreat is open to the general public and all ages are welcome.
Backpacking experience is not required. The trail to base camp is only 1.8 miles long, and much of it is fairly level. While it is not wheelchair accessible, people who have the capacity to walk 1.8 miles with a pack will be able to make it to base camp.
The retreat is intended to be inclusive of people with a range of abilities and experience. We share our gifts and strengths to support the success of all. For example, those with greater wilderness skills and/or physical capacity support those with greater need in those areas; however everyone contributes to the group according to their abilities and interest.
Please Note: developing connections and being in community are crucial elements in the design of this retreat. Although there are opportunities for connecting in smaller groups, with one other person, or communing solely with nature, the retreat is intentionally designed as a community experience. If you are looking for an opportunity to get away and be by yourself or connect with only one special person, this trip would not be a good match for your interests.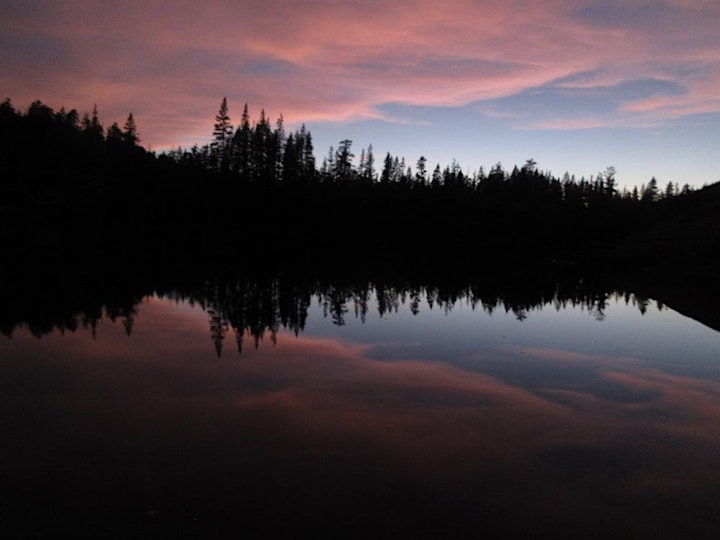 What is Included?
Retreat fees take care of almost all of your needs for this amazing experience. Here is what you will get:
Pre-retreat orientation, packing list, and technical support
5-day, 4-night wilderness retreat including all powerfully transformational activities
Organic, gourmet, Earth-friendly plant-based whole food: 13 meals plus snacks
All communal equipment (stoves, water filters, pots, latrine shovels, fuel, etc.)
Resources to support you post-retreat
Follow up after retreat
Personal Gear:
A packing list will be provided in advance of the trip. Because we are committed to success for all and the retreat is intended to be accessible for people with a wide range of physical capacities, it is crucial that together we can carry in the combined weight of all of our gear, food, clothing, etc. Therefore, tents, sleeping bags, pads, and other gear must be lightweight and all participants are asked to bring only what they need.
All participants will need hiking boots or sturdy walking shoes, a backpack, a sleeping bag and pad, and appropriate clothes (according to packing list). All participants will also need tent space. We have some packs, tents, sleeping bags, and pads to lend and can offer leads to rental outlets.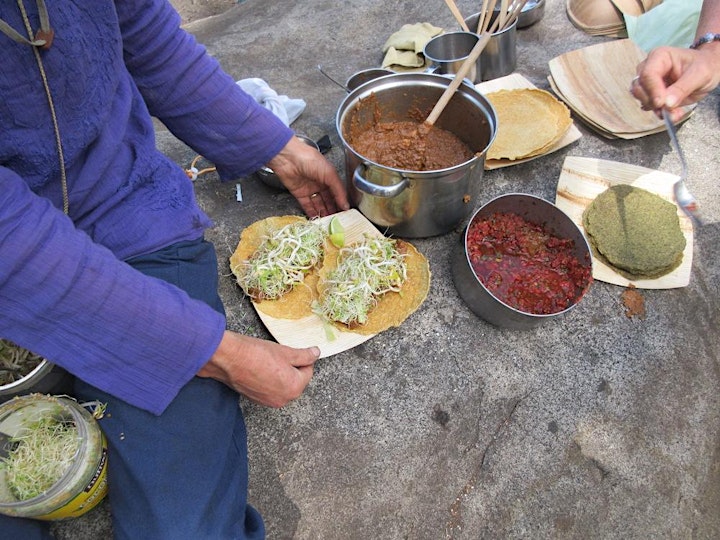 Retreat Fees
Backcountry retreats of similar length and features cost as much as $1000 per person or more. In order to make the Re-Source and Rejuvenate Retreat experience available to people with a wide range of income levels, we are keeping the fees very reasonable for everyone, utilizing a sliding scale, and providing a limited number of partial scholarships to support people with low incomes. The tickets are offered on a sliding scale basis utilizing the honor system. Please purchase the ticket that is commensurate with your means. If you have special circumstances, please contact us to discuss alternatives.
As remaining available tickets get low, there may not be a ticket that is a match for your circumstances. If this is the case, please contact us. If you want to secure a spot, purchase a ticket before contacting us, and we can help to change it to another ticket level.
If you need a scholarship to attend, please purchase the scholarship level ticket, then fill out a scholarship application form here. We encourage you to get your ticket and fill out the form early to increase your chances of getting a scholarship.
Cancellation/Refund Policies
If you decide to cancel your participation in the retreat, the following refund policies apply:
Cancellation requests up to June 21, 2021: Full refund, minus Eventbrite and payment processing fees.
Cancellation requests after June 21, 2021: If we are able to fill the space, full refund, minus Eventbrite and payment processing fees. If we are unable to fill the space, we will give a 50% refund for requests between June 22 and July 7. After that, no refund except in cases with significant extenuating circumstances.
Cancellations due to participant having COVID-19 or COVID-19 symptoms at the time of the retreat: full refund.
If we have to cancel the trip due to unforeseen factors (such as wildfire or closure of the National Forest, without being able to offer an alternative location), we will issue full refunds.
Retreat Leaders:
Golden and Rev. Beth Love have 49 years combined wilderness experience. They have led numerous successful community backpacking trips for groups as large as 30 people. They see themselves as stewards of the Earth and embody sustainability in the way they live their lives.
Beth and Golden are both gifted teachers, facilitators, and speakers. They have provided inspiration, healing tools, and a sense of possibility to people in many diverse contexts, including non-profit organizations, college classes, churches, and the state prison system. Beth is also an author and the founder of Eat for the Earth, an organization that makes it easier for people to eat more plants and less animal products to sustain all life on Earth. Golden owns a sustainable landscaping company specializing in rainwater and greywater installations.
Both Golden and Beth are New Thought practitioners of Higher Consciousness, and Beth is an ordained minister.