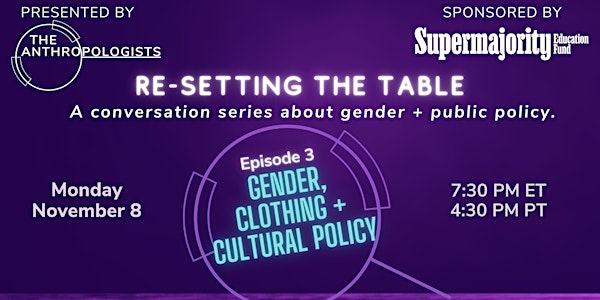 Re-Setting the Table: Gender, Clothing, and Cultural Policy
Join us for a conversation with Dr. Lisa Merrill as we untangle the history of clothing, gender, race & cultural policy both past & present.
About this event
Join Artistic Director Melissa Moschitto in a conversation with Dr. Lisa Merrill untangling the history of clothing, gender, race & cultural policy and the practice of policing non-gender conforming bodies in the 19th and 20th centuries. This will be a unique opportunity to go deeper into the lives of the historical figures portrayed in No Pants In Tucson, while highlighting the progress that still needs to be made to achieve true gender equality today. Additional guests to be announced.
Live ASL Interpretation provided by Inclusive Communication Services
About RE-SETTING THE TABLE // No Pants In Tucson
Re-Setting The Table is a conversation series that unites artists, activists and experts to engage in a rich dialogue about gender and public policy. This programming series, which is free to the public, runs in tandem with the World Premiere of No Pants In Tucson, a subversive new comedy dares to calculate the cost of gender oppression.
Our motto - "where art meets action" - conveys our commitment to providing avenues for activism and civic engagement, which we've done with over 25 partner organizations and experts since our founding in 2008. The Anthropologists' programming builds community and provokes conversation through live events.
About Dr. Lisa Merrill
Lisa Merrill, Ph.D. is Professor, Performance Studies, Rhetoric & Public Advocacy, in the Department of Writing Studies and Rhetoric. Professor Merrill is a performance and cultural historian, specializing in 19th century performances and social issues on stage and in the streets. She applies her research and publications about performance history and critical race and cultural studies, and spectatorship, to a range of cultural artifacts, artworks, and performances. At Hofstra she teaches courses in Performance History, Women's and LGBTQ studies, Performance Art, Nonverbal Communication, Performance and Healing, Visual Rhetoric, Gender and Intercultural Issues in Communication, Spectatorship, and others. She has staged historic performance re-enactments during all three Presidential Debates at Hofstra (2008, 2012, 2016).
Professor Merrill has published widely in the US and UK. She was awarded the Callaway Prize for her biography, When Romeo was a Woman: Charlotte Cushman and her Circle of Female Spectators (University of Michigan Press, 2000); the National Endowment for the Humanities fellowship in 2002, a Visiting Fellowship, Institute for Advanced Study, La Trobe University, Melbourne, Australia. In 2010-2011 Professor Merrill was awarded the Eccles Centre Visiting Professorship in North American Studies at the British Library for "Performing Race and Reading Antebellum American Bodies." In 2016 Professor Merrill was awarded the Brockett Prize for "Most Fitting Companions: Making Mixed Race Bodies Visible in Antebellum Public Spaces," Theatre Survey: Special Issue on Racial Hybridity, May 2015. She was Visiting Scholar at the Institute for Black Atlantic Research, UCLAN, England, 2016 and Spring 2021. Her essay "Amalgamation, Moral Geography and Slum Tourism': Irish and African Americans Sharing Space on the Streets and Stages of Antebellum NY," in Fionnhuala Sweeney, et al, eds. Ireland, Slavery, Anti-Slavery and Empire, Routledge, 2018.
Dr. Merrill's work on gender and performance includes her articles and book chapters "Homoerotic Desire and 19th Century Theatre Criticism," in Staging Desire and Appealing to the Passions: "Acting Like a Man," in Victorian Shakespeare.
In the UK Professor Merrill has recently delivered invited keynote lectures "Spectacularizing Black Bodies on 19th Century Stages," for the International Museum for the Study of Slavery, Liverpool, England, (June 2017), and the keynote lecture "Sounding Antislavery Voices in Antebellum Spaces," for the Revisiting the Black Atlantic Conference: Gender, Race, and Performance, University of Liverpool, (June 2019). Currently Prof. Merrill's work on Turner Prize-winning artist Lubaina Himid's "Memorial to Zong" is part of an exhibition at Lancaster Maritime Museum, and she is a contributor to the Tate Catalogue for Lubaina Himid's show at Tate Modern, London, November 2021.