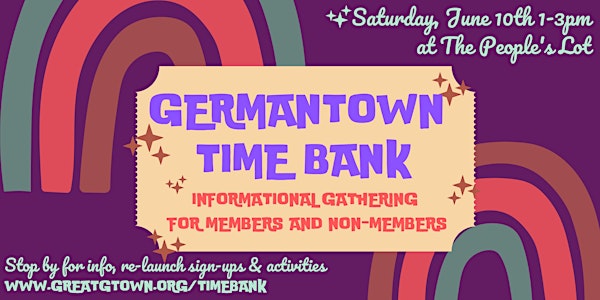 Re-Member-ing Germantown Time Bank
Help us kick off our upcoming relaunch!
By Germantown Residents for Economic Alternatives Together
Date and time
Monday, June 19 · 4 - 7pm EDT
Location
18 Church Ln 18 Church Lane Philadelphia, PA 19144
About this event
GREAT's time bank has about 100 members. In 2019, members were meeting at monthly potluck gatherings, and a website called Hourworld helped track and facilitate the exchanges.
At this time we are not pushing members to "do time banking." Our dear time bank was just getting started before COVID began, which really threw off momentum. The project became quite dormant, but it still has serious potential. Through the Spring and Summer of 2023, we are breathing life back into the time bank, looking for new leaders, and will Re-Launch in the Fall of 2023. The June 19th event is a big step toward the Re-Launch.
(this event was previously scheduled for June 10th)
The structure of this event will be mostly casual and unstructured. It's a chance to learn more about where we're at with this project, what kind of help is needed, and to talk to other folks in the time bank. There will be times where we gather up who's there and have a semi-facilitated conversation together (about what the time bank is, about why it's meaningful, how we are going forward), but otherwise, you can pop in and out, do your thing!
We warmly welcome sharing of food and beverages at this event. Please let us know if you can bring something to share; it doesn't matter how many people it would feed-- big / small, all is good!
GERMANTOWN TIME BANK
Help each other thrive and prosper.
A time bank is a "tool" that helps people in a community work together more like a village. Time bank members offer their skills, talents, and favors, and in exchange get to benefit from the skills, talents, and favors provided by other members.
Time-banking is an alternative to the money economy, a way to meet needs without spending money, and an alternative to capitalism.
We absolutely need help to make this project go!
(not an exaggeration)
Volunteers can sign up for:
June 19th event support (before and during), one-time support after the event, as well as more ongoing leadership roles.
The sign-up form is online, so if you don't see the emails with that, please text 734-250-2218 or email gtowntimebank@gmail.com.