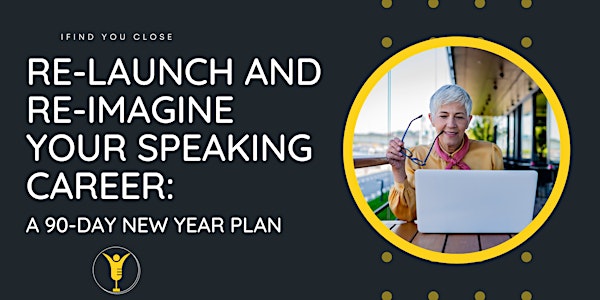 Re-Launch and Re-Imagine Your Speaking Career: A 90-Day New Year Plan
Autumn Workshop Speaker Series. Hosted by iFind You Close. Members attend for FREE.
About this event
Ready to Re-Imagine Your Speaking Career for the New Year?
Getting on stage is more than dreams, goals and milestones... it's about taking effective action. Instead of wishing you had more from your speaking career, learn exactly what you need to get on yourself on more stages in 2022. In this session, we will go beyond the goals of "just getting on stage," to creating an action plan that will revitalize your website, put emphasis on your credibility, and re-launch your message to reach the masses. Walk away with:
1. A step-by-step 90 day plan to get your speaking career back on track
2. Doable milestones that will have you landing speaking gigs sooner rather than later
3. The systems you need to keep business running and gigs being booked
4. A plan of action to showcase credibility and knowledge when marketing as a speaker
5. How to restructure your target audience to get a 'YES' from the speaker coordinators who have them
Join iFind You Close and Get Access to the Entire Summer Workshop Series for FREE
Weekly workshops through out July and August covering getting on stage, making money and managing a business as a speaker.
UPGRADE and get speaking opportunities delivered to you weekly.
With your upgraded access, enjoy quality, researched speaking leads and opportunities delivered weekly for you to pitch. No hassles. No contract. Cancel anytime.
Get instant access to event details such as target industry, topics wanted and compensation availability
Enjoy extensive resources on the best ways to land more speaking gigs, workshops on pitching and upgrading your career for virtual events
Gain access to all upcoming, and archived, office hours videos to stay up to date on the speaking industry and what to expect on and off stage