Re-Inhabiting the Village

Saturday, November 9, 2013 at 10:00 AM

-

Sunday, November 10, 2013 at 12:00 AM (PST)
Event Details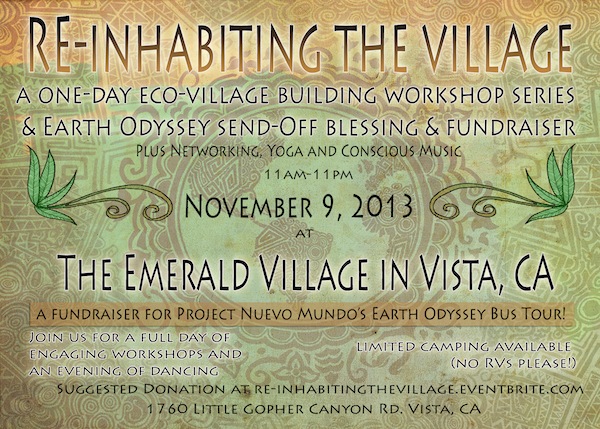 Gather for a 1-day workshop series on living sustainably and building community while blessing and sending-off the Earth Odyssey team. This will be a day of gaining skills, local resources and knowledge to learn how to build sustainable communities. The venue is a beautiful 9-acre EcoVillage called Emerald Village. You will get the chance to spend time at a fully-functioning village, learn and connect with the founders and end the evening with networking, dancing & drinks.


*This event will help to fun(d) Project Nuevo Mundo's Earth Odyssey, a 4-month bus mission beginning at Emerald Village to Central America with 20 experts in sustainability and an incredible media team with the goal of building an on-the-ground network and provide imperative, regenerative technology skills and labor and professional media and publicity to impact centers and communities in the United States, Mexico and Central America.*
www.projectnuevomundo.org
www.projectnuevomundo.org/odyssey 
SCHEDULE
 
11:00am Project Nuevo Mundo & Earth Odyssey Introduction

11:20am Alternative Economies and Digital Communities in   the Age of Globalization by David Casey
12:00pm Break
12:10pm "Waste is an Illusion – A Resource in the Wrong Place" How-to Lead a Zero-Waste Lifestyle by Brennan Bird 
12:40pm Break
1:00pm How to Start a community food co-op by Lauren Kennedy
2:00pm Yoga led by Jessica Yaborough
3:15pm Buying Community Property by Yona Fy
3:45pm Intro to Natural Beekeeping
4:15pm Break
4:30pm Dlight sky, Founder of The Tribal Oasis talks about his Intentional Community Experience 
5:15pm Earth Odyssey Blessing in Temple
6:15pm Potluck Dinner! Bring a dish to share!
*Bring warm clothes for night (Gets Cold!)
When
Saturday, November 9, 2013 at 10:00 AM

-

Sunday, November 10, 2013 at 12:00 AM (PST)
Add to my calendar
Organizer
The Emerald Village is a chosen family of healers, educators, and creators building space for heart-centered community. Our vision is the creation of a home for our members in which everyone contributes, utilizing natural abilities while developing new skills, and sharing the responsibility to maintain the sacred nature of the space.
As a group we strive to support each other's personal, spiritual, and economic growth, to be in service to our greater community, and to be good stewards of our land. We do this because we are passionate about creating a sustainable, conscious environment in which to raise families and deepen our connections with each other. We believe in the importance of innovation because we wish to live a life in which celebration and love are important components of our work.
Read our story here: http://theemeraldvillage.com/about-us