Description
On Saturday, September 30, 2017, K.E.Y.S. Empowers will be hosting a day of excitement for the entire family! We will be kicking off the day at our 2nd Annual Youth Empowerement Event
"Reimage and Rebrand Urban Communities" 2nd Annual Youth Extravaganza, a day where youth leaders come together to explore issues relevant to them and propose solutions on how to make a positive change in the community. With performance by Deetranada, B-More Than Dance, Rastahuti alongside DJ Porkchop with co-host Lil Key. Featuring a Teen Led Reverse Town Hall moderated by Rashad Staton, this will be a time for teens to talk and adults to listen. Plus we will be honoring: Dr. Andrey Bundley, Dejuan Patterson, Dominic Nell, Naijah and Greg owners of the Land of Kush.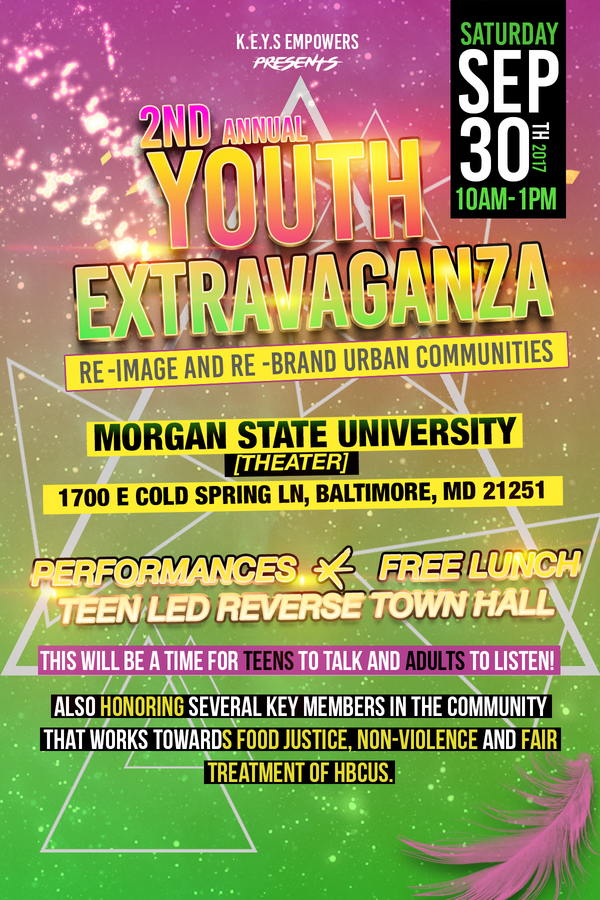 While the youth are enjoying their event our parents will be getting "lit" during our "Families Getting Lit Together Library Tour". Caregivers will tour their local neighborhood and library to learn more about free resources that support learning at home! There will be food, fun and free books. Once done, participants will join the youth on the campus of MSU. Transportation is provided at: Green Street Acdemy, ConneXions HS, Arglington and Mary Ann Winterling. Please register for transportation.
If there are any questions or concerns email info@keysdev.com.