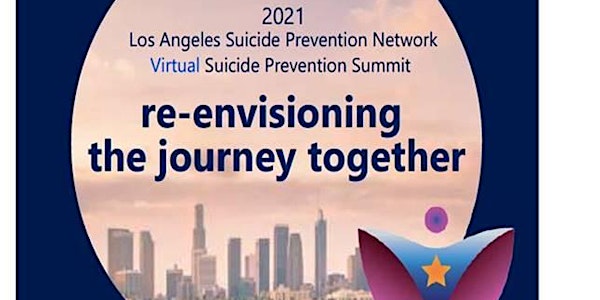 Re-envisioning the Journey Together; LASPN Suicide Prevention Summit
The Los Angeles Suicide Prevention Network is excited to announce its 11th Annual Summit (held virtually).
About this event
IMPORTANT NOTE:
Registration will close for each day at noon the day before. We will NOT be able to register you or give event links after that time.
******************************************************************************************************
The Los Angeles Suicide Prevention Network is excited to announce its 11th Annual (virtual) Summit, "Re-envisioning the Journey Together; The Hero in All of Us." on September 14th and 15th. In addition to the two-day Summit, we will be hosting a pre-conference event on September 9, 2021, and post conference events on September 17th and 24th. All Summit events are free and open to all.
LASPN believes there is a Hero in Each of Us to prevent suicide and heal our communities. Gathering together to learn, share, and understand is a powerful way to strengthen prevention efforts, support loss and attempt survivors and save lives. We hope you will join us for all five days!
The Summit will feature a diverse range of perspectives, lived experience, and frontline expertise.
The pre-conference will focus upon attempt and loss survivors and provide helpful insights for those working with survivors of suicide loss.
Our keynote on 9/14 will be Shola Richards (https://sholarichards.com/) with "Unstoppable Resilience: The Keys to Staying Strong During Any Challenge." Dr. Rheeda Walker (https://www.rheedawalkerphd.com/) will keynote 9/15 with "Suicide in Marginalized Communities: It's More than Mental Health." Throughout the two days speakers will discuss relevant topics such as cultural humility, reproductive justice, intersectional allyship, as well as how to help those who support our students.
The post-conference will feature speakers such as Janel Cubbage (@janelcubbage), Director of Suicide Prevention for Maryland's Department of Health, and Johanna Louie with Suicide is Different (suicideisdifferent.org).
Healing-informed arts and wellness activities will also be infused throughout the conference. Attendees will leave with concrete tools and lessons to bring to their communities.
The conference will be hosted on Microsoft Teams. We advise you to download Microsoft Teams (for free) before the event for best streaming. There will be opportunities for questions and engagement. Full link information to follow
This conference will be recorded.
With all the turmoil the COVID-19 pandemic has brought, and continues to bring, you won't want to miss this timely conference.
We look forward to seeing you there!
Please follow us on IG and Twitter @LAC_SPN!
For the summit schedule, please click here.