Description
The Treehouse Foundation & the Heller School @ Brandeis University are delighted to announce that...

REGISTRATION for REFCA 2019 IS OPEN!
As we highlight foster care innovation from around the country, you will be inspired by 3 nationally recognized Keynote Speakers (Elise Cutini, Pivotal; Steve Gross, Life is Good Playmakers; and Sherry Lachman, Foster America), Opening Remarks by Amnoni Myers, Courageous Conversations, and 24 Breakout Sessions.
Click HERE to read more about our Keynote Speakers.
On Friday, November 1st, Marc Freedman (Encore.org) will be presenting the Arthur Pollock Legacy Award to our winner (Lynn Price, Camp to Belong). Tickets for that event can be purchased below or HERE.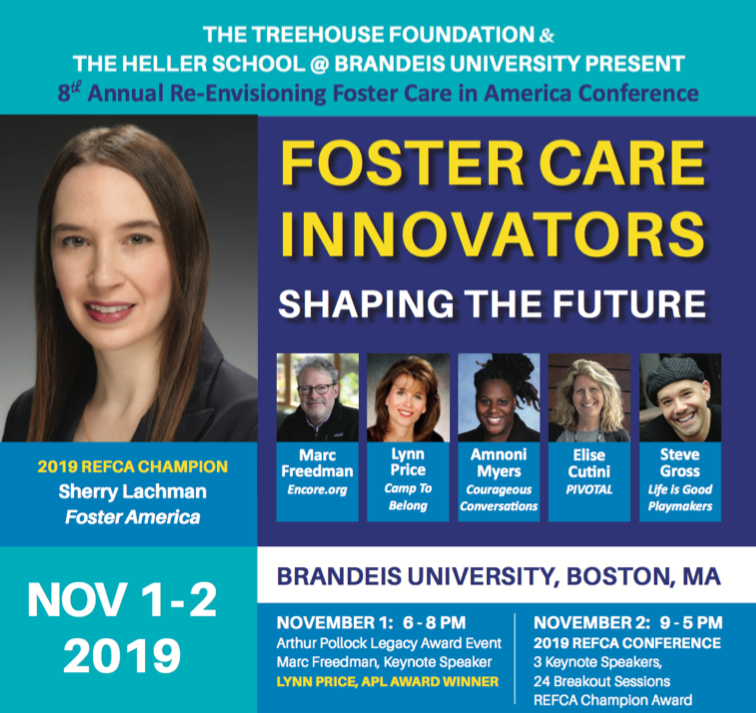 WHO ATTENDS REFCA 2019?
Teachers. Social Workers. Mental Health Professionals. Researchers. Philanthropists. Foster Care Alumni. Legislators. Non Profit Leaders. Social Innovators. Vital Aging Experts. Journalists. College Professors. Parents. Caretakers. Child Welfare Leaders. Adoption Professionals.

Foster Youth. Americans of all ages and backgrounds who are

Re-Envisioning Foster Care in America.
$185 registration fee
The following groups will receive the discounted rates below for a limited time!
The following groups will receive the discounted rates below for a limited time!
**DCF employees - $150
**Seniors (65+) - $50
**Students - $50
**Youth that have experienced foster care (14-24) - $35
----->Please email the Conference Coordinator, Sasha, at svanderzee@treehousefoundation.net for the appropriate promo code.
This program has been approved for 5 Social Work Continuing Education hours for relicensure, in accordance with 258 CMR. Collaborative of NASW and the Boston College and Simmons Schools of Social Work Authorization Number D 80962.
----These credits are available for an additional fee when registering.
---
"I look forward to attending this year's REFCA Conference! Every time I go to REFCA, I walk away feeling energized and inspired by all of the social entrepreneurs who are changing the foster care narrative in America. I love learning about all of the creative ways that organizations are leveraging people, dollar and idea resources to better serve our nation's children and youth living in foster care. And, I am truly grateful to the Treehouse Foundation for bringing us all together under the Banner of Shared Responsibility so our foster care system can be successful."
~ Carrie Southwick, Teacher
FOR MORE DETAILS ABOUT THE CONFERENCE: www.tinyurl.com/REFCA19REFCA Conference Hashtag: #refca19