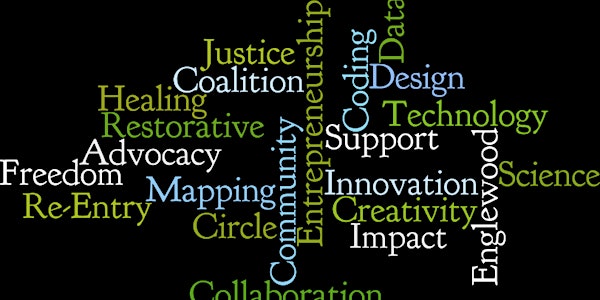 Event Information
Location
Englewood Accelerator
815 W 63rd Street
Fourth Floor
Chicago, IL 60621
Description
The Re-Entry Co-Lab invites you to attend our first Re-Entry Impact-a-thon on Saturday November 12, 2016 in Englewood.
What's an Impact-a-thon?
A creative convening and design hackathon focused on supporting re-entering citizens (folks who were formerly incarcerated), enhancing the work of re-entry organizations, and elevating re-entry social enterprises.
Why Does Re-Entry Matter?
1 in 3 Americans has a criminal record.
Many states are spending more on incarceration than education.
Locally, 1 in 2 people will be re-incarcerated within 3 years at a huge cost to individuals, families, communities, and taxpayers.
Re-entry is deeply linked to poverty, housing, education, health care, and many other pressing issues.
Why a Co-Lab?
Unexpected and interdisciplinary collaboration can lead to powerful social change. The Co-Lab is a space to share stories, iterate ideas, and connect tech, design, and re-entry.
Join our group of advocates, returning citizens, and techies by adding your skills to this complex issue:

We need:

Returning citizens
Advocates (Service Providers, Community Leaders, Attorneys, Artists, etc.,)
Designers
GIS mappers
Developers
Data scientists

Together we will:
Hear about systems shaping re-entry, returning citizens' experiences, and the impact on society.
Learn how technology, data science, and mapping may be applied to these issues.
Share ideas in a design thinking workshop with returning citizens and organizations as the experts.
Work together in interdisciplinary teams to help map assets, needs, and innovative ideas for change.
Sponsors for this event are Microsoft, Datamade, and the Englewood Accelerator.
Partners include: Teamwork Englewood, Kennedy King College, Growing Home, Precious Blood Ministries, the North Lawndale Employment Network, and Kusanya Cafe.
Date and time
Location
Englewood Accelerator
815 W 63rd Street
Fourth Floor
Chicago, IL 60621