Location
The Actors Studio
432 West 44th Street, Ground Floor
b/t 9th & 10th Avenues
New York, NY 10036
A double presentation in an alternating schedule at The Actors Studio produced by Estelle Parsons.
About this event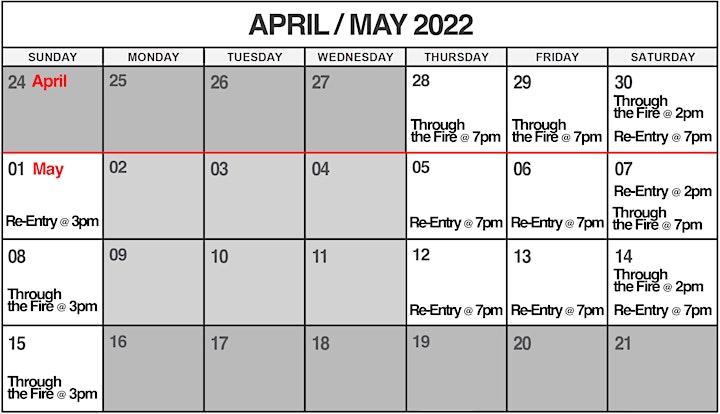 RE-ENTRY: ACTORS PLAYING JAZZ is a theatrical evening in Commedia dell Arte style about men and women just out of prison who form a theater club to help them deal with the perils of life on the "outside". Each performance includes a conversation with people involved in the New York prison system.This presentation has been extremely popular on tour and has been presented at Hunter College and La Mama in New York City. Now playing for three weekends on its home turf.
Cast: Leland Gantt, Marcus Naylor, Ron Scott, Gabriel Furman, Victor Almanzar, Javier Molina, Justin McManus, Ryan Johnson, Richarda Abrams, Timothy Doyle. -- Cast may vary based on the performance
THROUGH THE FIRE is Victor Almanzar's autobiographical solo show. From the Dominican Republic to moving to NYC, to spending time in the Marines. This is a story of survival and self-forgiveness driven by Victor's original Hip-Hop music. This piece was developed at the Labyrinth Theater Company by Studio members Victor Almanzar and Elizabeth Canavan.
Cast: Victor Almanzar
LENGTH: Each performance is about 90 minutes.
AUDIENCE will be reduced to 50% capacity to allow for social distancing during the performances.
SUBJECT MATTER both plays are recommended for 16+ years old
SPECIFIC Performance dates are:
The dates and times are thursdays through saturdays at 7pm with a saturday mat at 2 and a sunday mat at 3pm:
Thursday through Sunday April 28 - May 1st
Thursday through Sunday May 5- 8
Thursday through Sunday May 12-15
TO REGISTER- First click on REGISTER then carefully choose which show on which date you want to reserve for by entering in the number of tickets you want for each date/performance. Please fill out all of the required fields. If you are bringing guests, it is helpful to use their names so that their names appear on our check-in sheets at the door.
Covid Protocols--
When you check in you will be required to show, either hard copy or digitally, proof of being fully vaccinated against Covid-19. Fully vaccinated meaning 2 shots of Pfizer, or 2 shots Moderna, or 1 shot of J&J
Everybody must wear a mask at all times in the building
Food and/or drink will not be allowed in the building.
Be willing to have your temperature taken and, if you have an elevated temperature (that is, above 98.6° F), leave immediately and seek medical attention and advice.
If you test positive for Covid-19 up to 5 days after attending a performance, you will inform us immediately.
Please note that Covid-19 is an ever evolving situation. The above protocols are as of day and maybe updated at any time.
Photo credit: Left: Timothy Doyle, Right: Monique Carboni
---------------------------------------------------------------------------------------
If you need to cancel your reservation for you and/or your guests, please do so in advance so that others may use your seats. Canceling can be done either online or by email.
ONLINE: Locate your original confirmation email from Eventbrite -> towards the bottom of the email, either click on the order # or click on "view and manage your order online". This will take you to the Eventbrite page to sign in or create an account. After you either login or create an account, you will see your reservation and ticket(s). On the left, you can either cancel the whole order, cancel your guest and/or edit the names listed on the reservations. Follow the on screen instructions to complete.
BY EMAIL: reservations@theactorsstudio.org
The Actors Studio is fully ADA accessible. If you require to use the ADA entrance, upon arrival to the building, head to the west entrance (closer to 10th ave, with all the plants not trash cans). Call us at the office number 212.757.0870 ext 99 and let the person know you are outside and need the gate opened. They will be right out to open all of the doors. If nobody picks up, please leave a voicemail (the office gets notifications of a new voicemail and should answer quickly) If nobody calls back or comes out (apologies in advance), ring the buzzer on the east entrance and somebody will come out to help.
Please arrive early. The ADA accessible entrance puts you right on stage