Description
Join us and Guest Speaker Tim Thompson for an evening of networking and career inspiration.


Four Stages of a Creative Career
Your career is not what you think.
Conventional wisdom says "Produce great work, and you will be a success." In reality, a successful career is quite different. In time, your creative expertise must transition to something that holds greater value, and create influence that will fuel a long-lasting career built on purpose.
Drawing from the roles Tim Thompson has played in the industry's pivotal moments, this sage advice from the founder of RevThink will put your personal journey into perspective so you can live out your Four Stages of the Creative Career.
Doors Open: 8:00pm
Guest Speaker: 9:00pm
---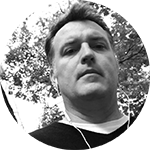 Tim Thompson Bio:

Tim Thompson is Founder and Chief Revolution Thinker at RevThink. His vision and experience have established RevThink as the industry's leading supporter of creative entrepreneurs. He is notorious for taking his practical wisdom, acquired resources, and industry-leading best practices and sharing them through advising, writing, podcasting and speaking. His most recent thought leadership includes The Entrepreneurial Formula and Four Stages of a Creative Career.
"Our desire is to come alongside owners to help them achieve their business and career goals by empowering them with necessary best practices within their agency."
Most recently, Tim has collaborated with New York City's Strategic Steps for Growth, the Moldova Competitiveness Project (a joint effort of USAID and Sweden), and as co-creator of JUMPSTART and QOHORT where creative professionals collaborate on the future of the industry. But most important is his relationship with the creative genius Marcel Ziul.