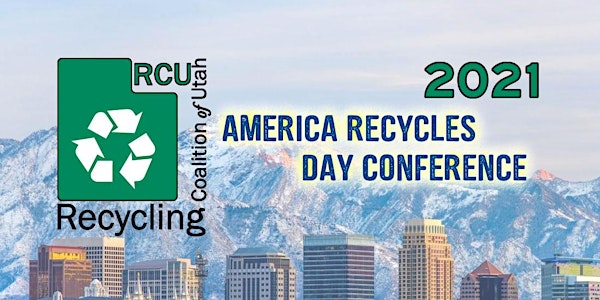 RCU's - 2021 America Recycles Day Conference
Join The Recycling Coalition of Utah at our Annual Conference. Network with leaders and learn about everything recycling in Utah!
When and where
Location
Karen Gail Miller Conference Center @ Salt Lake Community College 9750 South 300 West Sandy, UT 84070
Refund Policy
Contact the organizer to request a refund.
Eventbrite's fee is nonrefundable.
About this event
We are back and in person for our 2021 Annual America Recycles Day Conference!
Check out the agenda for this year's conference:
Friday, November 12th
8:20 am - Registration/ Log In
8:30 am - Welcome to RCU Conference: Beau Peck, Interwest Paper & RCU Board President
8:35 am "Where's the Pizza? Can you or Should You Recycle Pizza Boxes" – Dennis Colley, President/CEO Fibre Box Association.
Dennis will talk about boxes and what is happening in the industry. As the President/CEO of the Fibre Box Association, Dennis will share his insights and trends in the industry. He will also take time to address the age old question that has puzzled humanity for centuries, "Can I recycle this pizza box?"
9:20 am "Battery Recycling 101: What every Recycler should Know" - Battery Solutions, VP Danielle Spalding, VP Marketing and Engagement
Batteries are an essential part of our everyday lives, powering everything from laptops to watches. These critical components are communication lifelines to our communities and families, creating an ever-growing demand for recycling in this sector. Battery Solutions serves as a single point of contact for recycling of all battery chemistries, throughout North America. Danielle will discuss recycling standards, processes and the market for battery recycling.
9:40 am "The In's and Outs of Batteries: A Brave New World" - Doug Smith, Director, Environmental and Sustainability, Sony Electronics, Inc.
Doug Smith is no stranger to RCU. Doug serves on the boards of many national recycling organizations and is very much in the know when it comes to all things electronics and recycling. Doug has been a key initiator of electronics recycling and has been instrumental in various statewide legislation and industry support for electronics recycling.
10:05 am "Cross Roads Paper Mill Update" - John Sasine, CEO Crossroads Paper.
It is happening. Cross Roads recently received a major investment in their company signaling to the market and industry the support for a paper mill in Utah. John will update the group on the latest developments in this effort.
10:20 am Networking Break out Session. Meet 4-5 new people in the recycling industry and a chance to share what issues and solutions.
10:45 am "Scrap Metal Thievery, What Utah is doing to stop the theft of Scrap" Chris Waldon and Dan Burton, Utah Attorney General's Office.
Scrap metal recycling is a major industry in the State of Utah. Metals have seen major increases in value which has caused issues relating to theft. Representatives from the Utah Attorney General's office will outline what they are doing to stop scrap metal theft and also share proposed legislation to address the issue. Don't miss this chance to learn what is coming for metal recycling and recyclers.
11:35 pm. Utah Recycler of the Year Awards/ PresentationsThis year's awardees have done some great work in recycling. Learn what they are doing and join us in celebrating their success.
12:30 pm Lunch Break As always, the lunches at RCU events are top notch. Don't miss out on this one!
1:30 pm Networking Breakout Session
2:00 pm "Swire Coca-Cola, "New Perspective on Deposit Systems" – Mike Bernier, Swire Coca Cola (invited)
Could it be? Yes, bottlers are looking at the viability of supporting deposit systems to increase the recycling of plastics. Learn about this shift in focus and if this could be headed to Utah.
2:30 pm "Recycling Markets: What is happening with my Recycling and What is it Really Worth?" – Beau Peck, Interwest & RCU Board President, Marvin Acey, Rocky Mountain Recycling & RCU Board Member.
The recycling industry has had its share of craziness in terms of supply chain and pricing. Learn from two experts in the industry about current market conditions and future trends in the market. Anyone who recycles anything needs to know what is happening with their collected materials and what they are worth today and tomorrow.
3:00 pm Conclusion