Description
RCU's 2019 America Recycles Day Conference - Salt Lake City Utah
Reduce - Reuse - Reformat: How changes to the recycling industry effect everyone and what the industry is doing to make recycling better. Markets may be flat, but the industry is Reformatting for the good. Come and learn what has changed and how a changed market can benifit everyone!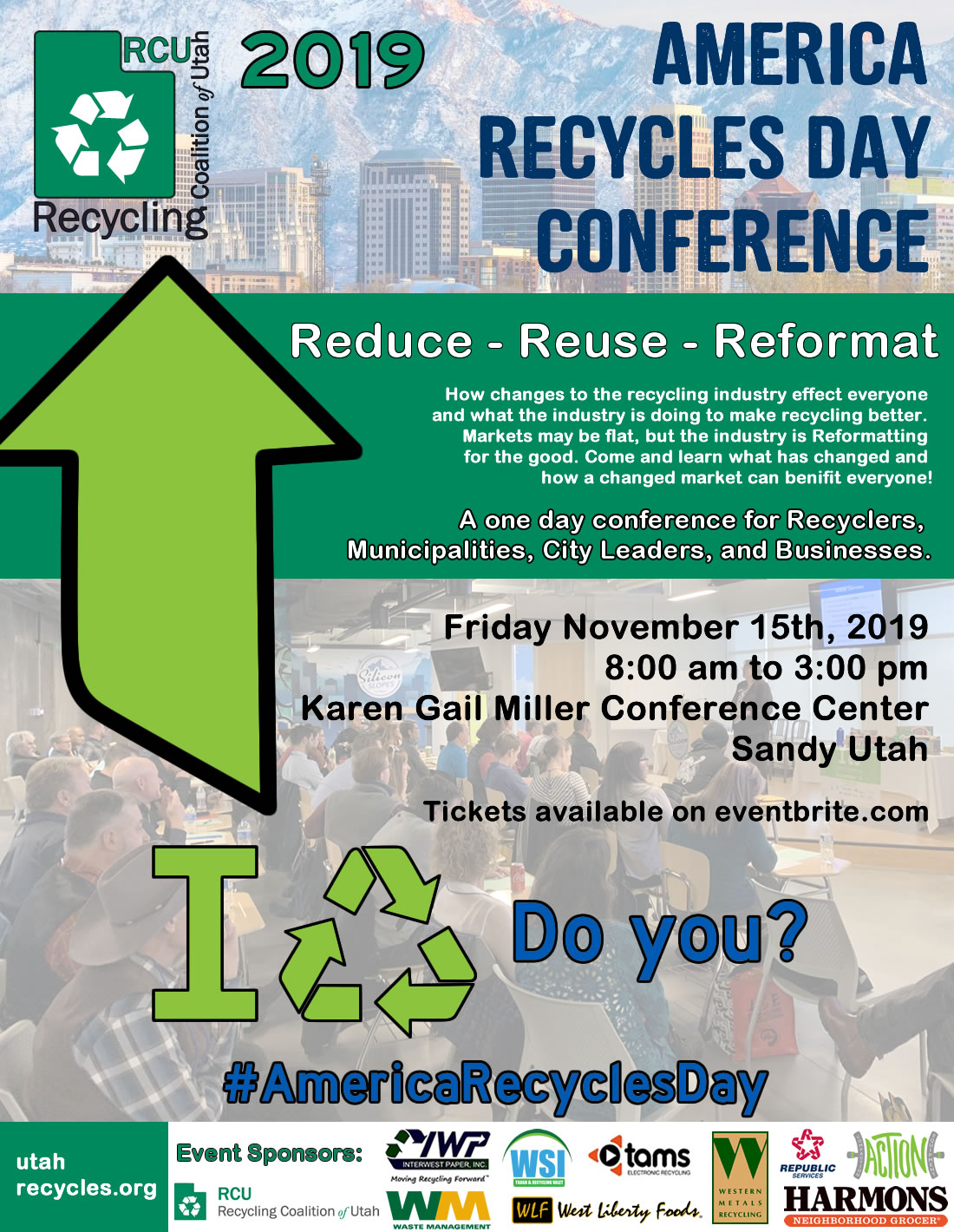 ---
Conference Agenda - Friday November 15th:
Recycling markets have seen numerous changes over the past two years. What is up and coming in markets, what lessons have we learned, what does the future hold? Join us in a very important session of market updates and news in the recycling industry. This is the key networking and learning event of the year for recycling professionals, government officials, and industry leaders.
---
"What's going to Happen to All of Those Brown Boxes?": Dennis J Colley - President and CEO of the Fibre Box Association / Fiberbox.org / Corrugated.org -
The Fibre Box Association (FBA) has a long-standing heritage of serving the corrugated industry. Founded in 1940, the association brought together both independent and integrated companies with a common interest in the issues, trends, technical challenges, and overall well being of the corrugated industry.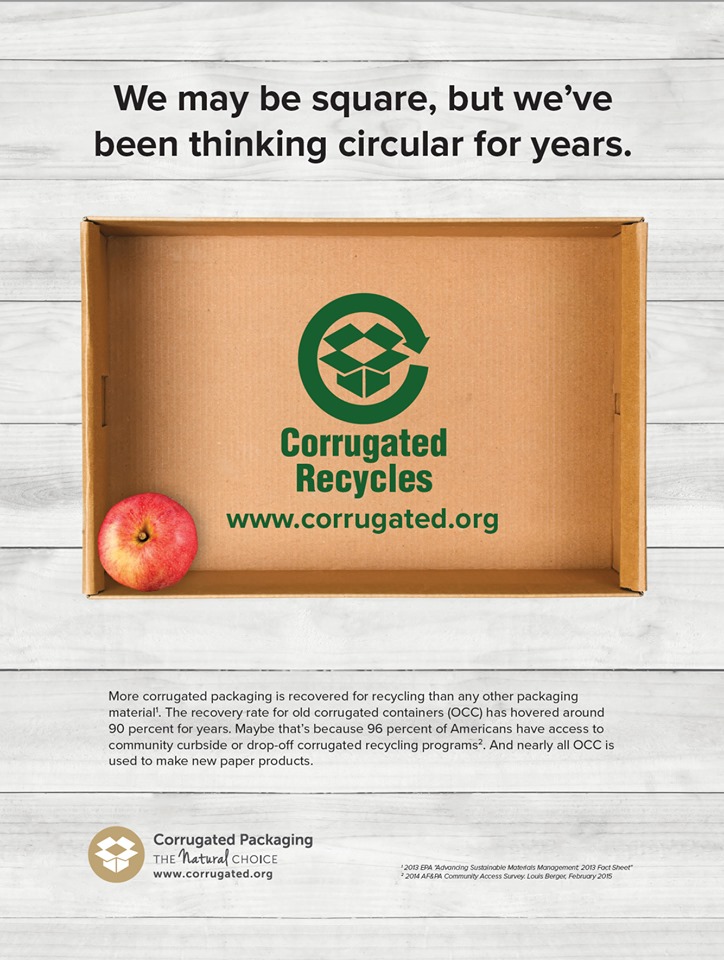 Dennis will review current recycling rates of commercial and residential programs and discuss actions underway in the industry to deal with an increasing number of boxes going to single and multi-family residences. What are industry trends that the markets have been seeing for one of the largest commodities in the recycling industry? When markets fall to zero revenue or negative rates, how to you effectively persuade people to continue to recycle cardboard boxes? What is the outlook on the corrugated box industry for recyclers? What effect does Amazon play to the box and recycling industries? Dennis will provide the answers to these difficult questions and provide the facts we need to know.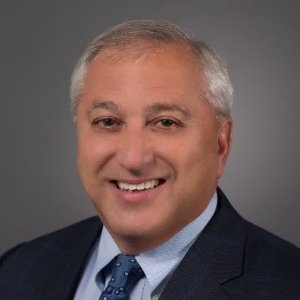 Dennis Colley is President/CEO of the Fibre Box Association (FBA), a non-profit trade association representing North American manufacturers of corrugated packaging. In this role, Colley leads the organization in supporting the corrugated industry through data sharing, issues management and communications. Colley also serves as Executive Director of the Corrugated Packaging Alliance (CPA). CPA is a corrugated industry initiative, jointly sponsored by the American Forest & Paper Association (AF&PA), The Independent Packaging Association (AICC), Fibre Box Association (FBA) and The Technical Association of the Pulp and Paper Industry (TAPPI).
---
"Recycling Survey, Would You Pay to Recycle?" - Pam Roberts - Wasatch Front Waste and Recycling.
The Wasatch Front Waste and Recycling District resently surveyed several demographics in their curbside collection progam and asked them if they would be willing to pay more for their curbside collection. A large percertage of those surveyed said, "Yes". Pam will provide us the results to this survey and explain the results in this poll.
Would you be willing to pay more on your Utility Bill from your City for your recycling services? Does your City Council support similar views for "increasing fees"?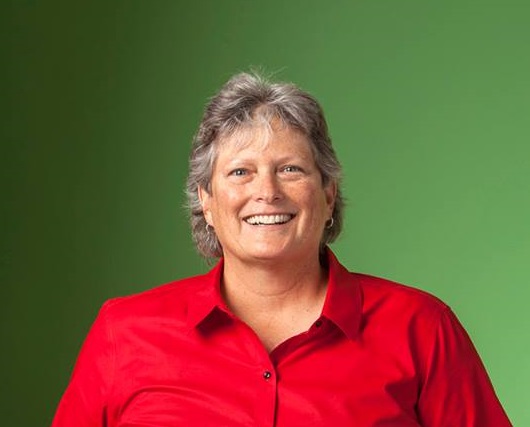 Pam has been serving the as a leader in public administration through her role as the Executive Director of the District since July 2007. She was at the forefront of working closely with legal counsel, the District Board, the County Council and key consultants in planning and preparing for the Sanitation Division to become an independent organization effective January 1, 2013.
Pam currently serves on the Utah Local Government Trust Board of Directors and the Board for the Utah Association of Special Districts. Pam has served as board president of the University of Utah Chapter of Phi Alpha Alpha, which is the National Honor Society for Public Affairs and Administration. Pam is a member of the Solid Waste Association of North America and the American Public Works Association.
---
"3D Printing with Recycled Feedstocks: Pathways to more Sustainable Products" - Matt Sutton - Binary SLC
3 Dimensional Printing is on the rise, what is the outlook for using recycled resins for 3D Printing.
Binary is an additive fabrication studio based in Salt Lake City, UT. They produce a variety of sizes with assortment of materials including post industrial plastics, clay and others. Matt started Binary with the belief that additive fabrication was naturally allied with the drive for more sustainable manufacturig techniques. Matt's background is in Mechanical Engineering in which he holds a bachelors and masters degree.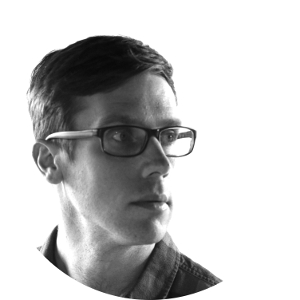 ---
"Rural Recycling" - Ryan Smith - CEO Recyclops:
Recyclops prides theirselves in convenient, reliable, and affordable services with minimal effort on a customers part. They offer curbside services in rural communities that do not have access to traditional recycling collection services. How are they able to provide a curbiside service when populations are minimal? See how their unique approach solves the issue for many in this demographic by recycling at the curb!
Recyclops is rapidly expanding our operations across Utah, Idaho, Texas & Arizona.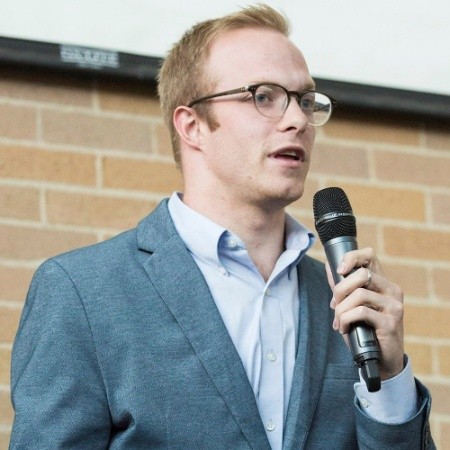 ---
"Recycling Paper in Utah?" - John Sasine - Crossroads Paper
Many in the recycling industry have said the phrase, 'why is there not a paper mill in Utah'? There are many reasons why, but this may be changing.
Crossroads Paper is in the process of building a Paper mill here in Utah. The Mill is set to be a consumer of both OCC (cardboard) and Mixed Paper. Learn how this new announcement will benefit recyclers, and hear updates from the source!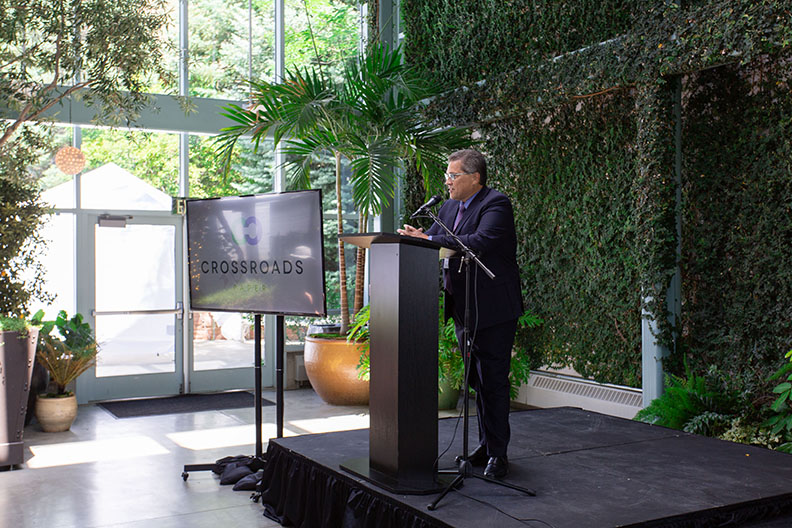 ---
"New Waste Management MRF Coming to Salt Lake City" - Waste Management
The West Jordan Utah Material Recycling Facility (MRF) is soon to be replaced by a 17 Million Dollar state of the art facility in Salt Lake City. Waste Management has announced plans to expand and improve its Salt Lake City recycling operations with the construction of a "new, larger and technically advanced" material recovery facility (MRF). Building is expected to begin in the spring, and the new MRF is slated to be fully operational by early 2020.
"Waste Management remains committed to supporting sustainability, and recycling is an important component," says Scott Bradley, vice president for Waste Management's Four Corners area. "To ensure our local recovery operations can keep pace with the volume of recyclable materials being generated by the growing communities in and around Salt Lake City, Waste Management identified a very real need to improve our local recycling operations."
The new MRF will support recycling programs throughout the Salt Lake Valley, including processing the recycling for the municipality of Salt Lake City's roughly 41,000 residential customers.
Representatives from Waste Management will discuss when this new facillity will open and the impact it will have for curbside recyclers along the Wasatch Front!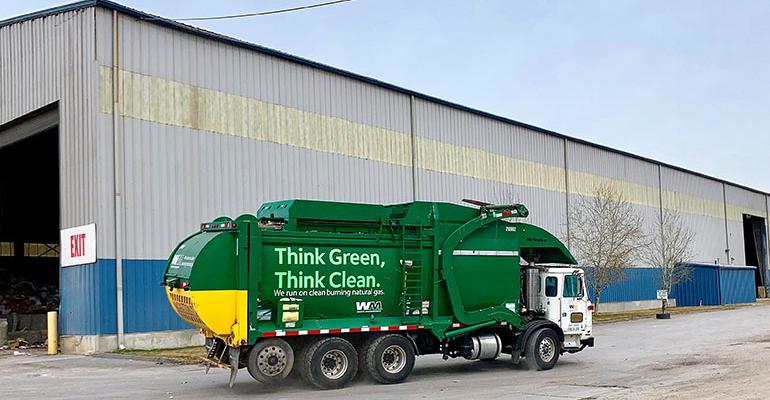 ---
"Mixed Paper Update" - Panel from area MRF's and Processors
What is going on with Mixed Paper? Is it still recyclable? Should a City still accept the material in a curbside bin? Are there alternatives to recycling Mixed Paper? Join us in a round table discussion on what the scoop is on recycling Mixed Paper and get the answers you need to know about this recycling grade!
Representatives from:
Rocky Mountain Recycling

Waste Management

Green Fiber & More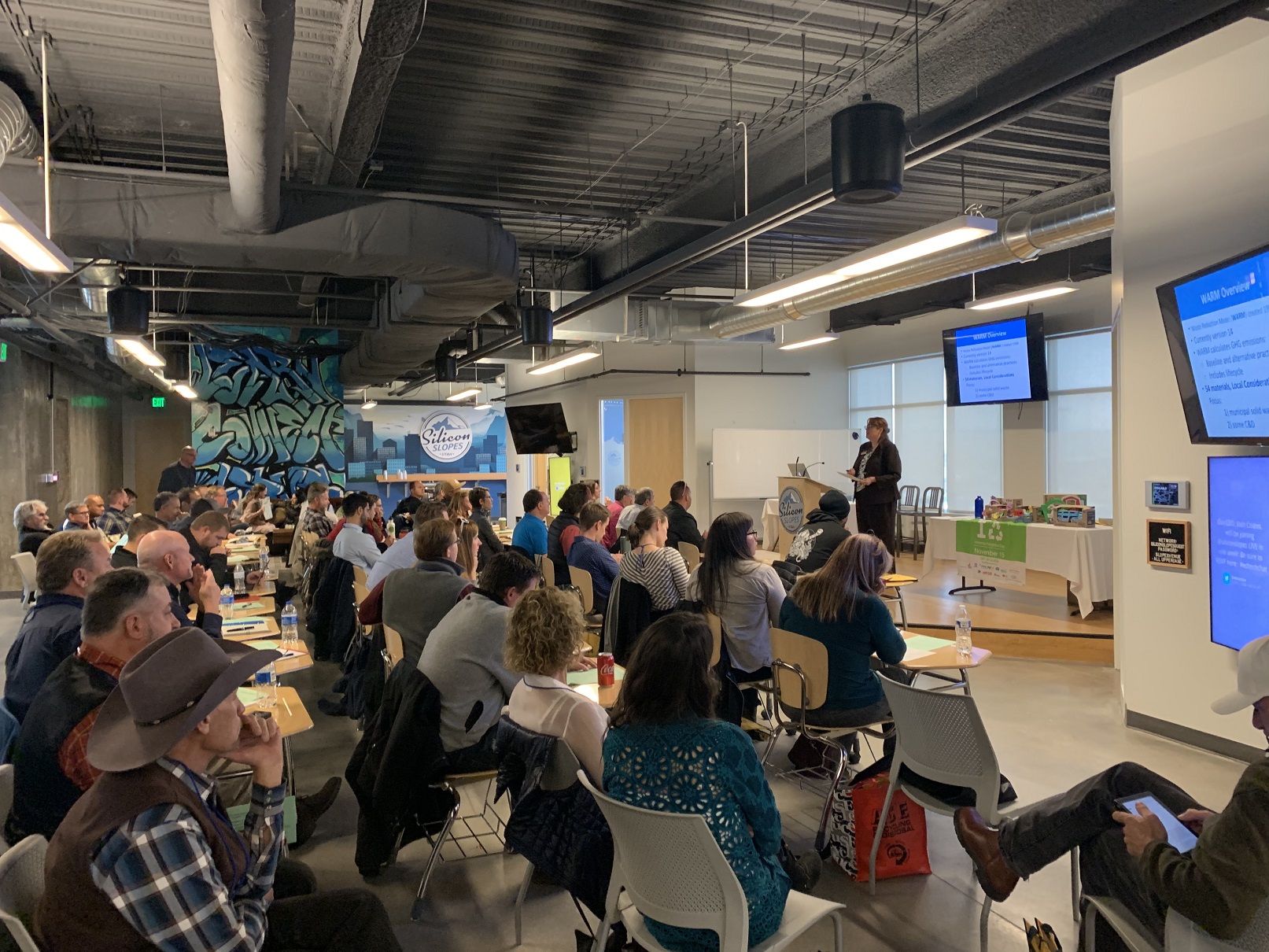 ---
Recycler of the Year Awards:
Winners of The Thomas A Martin Recycler of the year awards have been selected and winners have been notified. You will want to see who has been selected this year and hear about their success!
Winners will be showcased at this event! Our 2018 Awardees pictured below: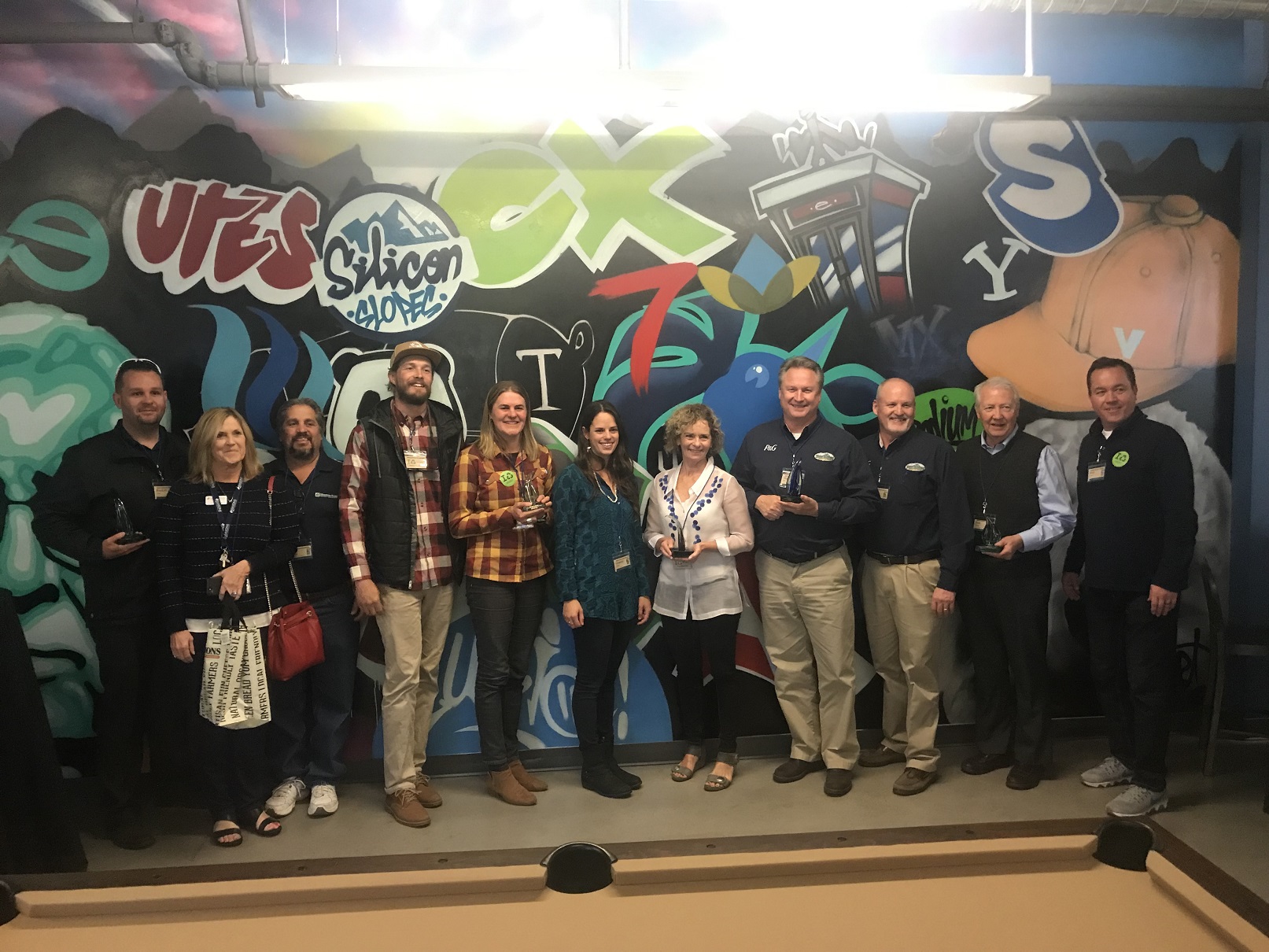 ---