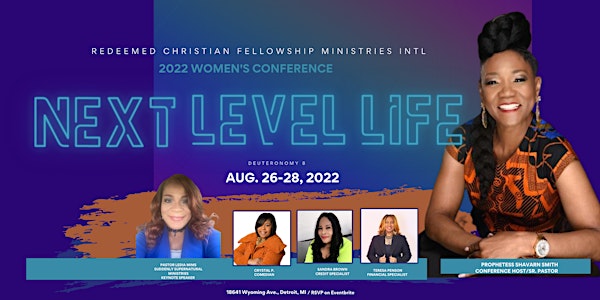 RCFMI 2022 Women's Conference: Next Level Life
You're invited to the RCFMI Women's Conference: Next Level Life. Enjoy three days of dynamic programming to take your life to the next level
When and where
Location
Redeemed Christian Fellowship Ministries International 18641 Wyoming Detroit, MI 48221
About this event
You're invited to the 2022 RCFMI Women's Conference: Next Level Life! Enjoy three days filled with laughter, fellowship and information on how to take your spiritual, natural and financial life to the next level.
Regular admission is $50. Admission for youth 17 and under is $20. Vendor tables available for the three day event for $100.
Event schedule:
Friday, August 26 at 7pm:
Roaring 20's themed dinner with comedy show with Crystal P.
Saturday, August 27
10am: Financial seminars with Sandra Brown and Teresa Penson
7pm: Keynote Speaker, Pastor Ledia Sims, Suddenly Supernatural Ministries
Sunday, August 28 at 10am:
Morning Speaker, Prophetess Shavarn Smith