Riviera Beach Volunteer Fire Company is planning its 1st annual "Trunk or Treat".
About this event
Riviera Beach Volunteer Fire Company is planning its 1st annual "Trunk or Treat". This is an opportunity for families attending the event to safely "trick or treat" out of the decorated trunks of parked cars. "Trunk or Treat" is Sunday, October 27th from 3-7pm. Rain date is Monday, October 28th.
Your Opportunity to Decorate Your Vehicle for Halloween Fun!
Trunk or Treat Guidelines
 Be creative as you decorate your trunk for trick-or-treaters, but please keep in mind that participants will range from toddlers through grade school, so please, nothing too scary.
 For safety, we are asking that parents NOT wear masks that cover their entire face (adults must be recognizable by other adults).
 Electrical power is available on a first come, first serve bases. Battery powered lights are acceptable.
 Please, No Generators.
Treats for Distribution
 Participants are asked to bring candy to pass out from their vehicles. For safety, All Candy Must Be Provided in Packaged Containers, Prepackaged by the Company that manufactures them.
How It Works: Timeframe for "Trunk or Treat"
 Each car is required to complete the registration below and you will receive confirmation with instructions prior to the event.
 "Trunk or Treat" starts at 3:00 pm, vehicles will be set up between 1:30 pm to 2:30 pm.
 Best Decorated Car Judging will take place between 3:15 pm & 5:30 pm. Winners will be announced at
6:30 PM. Prize is a $50 gift card!!!!
 Only registered cars will be displayed on the firehouse parking lot, where children will "trick or treat".
 An Adult Must Be With the Vehicle at All Times during "Trunk or Treat" (3:00 pm to 7:00 pm).
 1 space per entry
 Cost is FREE!!!!!!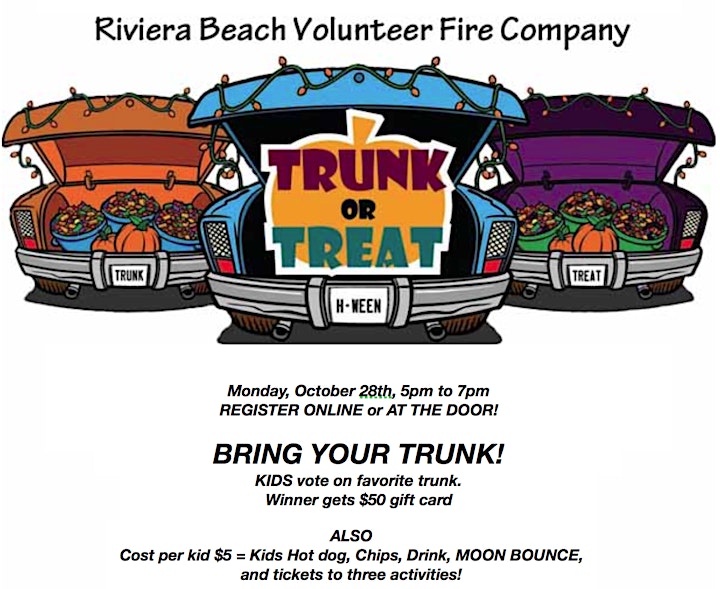 Organizer of RBVFC 1st Annual TRUNK or TREAT
About the Riviera Beach Volunteer Fire Company
Nestled in the foothills of Anne Arundel County, Maryland , the Riviera Beach volunteer fire company provide Fire, EMS, Rescue, and Fire Boat services to the city of Pasadena and its surrounding area. The company is community driven and civically minded. Alongside our emergency services we host many strong community events such as weekly Bingo, and annual Carnival, Gun Bash, Rescue Run, Golf Tournament, and much more.
Why Riviera Beach Volunteer Fire Company?
Our company provides you a wide variety of professional experience and advancement. Team driven and leader creating, we succeed in everything that we do. We value members with no experience to those with all the experience and make it a point to share, teach, and embrace the learning experience. We provide that comfortable environment to learn and advance in. No matter who you are or what you want out of volunteering, as long as your attitude is positive and you desire to be a part something great, you belong here.