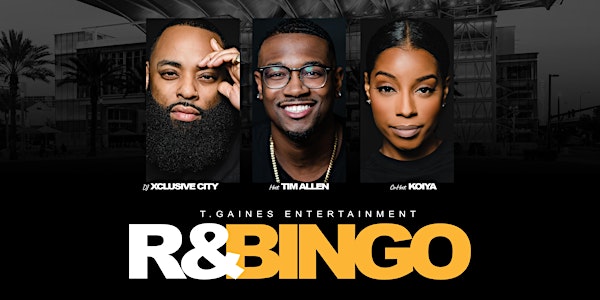 R&Bingo Tailgate Experience Powered by #ConnectFord (Classic 2022)
R&Bingo Is Back! Live From Camping World Stadium! NOT YOUR GRANDMA'S BINGO! RnBingo is a party and a musical bingo game combined!
When and where
Location
Tinker Field 287 South Tampa Avenue Orlando, FL 32805
About this event
FREQUENTLY ASKED QUESTIONS
Where will R&Bingo be held?
We will be at Camping World Stadium on Tinker Field inside the Fan Fest
( 287 South Tampa Ave, Orlando FL 32805)
We will be right at the Ford Entrance off tampa, you can't miss us.
Are there ID or minimum age requirements to enter the event?
Each attendee must be 18 years old to play.
Where do I park? What is the best way to get to you?
The best way to avoid parking madness is to take the free shuttle from downtown.
1) Park At City Commons Garage Downtown. The Address is (460 Boone Ave, Orlando, FL 32801)
2) Hop on the shuttle, and it will drop you off at the corner of Nashville & Church right at the stadium next to Lake Lorna Doone
3) Simply walk over to Tampa Avenue and Fan Fest will be to your left on Tinker Field.
4) The Shuttles will pick up from the same place.
Will there be places to sit and play?
We will have tables and chairs in the gaming area. The cards can also be played standing if need be. We asked that if you are not playing please get back up. No camping out.
FOLLOW MY DIRECTIONS AND PARKING WILL BE EASY!
_____________________________________
How Does It Work?
R&Bingo is a way of listening to popular music, dance to the hits, and still remaining competitive. The Bingo cards are filled with a variety of artists and the music is played by a DJ. If the DJ plays a song by an artist on your card, the card gets marked.
We are starting in the early '90s up to current bangers that are hot right now. The music genres are mostly RnB mostly with a little hip hop mixed in. 
R&Bingo Rules 
DON'T YELL BINGO UNLESS YOU HAVE WON 
- Each Player receives 1 bingo card for each round.
Round 1 (R&B Hits)
Round 2 (90's R&B)
Round 3 (Hip Hop Party Hits)
- Mark Off squares when you hear the artists music being played
(even if they're only featured on the song, mark it)
- If the artists appear on your bingo card in a line covering 5 consecutive spaces, Yell bingo.
- If the bingo is correct, and you were the first to call it, You win a prize for that round!
DOORS OPEN AT 10AM | BINGO ROUNDS WILL BE SPREAD OUT BETWEEN 10:30AM AND 2:30PM
WHAT ARE THE PRIZES?
ROUND 1 ($100 Visa Gift Card)
ROUND 1 (BEATS BY DRE HEADPHONES)
ROUND 3 (THE FORD GETAWAY GIVEAWAY)
Prize Pack Includes: Large Cooler, Beach Towel, Gas Gift Card, And $200 Plane Ticket Voucher (YOU PICK THE AIRLINE)
No outside food or beverages are allowed.