Description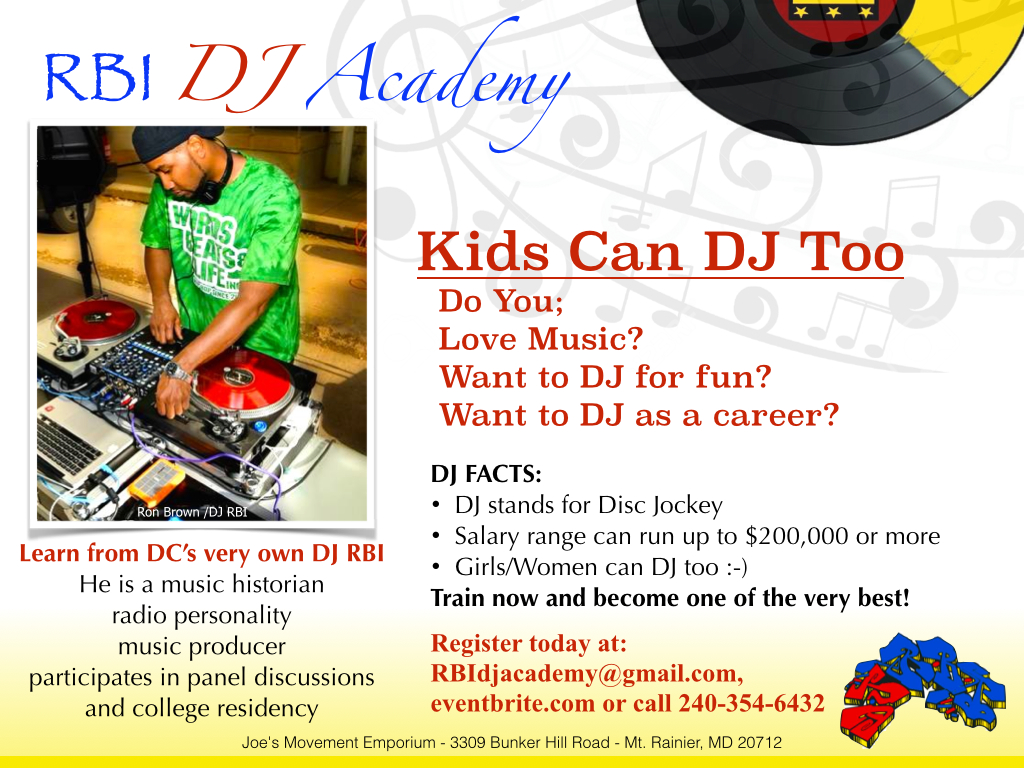 ATTENTION FUTURE KID DJs & FAMILIES:
We want to invite you to join this fun class and it is likely to fill up very fast. Please take a moment to register for FREE so you can be among the very first to get regular updates on class dates, times, locations and the cost. Here's to happy DJing! #DJSROCK #DJFUN #DISCJOCKEY #RBIDJACADEMY #GIRLDJSROCKTOO
DJ RBI'S BIO: Ron Brown bka (DJ) RBI is an artist and entrepreneur working in arts & entertainment. His past endeavors include forays into marketing & promotions, indie record label partnership, event promotions, video show production, and print journalism. His present activities focus on DJing/turntablism, radio programming & production, stage performance, and music production. He currently works with hip hop entities Hueman Prophets and Inner Loop Records as DJ and project developer, as co-producer/ DJ of 89.3 FM WPFW's ILL Street Grooves, guest DJ for music group Mambo Sauce, and as hip hop music coordinator with non-profit Words, Beats, & Life.
WORK:
July 7, 2015/ Kennedy Center -DC Loves Dilla event/DJ-
http://www.kennedy-center.org/explorer/videos/?id=M6388
Nov 16, 2015/ Kennedy Center -Crowns: a Chess Inspired Album Release Concert
http://www.kennedy-center.org/video/index/M6545
Ill Street Grooves WPFW 89.3FM- Mixcloud- https://www.mixcloud.com/RBIZNEZZ/
QUESTIONS: Please email RBIDJAcademy@gmail.com