Location
DROM
85 Avenue A
New York, NY 10009
Description
LIMITED CAPACITY GET YOUR ADVANCE TICKETS TO THE BIGGEST BATTLE RAP CARD OF 2014 .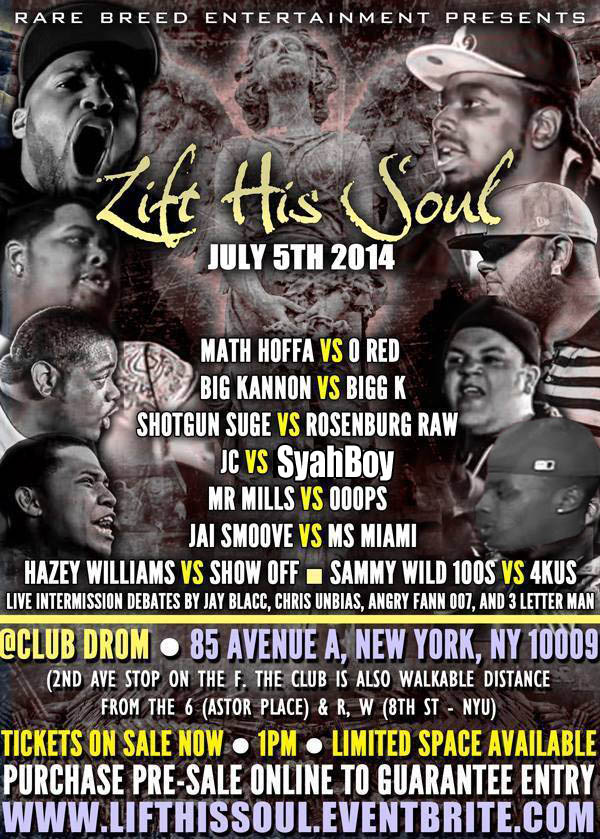 ALL 3 ROUNDS !!!!

1. Math Hoffa vs O Red
2. Big Kannon vs Bigg K
3. Shotgun Suge vs Rosenburg Raw
4. JC vs SyahBoy

5. Ooops vs Mr Mills
6. Ms Miami vs Jai Smoove
7. Hazey Williams vs Show Off
8. Sammy Wild 100s vs 4KUS
9. Dre Dennis vs Homi (1 rnd barfest)

Live intermission battle debates by Jay Blacc, Angry Fan 007, Unbias, and 3 Letter Man
- Witness the return of Math Hoffa up against Newarks own killer O Red!
- Brace yourself as Bigg K and Big Kannon trade bars in this street classic!
- Finally one of the last true grudge matches Shotgun Suge vs Rosenburg Raw. Witness the battle of the bullies.
- Bars on top of BARRRS with JC up against SyahBoy.
- Watch as Ooops and Mr Mills attempt to steal the show in a classic clash of talent.
- The ladies will be putting on as Ms Miami who has recently shot up the ranks takes on the veteran Jai Smoove
- Hazey Williams and Show Off attempt to show the world that they belong next to the best in the game!
- Up and comers Sammy Wild 100s and 4Kus clash to gain respect on the major stage!
- Aggressive up and comers Dre Dennis and Homi perform a 1 round barfest !!


Hosted by A.R.P.