Description
Ronnen Haray innovated his way to building a global toy and entertainment empire.
It began with modest roots in London, Ontario back in 1994, where two childhood friends from the Western Ivey Business School pooled together $10,000 to purchase the license to an Israeli toy, the Earth Buddy. They ended up selling half a million units to K-Mart, and Spin Master the company was born.
Twenty-four years later, Spin Master is a publicly owned company with over 1,600 employees across the globe and a market cap of $4.3B. Harary and his co-founders disrupted the industry giants, achieved a string of commercial successes, including Air Hogs, Hatchimals and Paw Patrol, and transformed Spin Master into the world's fourth-largest toy maker. Since 2000, they have received 103 TIA Toy of The Year (TOTY) nominations with 28 wins across a variety of product categories, including 13 TOTY nominations for Innovative Toy of the Year, more than any of its competitors.
But Spin Master's journey to the top wasn't a straight line – the company experienced ups and downs, including large scale layoffs and failed products. They made several pivots and realized that winning in the highly-competitive (and fickle) toy industry meant constantly identifying opportunities for innovation. They've transformed from a small, single product company into a leading global, diversified, multi-platform and innovative children's entertainment company.
Join us to hear co-founder Ronnen Harary on how they built an empire in the $88B+ global toy market and continue to grow through innovation, diversification and strategic acquisitions.
Speaker
Ronnen Harary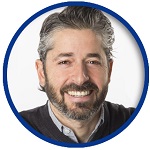 Co-Founder & Co-Chief Executive Officer, Spin Master
Ronnen Harary is the Co-Founder and Co-Chief Executive Officer of Spin Master and a member of the company's board of directors. Since the inception of the company in 1994, together with his two business partners, Ronnen has led and helped to establish Spin Master as a global leader in the toy, media and entertainment space.
Ronnen's expertise and passion for children's entertainment have led to the creation of award-winning programming and franchises including PAW Patrol, Bakugan, Rusty Rivets and Little Charmers, which have touched the lives of children in more than 160 countries. These wildly-popular series transcend cultural boundaries with universal characters and storylines that have travelled the globe, capturing the imagination and play of millions of kids around the world.
As the leader of Spin Master's entertainment division, Ronnen plays an integral role in developing new entertainment properties, forging industry partnerships and building relationships with domestic and international broadcasters to bring the magic of Spin Master to kids through a variety of media channels. His latest venture is the company's first foray into feature film.
In addition to overseeing the company's entertainment division, licensing and digital studios, Ronnen is focused on unlocking ideas and fostering innovation throughout the organization, empowering employees to reach their full potential. He pushes boundaries and challenges teams to innovate and garners executive alignment to move the business forward. His commitment to developing people extends beyond Spin Master. Building on his own legacy of innovation and entrepreneurship, Ronnen lends his time and support to organizations like Futurepreneur, a national non-profit organization that provides financing, mentoring and support tools to aspiring business owners.
Ronnen has a strong sense of social responsibility and is passionate about giving back to enrich the lives of children. In 2013, he founded the Toy Movement, a global initiative that provides toys to children in need, giving them the opportunity to experience the joy of play. Since its inception, Spin Master has led missions to over 10 countries, including Iraq, Israel, Mexico and South Africa, delivering more than 350,000 toys to disadvantaged or displaced children.
Ronnen is a graduate of the University of Western Ontario, with a BA in Political Science.
How to watch
Join us live in person at the Waterpark Place auditorium, 88 Queens Quay W, Toronto.
To watch the event on Facebook Live, click here to like RBC on Facebook and stay tuned for the broadcast on Dec. 4th.
RBC employees can tune in via WebEx.
WebEx call-in details
Please click here to be taken to the WebEx. In Canada, please call 1-800-771-7943. The meeting number is 739 555 365, and dial-in numbers are listed below. If you have any issues, call WebEx support at 888-447-1119 and select option two.
For international, see below:
Australia 18 0070 1965
Italy 800788948
China unified 800 819 0030
Luxembourg 80028160
France 08 00 91 37 61
North America (backup) 647-722-9143
Hong Kong 800 900 873
United Kingdom 080 0528 0984
Barbados 1 800 203 0580
Trinidad and Tobago 1 800 203 3954