Description
The retail industry is rapidly changing. What is the future of Canadian e-commerce in this digital age?
On Wednesday, November 8, from 9 a.m. to 10 a.m. EDT, see John Stackhouse in conversation with Shopify COO Harley Finkelstein.
Over the past year, the stock price of online retailing giant Amazon.com has hit record highs. Shopify's platform gives users the same sophisticated selling capabilities as Amazon, and the company works with small businesses and established players to help them navigate the digital transition.
Finkelstein will discuss the future of retail, how the company retained its strong corporate culture over ten years of explosive growth, and what our shopping habits can teach us about where the world is headed.
Speaker:
Harley Finkelstein, COO, Shopify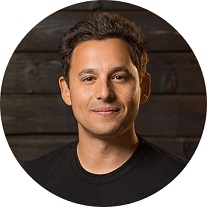 Harley Finkelstein is the Chief Operating Officer at Shopify and has been with the company since 2010. Prior to his current role, Harley founded numerous startups and ecommerce companies. He currently serves on the board of The C100 and is an advisor to Felicis Ventures.
Harley holds a Bachelor degree in Economics from Concordia University and a J.D./M.B.A. joint degree in Law and Business from the University of Ottawa.
How to watch
You can stream RBCDisruptors on Facebook Live!
Click here to like RBC on Facebook and stay tuned for the live broadcast on Nov. 8th.
RBC employees can tune in via WebEx.
Follow and join the conversation on Twitter using: #RBCDisruptors
WebEx call-in details
The audio should stream via your computer, but you can dial in from Canada at 1-800-954-0684. If you have any issues, call WebEx support at 888-447-1119 and select option 2. The event number is 738 894 162.
For international, see below:
Australia - 18 0070 1952
Italy - 800788076
China unified - 800 819 0031
Luxembourg - 80028160
France - 08 00 90 20 07
North America (backup) - 647-722-9111
Hong Kong - 800 900 206
United Kingdom - 080 0496 1094
The RBCDisruptors Speaker Series
RBCDisruptors is an ongoing speaker series hosted by the Office of the CEO and moderated by SVP John Stackhouse. The series is designed to bring leading thinkers into the enterprise to talk about major shifts in the world around us. Featuring thought-provoking sessions on digital technology, changing workplaces and big shifts in consumer behaviour, RBC Disruptors helps a cross-section of RBC leaders better understand these changes and stimulate conversation on how we seize related opportunities.