Description
In 2019, the brain is heading into overdrive.
We live and work in a society powered by technology - it has dramatically altered our lives, and it's even changing our brains. The human brain has the ability to adapt and change based on new experiences, a scientific phenomenon called neuroplasticity. In 2019, it's heading into overdrive.
How do devices and technology rewire the brain? Join us as we explore the implications of digital technologies on the mind and brain and exploration of the future as we move towards the merging of human and machine.



Speaker
Dr. Murali Doraiswamy, Physician & Brain Scientist, Duke University
@DukeMedSchool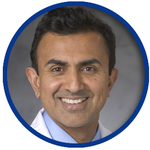 Dr P. Murali Doraiswamy is a world renowned physician and brain scientist who serves as a Professor of Psychiatry and Behavioral Sciences at Duke University School of Medicine and as a member of the Duke Institute for Brain Sciences. He is a highly cited researcher who has served as a principal investigator on landmark clinical trials and played a key role in the development of many diagnostic, therapeutic and mobile health innovations widely used in medicine today. He has been an advisor to leading government agencies, biotechnology industries and advocacy groups, and serves as the Co-Chair of the World Economic Forum's Global Future Council on Neurotechnology. Murali is the co-author of an acclaimed family guide, The Alzheimer's Action Plan.
WebEx call-in details
Please click here to be taken to the WebEx. This meeting will stream the audio via your computer or mobile device. If you experience any issues with WebEx Broadcast Audio, please dial in using the phone numbers provided.

In Canada and the U.S., please call 1-800 954 0585. The meeting number and access code is 219 256 13, and dial-in numbers are listed below.

NORTH AMERICA +1 800 954 0585
AUSTRALIA 1800248619
BARBADOS 18002030580
CHINA 8008190031
FRANCE 800919033
HONG KONG 800962091
ITALY 800788939
LUXEMBOURG 80028157
TRINIDAD AND TOBAGO 18002030767
UNITED KINGDOM 8004961078