Description
1-800-GOT-JUNK? began with a 19-year-old college dropout, a $700 pickup truck and an idea.
Founder & CEO Brian Scudamore found a way to professionalize the junk industry and became a full-time "junk guy" from a young age. With a strong focus on customer service, the company was able to carve out a niche in the market and scale via franchises across Canada, the U.S. and even Australia.
Now 30 years later, with $300M+ in yearly revenue, they've scaled into other home servicing brands, including a one-day painting service, a moving company and a window washing business.
The company is proof that you don't need to invent something completely new, you just have to make what consumers already do better by designing experiences that make everyday life easier. Join us as we dig into the entrepreneurial ups and downs of starting a consumer-focused business from scratch, from the junk guy himself.
Speaker
Brian Scudamore, Founder & CEO,
O2E Brands, 1-800-GOT-JUNK?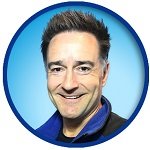 Serial entrepreneur and author Brian Scudamore has always taken the road less travelled. At just 19 years old, he pioneered the industry of professional junk removal with 1-800-GOT-JUNK?, turning a chore people avoid into an exceptional customer service experience. Then he scaled that success into three more home-service brands, WOW 1 DAY PAINTING, You Move Me, and Shack Shine under the O2E Brands banner.
How to watch
Join us live in person at the Waterpark Place auditorium, 88 Queens Quay W, Toronto.
To watch the event on Facebook Live, click here to like RBC on Facebook and stay tuned for the broadcast on Feb. 27.
RBC employees can tune in via WebEx.
WebEx call-in details
Please click here to be taken to the WebEx. In Canada, please call 1-800-748-8543. The meeting number is 730 374 615, and dial-in numbers are listed below. If you have any issues, call WebEx support at 888-447-1119 and select option two.
For international, see below:
Australia 18 0070 2183
Italy 800788939
China unified 800 819 0032
Luxembourg 80028160
France 08 00 90 58 32
North America (backup) 647-722-6867
Hong Kong 800 930 845
United Kingdom 080 0528 0638
Barbados 1 800 203 0580
Trinidad and Tobago 1 800 203 0767