Description
Scaling the digital marketplace
Ritual has transformed the way we order food – by digitizing dining, shaving precious time off of our daily routines and creating a new way for restaurants to attract and connect with new clientele.
The mobile pickup app has grown from a test bed in Toronto five years ago to a global company operating in the U.K., Australia and over 16 North American cities, with sights on further tripling their restaurant count by the end of this year. All without ever having control over the end user experience.
Now as they scale the business, they're confronted with the challenge of making the digital work with the physical – by helping shape the design and layout of restaurants and food courts.
Join us to hear how Ray Reddy built a scalable company, and is now working to bridge the digital marketplace as they expand globally in their next growth phase.
Speaker
Ray Reddy, Co-Founder & CEO, Ritual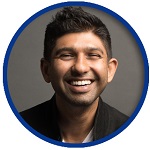 Ray Reddy is currently the co-founder & CEO of Ritual - the mobile pickup app that taps networks of co-workers and colleagues for fast and easy pickup and pay at a wide variety of local restaurants and coffee shops.

With Ritual, users can mobile order and pay at all their favourite local eateries and coffee shops and have it ready to pick up when they arrive. By also uniquely giving friends and colleagues the ability to add their own food orders onto an existing order, Ritual gives customers the choice of either picking up themselves or having their food brought right to their desk. This 'social ordering' saves customers time and drives incremental orders for merchants. The best and busiest quick service restaurants and coffee shops in major cities across North America, the U.K. and Australia are using Ritual to give them a competitive, technological edge, driving profitability, and a more personalized way to connect with their customers.
Prior to Ritual, Ray co-founded mobile commerce company PushLife that was acquired by Google in 2011. At Google, Ray led mobile product management for shopping and commerce. It was while at Google that Ray saw the potential to better leverage a social application to unlock mobile commerce and thus, Ritual was born.
How to watch
Join us live in person at the Waterpark Place auditorium, 88 Queens Quay W, Toronto.
To watch the event on Facebook Live, click here to like RBC on Facebook and stay tuned for the broadcast on April 24th.
RBC employees can tune in via WebEx.
WebEx call-in details
Please click here to be taken to the WebEx. This meeting will stream the audio via your computer or mobile device. If you experience any issues with WebEx Broadcast Audio, please dial in using the phone numbers provided.
In Canada and the U.S., please call 1-800-954-0629. The meeting number is 219 208 52, and dial-in numbers are listed below.
For international, see below:
Australia 1800-63-6543
Italy 800788950
China unified 800-819-0031
Luxembourg 800-28158
France 0800-914-638
Hong Kong 800-964-224
United Kingdom 0800-528-0625
Barbados 1800-203-0580
Trinidad and Tobago 1800-203-3954