Description
RBC Disruptors: The Data Dividend
More data has been created in the past two years than in history prior to 2017. Big data analytics is set to be a $100 billion industry by 2023, leading advocates to say its insights are priceless. Companies are on the hunt to collect data – yet, many don't know how to leverage it to create value.
Sam Sebastian, an American tech executive who came to Canada to lead Google's operations, is now CEO of Pelmorex (The Weather Network). Sam joins RBC Disruptors to discuss how he is using his Silicon Valley expertise to turn something as simple as daily weather checks into a valuable asset. Every month, 40 million consumers connect with Pelmorex globally, creating more than a billion location records—and changing what we know about data. Join us to find out how Sam's Google experience opened his eyes to Big Data's possibilities, and how Pelmorex is poised to be a player on the global stage.

Speakers
Sam Sebastian, President and CEO, @PelmorexCorp @SamSebastian
Former VP and Managing Director, Canada, Google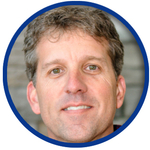 Sam Sebastian is the President & CEO of Pelmorex Corp., an international weather content and technology company that owns and operates the popular weather brands: The Weather Network, MétéoMédia, Eltiempo.es, Clima & Otempo.pt. The company also operates Canada's National Alerting Aggregation and Dissemination System component of Alert Ready and most recently made a majority investment in Weather Source, a leading provider of weather data products in the U.S. Market.
Prior to joining Pelmorex in 2017, Sam was responsible for all of Google's operations in Canada as the VP & Managing Director of Google Canada from 2013-2017. He joined Google in 2006 in Chicago and held a variety of executive level roles in the U.S. before moving to Canada five years ago. Prior to Google, he was a General Manager and Senior Vice-President at a large online classified business, Classified Ventures (cars.com, apartments.com), and started his career at Arthur Andersen as an accountant and consultant.
Sam is a member of the Business Council of Canada and a Director on several Boards including Tennis Canada and Bridgit, a Kitchener-Waterloo internet start-up in the construction industry.
Sam graduated from Ohio State University and holds an MBA from Northwestern's Kellogg Graduate School of Management. At Ohio State, he played Division I NCAA tennis, where he was a two-time Captain, Big Ten Champion and Academic All American.
How to Watch Online:
Live-streaming details to be provided via email 48 hours in advance. Please register on Eventbrite to receive information.