Description
Welcome! In coordination with the Raleigh IIBA, we are very excited to host the second annual professional development day in the area specifically geared toward business analysts. This will be a fantastic opportunity for you to expand your skills set, learn about the latest industry trends, and network with your colleagues. You will also be eligible to claim up to eight CDUs and PDUs for attending. We are happy to be able to bring this value-packed event back to Raleigh again this year.
The Raleigh Business Analysis Development Day (RBADD) 2017 has a theme of: Next Generation BA and will be featuring two tracks: Achieving Technical Excellence and Becoming a Trusted Advisor. The BA role has become more prominent, and the ever changing requirements and opinions of what a business analyst is has importance in the success of major projects. This event focuses on the future of the business analyst role, while giving educational advancement as well.
There are two tracks with a total of eight breakout workshop sessions and two keynotes. These topics are meant to fulfill a spectrum of interests and all sessions offer PDUs and CDUs to fulfill continuing education needs.
Location: McKimmon Center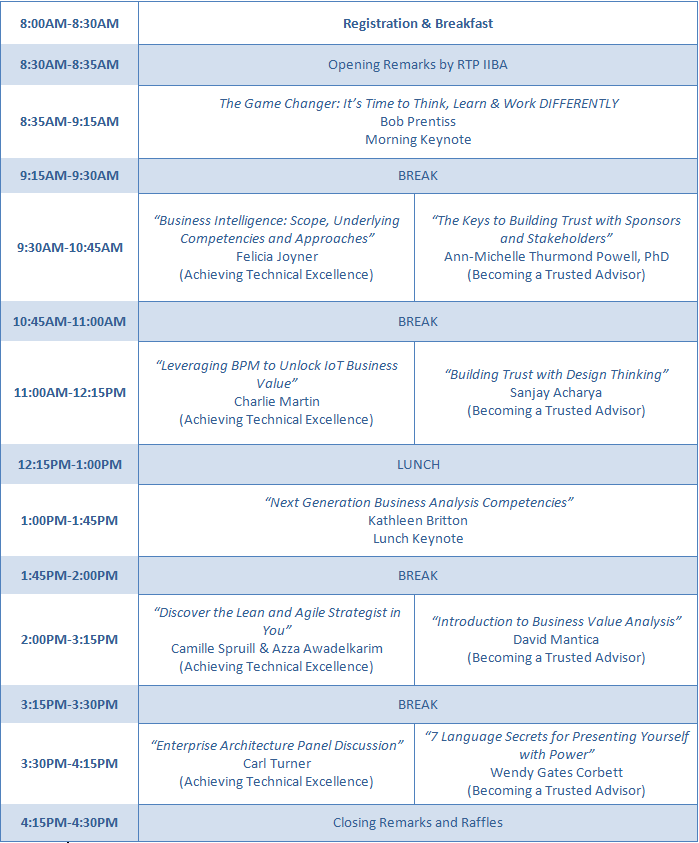 The Game Changer:

The future of business analysis requires people that are Game Changers to lead their projects, teams, and practices into a new era of technology, hybrid business models, and advanced collaboration. Game Changers anticipate what is coming and they work hard today so that they are prepared for tomorrow. Hey Game Changer, do you know what you need to do today to get ready for the future of business analysis? Don't be caught in the past and get ready for a game-changing event that you will not soon forget because you are about to Think, Learn & Work DIFFERENTLY!
Business Intelligence: Scope, Underlying Competencies and Approaches:
Business intelligence is the practice of transforming data into value-added information that can be used to support strategic decisions at the executive level, tactical decisions at the managerial level and operational decisions at the process level. The Business Analysis Body of Knowledge (BABOK) 3.0 has added a section on Business Intelligence (BI) Perspectives. We will discuss the unique characteristics of business analysis when practiced in the world of business intelligence.
The Keys to Building Trust with Sponsors and Stakeholders:
Stakeholder and Sponsor Relations is probably the core of our business. As a Product Owner, Business Analyst or Project Manager, we know the Stakeholders or Sponsors can make or break the success of a project or solution implementation. How can you ensure the best possible outcome and in the process, secure your place as a Trusted Advisor? Learn how to effectively utilize the 4Cs of relationship management: Communication, Collaboration, Cultivation, and Consistency.
Leveraging BPM to Unlock IoT Business Value:
In our ever more connected world, the Internet of Things will enable business process transformation in ways not previously imagined. Through the interconnectivity of things, data, processes and people, business will be simplified, smarter, faster and more efficient. How can we identify and take advantage of these connected opportunities? How can we begin the digitalization of our businesses? Use cases and real-world scenarios will be used to demonstrate the techniques Business Analysis teams can use to unlock value from the Internet of Things.
Building Trust with Design Thinking:
An unacceptably large percentage of projects fail due to trust deficit amongst the stakeholders. The discussion will focus on using Design Thinking practice to address the key ingredients of trustworthiness; credibility, reliability, intimacy and self-orientation.
Next Generation BA Business Competencies:
It isn't too late to prepare yourself for the Next Generation of Business Analysis Competencies. Can anyone predict the future with certainty? No. But noticing trends can help you identify skills you will soon need to master. We will consider how certifications, training, and even your current job can add to your tool kit for the future. We will focus on these six Next Generation Business Analysis Competencies: developing future state requirements, working effectively across generations, building efficient virtual teams, becoming more Agile, and expanding language skills. This presentation will be of value to new and experienced BAs seeking to have the skills required to master the future state of Business Analysis.
Discover the Lean and Agile Strategist in You:
There is a misconception that strategy is reserved for leadership, as such strategic analysis is too often overlooked in individual contributors. As business analysts, strategy is your role, while identifying efficiencies to deliver value. You will leave this session with the enterprise agile and lean six sigma techniques that you as a business analyst can begin to apply.
Introduction to Business Value Analysis:
Business Value Analysis looks at the way teams to make decisions on what to build next. Usually this responsibility was left to the project sponsors (executives in the company) but the speed of change and the complexities of work systems is changing how decisions on "what" are made. This seminar takes a high level look and provides SDLC professionals with a first step in understand the very esoteric concept of Value. This session will provide tangible ways to assess value and who critical thinking skills are used to support the decision process and how to look at business direction and connect it to the work planning you do.
Enterprise Architecture Discussion Panel:
This discussion panel includes enterprise architects who will provide background on their role within their organizations. Topics include: enterprise architects place within the organization, and how they engage with business areas. Their biggest challenges as an enterprise architect and suggestions on how business analysts can help bridge the gap between technology and business units.
7 Language Secrets for Presenting Yourself with Power:
This topic will help offer useful tips for helping a Business Analyst use both their verbal and body language skills to present him or herself with confidence to elicit trust and weld influence. This session will be an enjoyable, interactive program that explores seven secrets about verbal language, body language, and slide language that make the powerful impression you want—from creating crisp presentation materials to using compelling, evocative stories to influence your audience.
Notes:
No refunds will be given within 7 business days of the event. Substitutions are welcome.
Registration closes Monday, November 13th, 2017, at 5pm EST. Walk-in registrations are not permitted the day of RBADD.