Explore The City Through Food, Music, & Fun Tour The City - Enjoy Foods & Flavors - Listen To Music & Sing Carpool Karaoke
About this event
HOW IT WORKS
Move and groove with your taste buds as you savor foods and flavors on our southern soul food-inspired Karaoke Food Tour. Take a stroll down memory lane listening to old school and new school R&B while visiting soul food locations with succulent, scrumptious, and luscious tastes & flavors.
One (1) ticket purchase is required per tour participant. All tours include space for up to 6 people (or 5 people comfortably). Groups larger than 5 should call to schedule a custom tour.
TOUR OF CHARLOTTE, NORTH CAROLINA
Our tours are facilitated by a knowledgeable, respectful, and fun tour guide, who will shuttle guests around in a passenger karaoke van. As you are shuttled around the city, you will observe famous and historical sites, all while being entertained by interesting facts about the Queen City.
KARAOKE
We really like scenic views but we love to sing! Sing it! Sang that! All guests will have the opportunity to sing their favorite R&B songs, karaoke-style! Sing with your friends or sing a solo, as we cruise through Charlotte, leaving a trail of beautiful harmonies.
FOOD TOUR
We will take you to THREE of our favorite soul food restaurants where guests will have the opportunity to taste some of Charlotte's local flavors.
TOUR DURATION
Each tour is set to last for around 3.5 hours, including 3 food stops
Extra stops can be accommodated while on tour for a fee (ex. pick-up/drop-off at airport or a hotel)
Pick-Up and Drop-Off Locations
Free, Safe Parking! Pick-up and Drop-off @ Camp North End parking lot
Camp North End parking lot - 300 Camp Rd Charlotte, NC 28206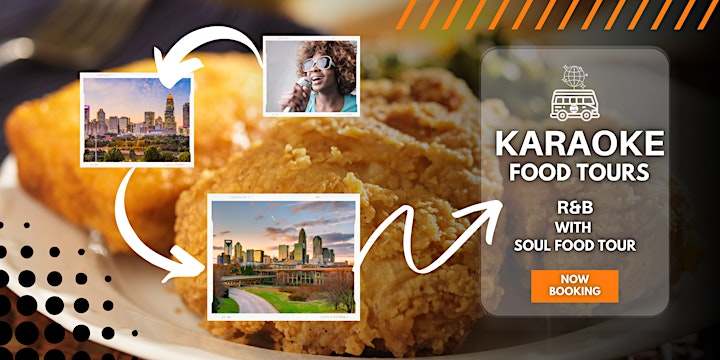 Explore Charlotte, North Carolina like never before! Come sing with us! Come eat with us! Experience Charlotte in a new way. Reserve your ticket today.
Our R&B with Soul Food Tour is a tour guest favorite. Sing your favorite R&B songs while touring the Queen City! We have some of the best soul food on the planet. We will stop at three of our favorite restaurants where you will have an opportunity to taste our local flavors.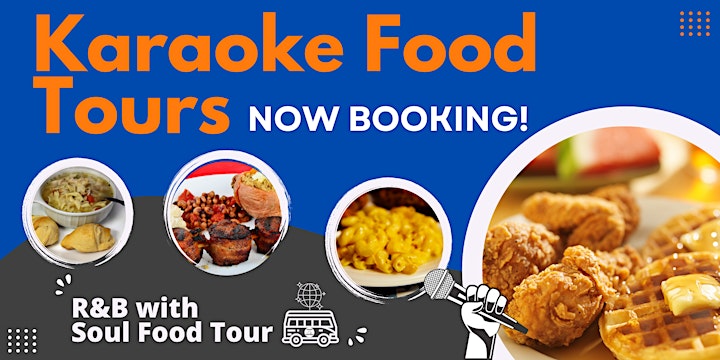 Singing, laughing, eating, and exploring the beauty Queen City are what you will experience when you book an amazing tour with Karaoke Food Tours!
For this tour, the theme is R&B with Soul Food. Bring your friends and let's sing some epic R&B hits, while touring Charlotte, North Carolina, home of the Carolina Panthers and Charlotte Hornets. Tickets are going fast. Reserve your tour today!