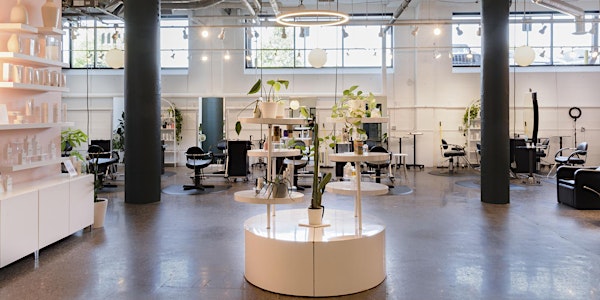 Razor Cutting Classes With Pony Studios
A Razor cutting class at Gem Salon. Experience a demo only or add beginner or advanced hands on option. Lunch included on all tickets
When and where
Location
Gem salon 1621 East Hennepin Avenue suite B20 Minneapolis, MN 55414
Refund Policy
Contact the organizer to request a refund.
Eventbrite's fee is nonrefundable.
About this event
Monday Dec 5, 2022
Demo + Lunch Mixer 10am-12:30pm: $199
Beginner Demo + Lunch Mixer + Hands-On: 10am-4:30pm: $499
Advanced Demo + Lunch Mixer + Hands-On: 10am-4:30pm: $499
Limited Slots Available
Full Agenda:
9am- 9:15am - Talent and Demo Models Arrive
10am to 12:30pm - Intro, Inspiration + Demonstrations (both beginner & advanced tickets)
12:30pm to 1:30pm - Lunch Break
1:15pm - Hands-On Models Arrive
1:30pm to 3:30pm - Hands-On Workshop (advanced tickets(
3:30pm - 4pm - Wrap Up / Q&A / Close
Advanced Razor Class Description:
As we explore what makes the razor different from the scissor, we open the possibilities of new shapes and textures that can only be created with this tool. This advanced razor cutting class is an intensive workshop that will challenge & equip you for inspiring days behind the chair again. Expect to get out of your comfort zone and try something new. We will be coaching and guiding you on proper body positioning, how to plan the look you are going for and achieve it! By the end of this workshop your eyes will see hair differently! Let's get inspired together.
This training is for you if...
You're confident in razor hair cutting but know you could take your skills to the next level
You are interested in learning how to lead a comfortable, controlled and thorough consultation with your clients using verbal and visual communication
You want to get inspired by the latest razor hair cutting trends
You want to learn advanced techniques to give your clients a suitable cut with an easy to maintain style
You want to learn how to bring more texture and balance to every haircut
You would like to gain a better grasp on creating finished looks
You are interested in learning a better way to listen, understand and deliver the ideas your clients bring to your chair
Learning objectives:
You will be able to offer each client a customized look that they're able to easily style themselves
You will revisit correct body positioning, finger positioning and how to control the razor
You will discover advanced razor haircutting techniques to confidently use on your clients
You will learn product application for the best end result
You will learn tips on the right amount of weight removal to achieve shape and definition
You will learn balance, proportion and cutting for suitability
You will learn finishing techniques and details for locking styles in place
You will be able to gain the knowledge and confidence from consultation to finished look by learning from 2 lead educators with 20+ years of experience
Beginning Razor Class Description:
In this class we will coach you closely so that you feel more comfortable and confident with your razor. Our educator will give you the feedback you need to take your skills to the next level. If you are new to cutting behind the chair or a seasoned hairdresser, we will help you with the fundamentals to razor cutting that are so important for us to continue to master this tool.
This training is for you if...
You are a stylist with little experience with the razor OR you are an advanced stylist looking to revisit key fundamental razor hair cutting techniques
You are interested in learning how to lead a comfortable, controlled and thorough consultation with your clients using verbal and visual communication
You want to learn the technical aspects on how to use the razor for straight lines, graduations and layering
You want to learn easy techniques to give your clients a suitable cut with an easy to maintain style
You want to learn how to bring more texture and balance to every haircut
You would like to gain a better grasp on creating finished looks
You are interested in learning a better way to listen, understand and deliver the ideas your clients bring to your chair
Learning objectives:
You will be able to offer each client a customized look that they're able to easily style themselves
You will learn how to hold and use your razor with correct body positioning, finger positioning and how to control the razor and comb
You will discover key fundamental techniques to confidently use on your clients
You will learn product application for the best end result
You will learn tips on the right amount of weight removal to achieve shape and definition
You will learn balance, proportion and cutting for suitability
You will learn finishing techniques and details for locking styles in place
You will be able to gain the knowledge and confidence from consultation to finished look by learning from 2 lead educators with 20+ years of experience