Sales Have Ended
Registrations are closed
Thank you for registering for the Rays of Hope Walk!
Sales Have Ended
Registrations are closed
Thank you for registering for the Rays of Hope Walk!
Let's walk together to support those who have lost someone close to them - All funds raised will be used to build Bri's Lodge!
About this event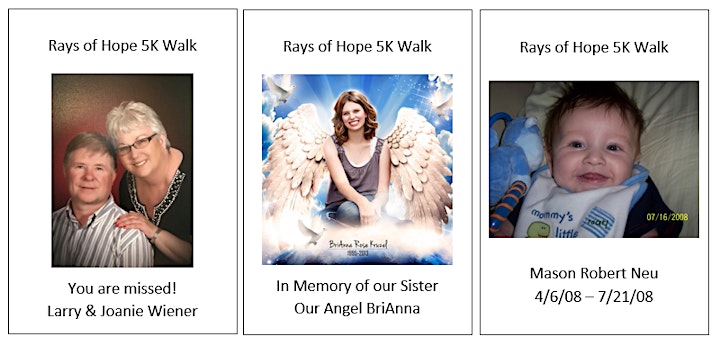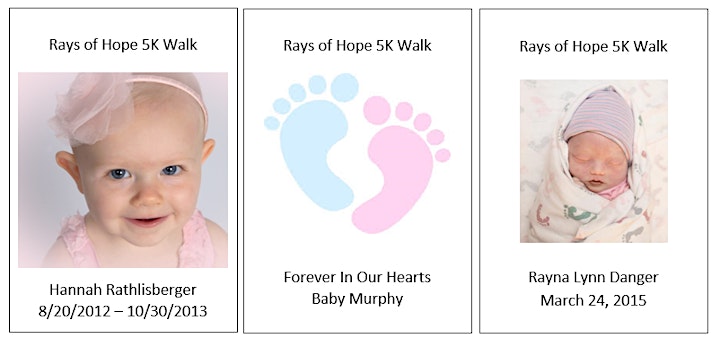 On October 3, 2020 What Would Bri Do, Inc. will be hosting our 4th Annual Rays of Hope Walk. This walk will start from the Angel of Hope at Lake Francis in Sartell.
Due to COVID and the social distancing requirements, the Rays of Hope Walk will follow a new path (or two) this year! The event will still take place on October 3rd as planned but with some modifications.
Path #1 – In Person Walk
Registration and Check In will be changed from 8:30 to 9:30 am
T-shirts and kids gift bags can be picked up in the Community Center
Stay and meet at the Angel of Hope at 10 am or follow Path #2 below
Sorry, no family activities will be held in the Community Center Gym
Follow all Minnesota and CDC guidelines such as masks and social distancing
Path #2 – Virtual Walk
Pick up t-shirts and kids gift bags at the Community Center at 9:30 am or
Contact a committee member to schedule an earlier pickup or
Choose the $10 Shipping Charge when registering to have everything shipped
1-2 days prior, login to Eventbrite.com and search for Rays of Hope Walk
Review instruction's for how the virtual event will work
On day of walk, at approximately 9:45 am, follow instructions from Eventbrite
The Angel of Hope Statue, which is nestled along the shores of Lake Francis in Sartell, is a place where individuals from Central Minnesota can come together to grieve the loss of their child or loved one.
Registration will start at 9:30 am
Remembrance Ceremony will start at 10 am at the Angel of Hope
The Walk will begin at 10:30 am around the loop at Lake Francis
The cost of the event will be $25 per adult and will include a walk t-shirt. Junior ages 13-17 are $10 and includes a t-shirt. Children 12 and under will be able to participate for free but price does not include a t-shirt, however, extra tees are available for purchase for $10 each. When each adult registers you will be prompted to enter the name of the person you are walking in memory of.
Remembrance Signs will be available to purchase for $12 each. These signs will have a photo of your loved one along with a memorial message. A sign can be purchased in memory of anyone. Please email a photo of your loved one to RaysofHope@brislodge.com after completing registration. If you purchased a sign in the past and didn't take it with you it will be placed along the path of the walk again this year. Examples are shown below.
TEAM OR INDIVIDUAL REGISTRATION AVAILABLE - You will be prompted to choose whether you would like to form a team, join a team or register individually. There will be awards for top individual and top team.
If you prefer not to register online and need a paper registration form, please email RaysofHope@brislodge.com and a copy will be emailed to you or go to www.brislodge.com to print the registration form.
All CDC guidelines should be followed with regards to COVID. WWBD reserves the right to make needed changes if it is needed.
______________________________________
2020 DEVOTION SPONSORS:
Anytime Fitness Sartell
Brenny's Custom Cabinets
Dubow Textile, Inc
Fitzharris Ski, Bike & Outdoor
Sartell Tax & Accounting Services Inc
Sartell Vibe
St. Cloud Eagles Club Aerie 622
St. Cloud Financial Credit Union