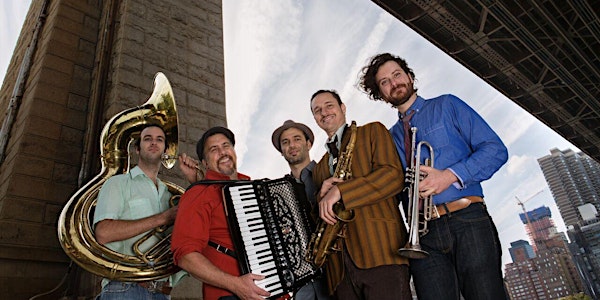 Raya Brass Band
with Spanglish Fly, What Cheer? Brigade
Performers
Raya Brass Band
Spanglish Fly, What Cheer? Brigade
Location
littlefield
635 Sackett Street
Brooklyn, NY 11217
Raya has been Brass Banding together for 10 years - join us in beginning a new decade with ferocity and style with NYC's best brass bands.
About this event
Doors open at 8:00PM.
January 2019 marks ten years that Raya has been Brass Banding together. On January 17 our friends in Spanglish Fly and What Cheer? Brigade will help us launch with ferocity and style into our second decade.
Since 2008 Raya Brass Band (raybrassband.com) has energized clubs, international festivals, rooftop parties, and subway cars with its hard-driving, original brass band music. The six members of the band bring their unique voices to the group, creating a sound informed as much by their love for the fierce and seductive music of the Balkans as it is by New Orleans brass bands, punk rock. Featuring trumpet, sax, accordion, tuba, and percussion, this band wails, sweats, and shouts alongside its audience.
The What Cheer? Brigade (whatcheerbrigade.com), a 20-piece brass band from Providence, RI, proves time and again that great parties need no electricity. Since 2005, the band has been as likely to appear at community benefits as at all-night parties, playing bars, clubs, streets, libraries, cemeteries, weddings, bus stops, and playgrounds
SPANGLISH FLY (spanglishfly.com) is part band, part celebration: a party ingited by 11 musicians. They have been hailed for "single-handedly reviving sixties bugalú in NYC" (NBC New York). Paying tribute to bugalú while refreshing it for a new generation, SPANGLISH FLY "roars through covers, originals, and transformations of previously untouched soul hits" (Village Voice).