Ray Vander Laan | Adventurous Faith: A Journey to Find Deeper Meaning in Go...
Description
Join Monterey Church of Christ January 17-19, 2020 as we host a special weekend of learning with Ray Vander Laan.
Friday, January 17th, 7:00 pm -9:00 pm
Saturday, January 18th, 9:00 am- 12:00 pm, 1:30-200pm Q&A time, 2:00 pm – 5:00 pm
Sunday, January 19th, 8:30 am & 10:45 am worship services
GIFT CERTIFICATES ARE AVAILABLE IS YOU WANT TO USE THESE AS CHRISTMAS GIFTS! LET ME KNOW AT rvlishere2020@gmail.com.
Join us for a 3 day event as we experience the life of a disciple of Jesus through Ray Vander Laan's energetic and motivational explanations, linking Jewish and Hebraic culture with the biblical text to bring understanding like you've never heard or seen before!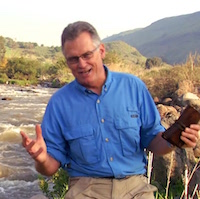 ---
Since receiving his Master's of Divinity from Westminster Theological Seminary in 1976, Ray Vander Laan has been actively involved in studying and teaching Jewish culture using the methods of Jewish education. He has continued graduate studies in Jewish Studies in the United States, Israel, Turkey and Egypt. He has been a teacher for 35 years and is an ordained minister with the Christian Reformed Church. He has also authored a book entitled Echoes of His Presence, published by Focus on the Family. Vander Laan founded That the World May Know Ministries in 1998. Ray has taken over 10,000 people with him on his study tours of Israel, Turkey and Egypt.
Ray's preaching and teaching ministry is focused on understanding the Bible in light of the historical and cultural context in which God placed it. This perspective on the Bible highlights God's call for His people to be a transforming influence on their culture. He uses research of the top scholars in the fields of archaeology, history, and Biblical study as tools to explore the Biblical text ever more deeply. His gifts, expertise, and calling are to link that cultural information and the Bible so that its message applies to our lives today in very practical ways.
For more information on Ray Vander Laan please visit his website at https://www.thattheworldmayknow.com/.
---
For additional information please see the FAQ's below or contact Monterey Church of Christ at (806) 795-5201 or email us at rvlishere2020@gmail.com.
Promo video:
Link: https://gp.screenlight.tv/shares/qRkOU9XrjtLlrhOl18YG37xke5JO87JN?_=1521646188513
Password (case-sensitive): rvl
---
Monterey Church of Christ welcomes you to join us as we work together to fulfill our mission to
LOVE GOD, LOVE OTHERS.
We are a Christ-centered, grace-oriented, and Spirit-led body of believers. Our faith is in God the Father, Creator of heaven and earth; Jesus Christ, the Living Word; and the Holy Spirit, our guide and comforter as revealed in Scripture (2 Corinthians 13:14).
---
FAQs
Who should attend this event?
All are welcome to attend any portion of the weekend seminar with a purchased ticket. Information shared by Ray Vander Laan is appropriate for a full range of audience members.
What time will the doors open each day?
Doors at Monterey Church of Christ will open one hour before each scheduled date and session time. All registrants will check in through the east side doors. Reserved seating is discouraged. A seat card will be made available to each attendee as they are signed in each day to hold individual seats only for each individual day.
Where can I park? Are there any accommodations for handicap parking?
Monterey Church of Christ will have plenty of parking available on both the north, east, and west ends of the building. A limited number of handicap parking spaces will be made available to those needing accommodation. Parking attendants will be available to transport participants to the registration doors as needed.
What can I bring into the event?
Participants are encouraged to bring any preferred biblical reference materials, notepads, and/or electronic note taking devices. Food and drinks are allowed throughout the weekend event as long as they are not disruptive to those around them, do not stain or damage church equipment, and are disposed of properly during any breaks and at the end of each session.
Is there reserved seating?
Reserved seating is not permitted, however, a seat card will be made available to each attendee as they are signed in each day to hold individual seats only, for each individual day. Due to the popularity of the event, all participants will be asked to move towards the center of their row to allow for others to find a seat.
Can I record the event?
No audio or video recordings of the event are allowed.
What is the refund policy?
Due to the popularity and nature of this type of event, no refunds will be issued. If you have purchased tickets and are unable to attend, we encourage you to consider gifting your ticket to someone who might enjoy the experience. Your patience and understanding is appreciated.
Do I have to bring my printed ticket to the event?
Once you have registered to attend the event, you will receive an email confirmation with event details. The week of the event, you will also receive a reminder with any updated information that might be beneficial to each attendee. We will have access to the list of paid attendees and will be able to check you off in the event you do not have your paper ticket.
Will childcare be provided?
Childcare will not be provided.