Ray Kurzweil: How to Create a Mind

Thursday, November 15, 2012 from 7:00 PM to 8:00 PM (PST)
Event Details
Thu, Nov 15 2012 - 7:00pm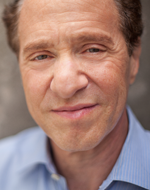 Ray Kurzweil
Inventor; Futurist; Author, How to Create a Mind: The Secret of Human Thought Revealed
For decades pioneering inventor and theorist Kurzweil has explored how artificial intelligence can enrich and expand human capabilities. Now he takes this exploration to the next step: reverse-engineering the brain to understand how it works, then applying that knowledge to create vastly intelligent machines. Drawing on the most recent neuroscience research, his own research and inventions in artificial intelligence, and compelling thought experiments, Kurzweil describes his new theory of how the neocortex (the thinking part of the brain) works: as a self-organizing hierarchical system of pattern recognizers. He shows how these insights could enable us to vastly extend the powers of our own mind and provides a roadmap for the creation of superintelligence.
Location: Schultz Cultural Hall, Oshman Family JCC, 3921 Fabian Way, Palo Alto
Time: 6:30 p.m. check-in, 7 p.m. program, 8:15 p.m. book signing
Cost: Regular $20 standard, $12 members, $7 students. Premium (includes copy of book and reserved seating in front) $40 standard, $40 members.
Also know: In association with the Oshman Family JCC
When & Where

Schultz Cultural Hall, Oshman Family JCC
3921 Fabian Way
Palo Alto, CA 94303


Thursday, November 15, 2012 from 7:00 PM to 8:00 PM (PST)
Add to my calendar
Organizer
The Commonwealth Club is the leading national forum open to all for the impartial discussion of public issues.