Raw Vegan Dessert One Week Class with Master Pastry Chef Gabriela Oltean
Actions and Detail Panel
Raw Vegan Dessert One Week Class with Master Pastry Chef Gabriela Oltean
Sun, Jun 26, 2016, 7:00 PM – Fri, Jul 1, 2016, 5:00 PM EDT
Description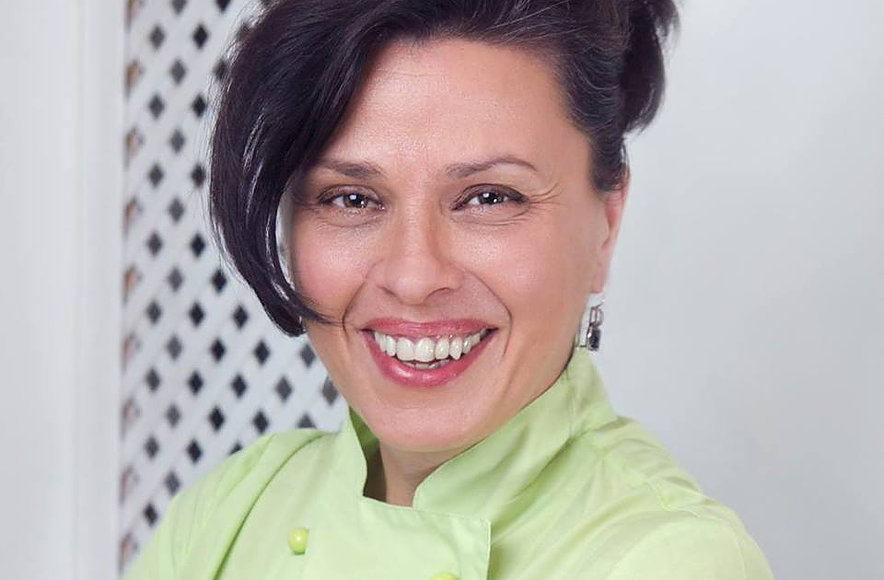 Raw Vegan Desserts
6/26 - 7/1, 2016
$1250 (includes room) $1150 (no accomodations)
Raw Food and fruit will be available every meal, included in tuition cost.
About Gabrila:
Gabriela Oltean, Visiting Raw Pastry Chef
A native of Brasov, Romania, Gabriela Oltean is a 2013 graduate of the Graff Academy and runs Delicious Raw, her raw food shop in Brasov, a city in central Romania 100 miles north of Bucharest that serves daily raw cuisine and sweets.
As a visiting chef for Graff Academy during spring 2016, Gabriela will instruct Academy students on how to prepare raw deserts, learn new techniques and use different ingredients, and will serve as a mentor to participants looking to open up their own raw food businesses.
Gabriela graduated from the University of Brasov and served as a member of the engineering faculty starting in 1993. She is a graduate engineer, who discovered raw food in 2011 due to some unforeseen and sad circumstances in her life.
She runs her own workshops, both in Brasov but throughout Romania, and is a frequent participant in the biggest raw show in Romania, Raw Generation Expo.
Day 1
Introduction: who am I? How I discovered raw food? How are they and what are there goals for this course; what are the objectives for this course?
1. RAW INGREDIENTS
(Nuts and seeds, hydration and dehydration, why do we do it ? sweeteners, healthy fats, nut butters, nut pulps, powders and super food, flavors and spices, thickeners, binders and emulsifiers )
2. EQUIPMENT
3. BALLS
3.1 mint and algae balls
3.2 chocolate pistachio balls
3.3 raspberry and goji balls
4. CHOCOLATE
4.1 tempering,
4.2 dark chocolate
4.3 white chocolate/ colored chocolate
4.4 "milk "chocolate/" brushed" and "marble" effect
4.5 pistachio pralines
Day 2
1. COOKIES & BISCUITS
1.1types of dough, raw jam- with coconut oil, or chia seeds, or Irish moss, decorating sprinkles, dehydration
1.2 chocolate oatmeal biscuits
1.3 chocolate glaze ginger bread
1.4 chocolate biscuits with vanilla filing
1.5 "ishler" (Romanian cookie)
1.6 chia strawberry cookies
1.7 apple cranberries cookies with forest fruits filling
2. ROLLS
2.1 types of dough & fillings
2.2 raisins and nuts roll
2.3 pistachio and chocolate cream roll
2.4 "Stracciatella" roll
3. ICE CREAM
3.1 basic component of ice cream
3.2 strawberry &blueberry banana ice cream
3.3 rum raisins and tahini ice cream
Day 3
Today we will be achieving the following:
· The glaze for ginger bread and "ishler";
· The chocolate biscuits with vanilla filling and the apple cranberries cookies with forest fruits filling
BARS
1. Sunflower and orange bar (one layer) with chocolate ganache
2. Hazelnuts cinnamon and macadamia bar (two layers, I used coconut oil like thickener)


3. Carrot cinnamon and chocolate bar (two layers, I used psyllium like thickener)
4."snow white" (two layers bar with coconut lemon& macadamia filing, I used Irish moss like thickener)
5."rawmandina" (two layers bar with apricots jam and chocolate toping)
6."arlechino" (for layers bar with chocolate cream and lemon toping)
7. "Tiramisu" (for layers)
Day 4
CAKES
1. With one nuts/ seeds crust; combinations;
1.1 forest fruits and vanilla cake (one color)
1.2 "after eight "cake (mint and chocolate cake; two colors)
1.3 strawberry blueberry orange and chocolate cake (for colors)
2. with two nuts/ seeds crust
2.1 vanilla and pomegranate cake (one color, two layers)
3. Without nuts and seeds crust; example of crust
3.1 "delicious raw" (date and beet crust with whipped coconut cream and cherries)
3.2 "summer dream" (zucchini carrot and coconut crust in two layers with chicory and apricot filling)
Day 5
CAKES
We will decorate the cakes from the other day and make a wedding cake :)