Raw Food Revival Three Day Weekend Home Chef Course November 2017

Thursday, November 2, 2017 at 7:00 PM

-

Sunday, November 5, 2017 at 6:00 PM (EDT)
Event Details
The Graff Academy of Raw Food Education offers a Three Week Certification Course, One Week Home Chef Course, and a Three Days Weekend course. Click here to view the list of courses and dates planned
Raw Food Revival Three Day Weekend Home Chef Course
Thursday - Sunday November 3 - 5 

Cost $695
Come stay with us for a weekend and learn raw food preparation techniques, tips and kitchen magic. Learn to easily make delicious food that will impress your family and friends. We give individualized consultation and coaching for food that will be best for our students and their families with some nutrition science. Our weekend program is limited in size to give individualized direction and answer questions. We are professionals that have over twelve years experience educating students in raw food preparation and nutrition science. Choose one of the following weekends. 
Are you looking for a way to get started on raw food or are you and your family simply bored with the raw food you are eating? Have you been searching for a comprehensive, affordable class taught by professionals, respected by leaders in the raw food movement? Learn ways to introduce raw food into the family's diet with the most acceptance. Make over 50 delicious substitutes for foods you think you cannot give up with principles and skills to make any raw food dish with time saving ideas spending a half-day making food for the entire week. 

Friday's Raw Food Awakening Menu
Breakfast: Pina Colada Smoothie, Spinach Quiche, and Savory Nut Crust
Lunch: Dilly Zucchini, Mexican Marinated Greens, Marinated Spinach, Sunflower Seed Humus with vegetables and Pita, Chili Lime Dressing and Green Salad, Apple Pie, Nut and Date Pie Crust with Ice Cream
Dinner: Nacho and Corn Chips, Guacamole, Mexican Riced Cauliflower, South of The Border Slaw, Tomato Salsa, Sunflower Taco Mix

Saturday's Raw Food Revival Menu
Breakfast: Mango Sunrise Surprise Smoothie, Cinnamon Rolls, Toast, and Fig Preserves
Lunch: Umburger, Ketchup, Mustard, Fermented Dill Pickles, Jicama Fries, Sweet and Sour Cole Slaw, Deviled Tomatoes, Sweet Potato Pie, Nut and Date Pie Crust
Dinner: Popcorn Nugget Cauliflower, Sweet and Sour Sauce, N'egg Salad, Okra Gumbo, Cream Style Corn, Spicy Marinated Herbs and Collard Greens

Sunday's Raw Food Rising Menu
Breakfast: Banana Pineapple Green Smoothie, Granola, Cinnamon Nut Milk
Lunch: Thai Noodle Soup, Oriental Nori Roll, Collard Spring Rolls, Tahini, Oriental Nut Butter, Sweet and Sour Sauce, Thai Cucumber Salad
Dinner: Lasagna, Italian Marinated Vegetable, Italian Marinated Greens, Marinara Sauce and Pasta, Macadamia Pine Nut Ricotta Cheese, Parmesan Cheese, Protein Nuggets, Green Salad and Italian Dressing, Cheesecake.
*we may add, remove or change any of the above recipes, as needed for this class.

This weekend class is for you!
Out of town guests are invited to arrive on Thursday evening in time for a 7pm dinner. Departure can be on Monday anytime.

Cost for the weekend course including accommodations, manual, recipes, and all food is $695 per person. Our classes are small and individualized. We do not use volunteers or other students to teach, with all classes being taught by Jackie and Gideon Graff.  Register soon as space is limited. Payment plans or financing is available. No need for car rental, we can arrange pick-up from the airport and from public transportation. Accommodations at no cost are available at our facility. Call us at
770-634-1572 or email gideongraff@att.net or go to http://graffacademy.com
If you lke to see other education opportunities, or a career in raw food nutrition, check out our program

_ 
The Graff Academy of Raw Food Education 3-Week Raw Food Chef Training is a slam-dunk Grade A+ experience for any individual looking to advance their knowledge and expertise in the world of Raw Food meal preparation. From the individualized
attention given by both Gideon and Jackie Graff to each student to the relative inexpensive tuition for the hours spent making food, there is no better raw food training experience out there. With both classes and accomodations provided in the same location, the students can relax and enjoy their time from the very first meal in the Academy.

I came to The Graff Academy of Raw Food Education looking to understand what the world of raw food was all about. I left an aspiring chef with the experience that comes from spending hours working in a restaurant. Jackie's amazing recipes and Gideon's food industry knowledge compliment each other to make each day's experience at the Academy a nugget that builds on the next so that when you leave each student has a found their pot o' gold.

If you are wanting to build your raw food knowledge or just enhance what you have I strongly encourage you to look into attending The Graff Academy of Raw Food Education. You will be so glad you did.

Jim Amacher
Albuquerque, New Mexico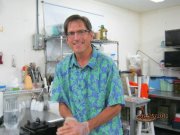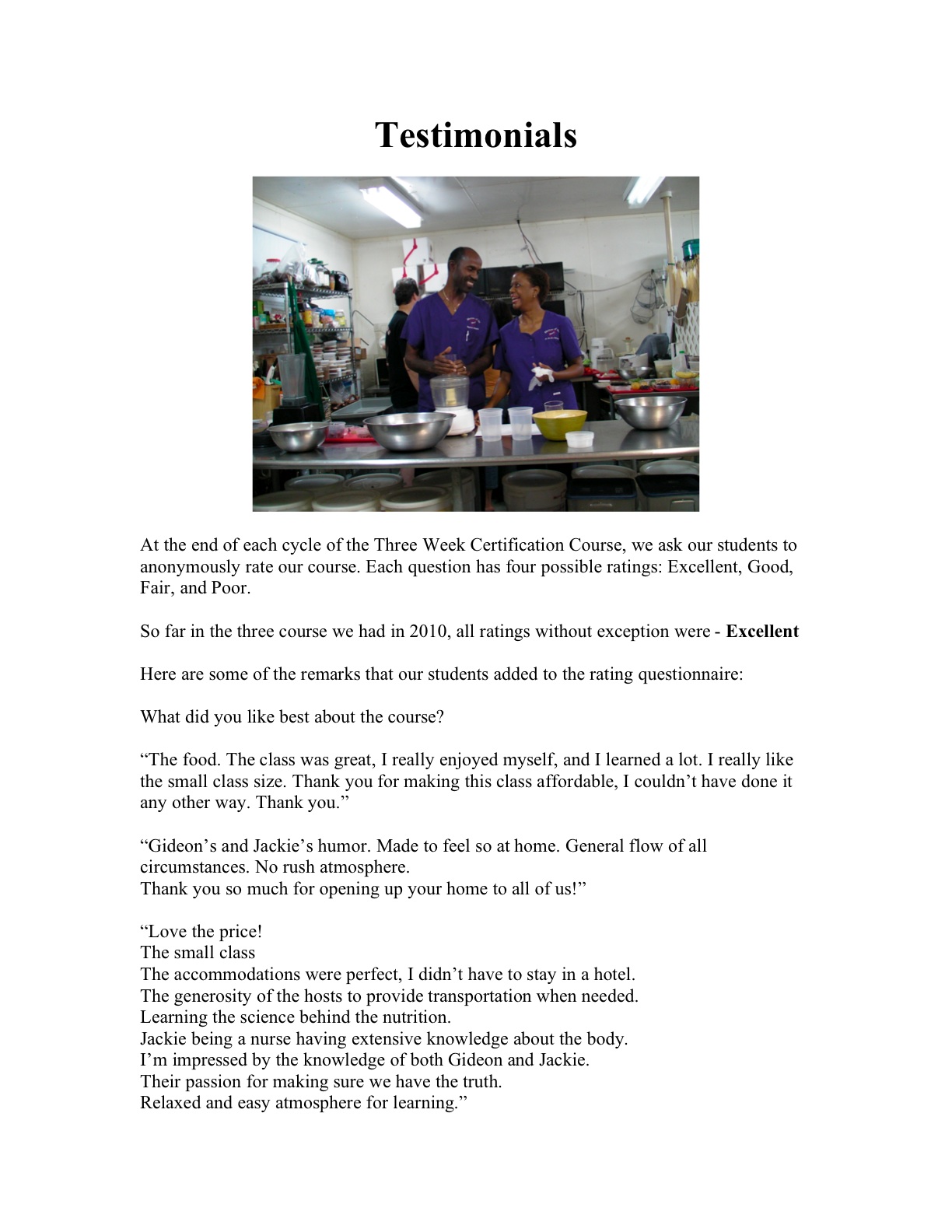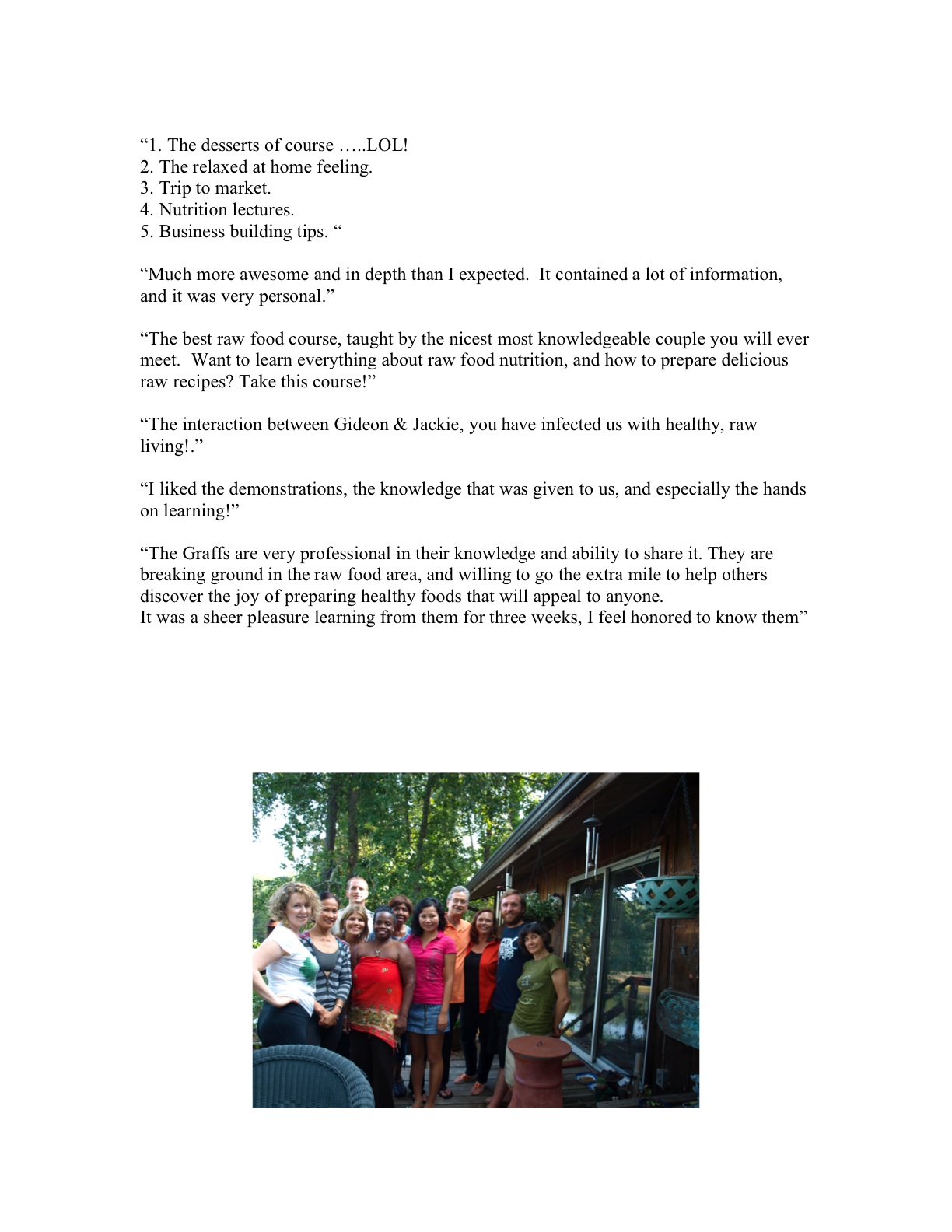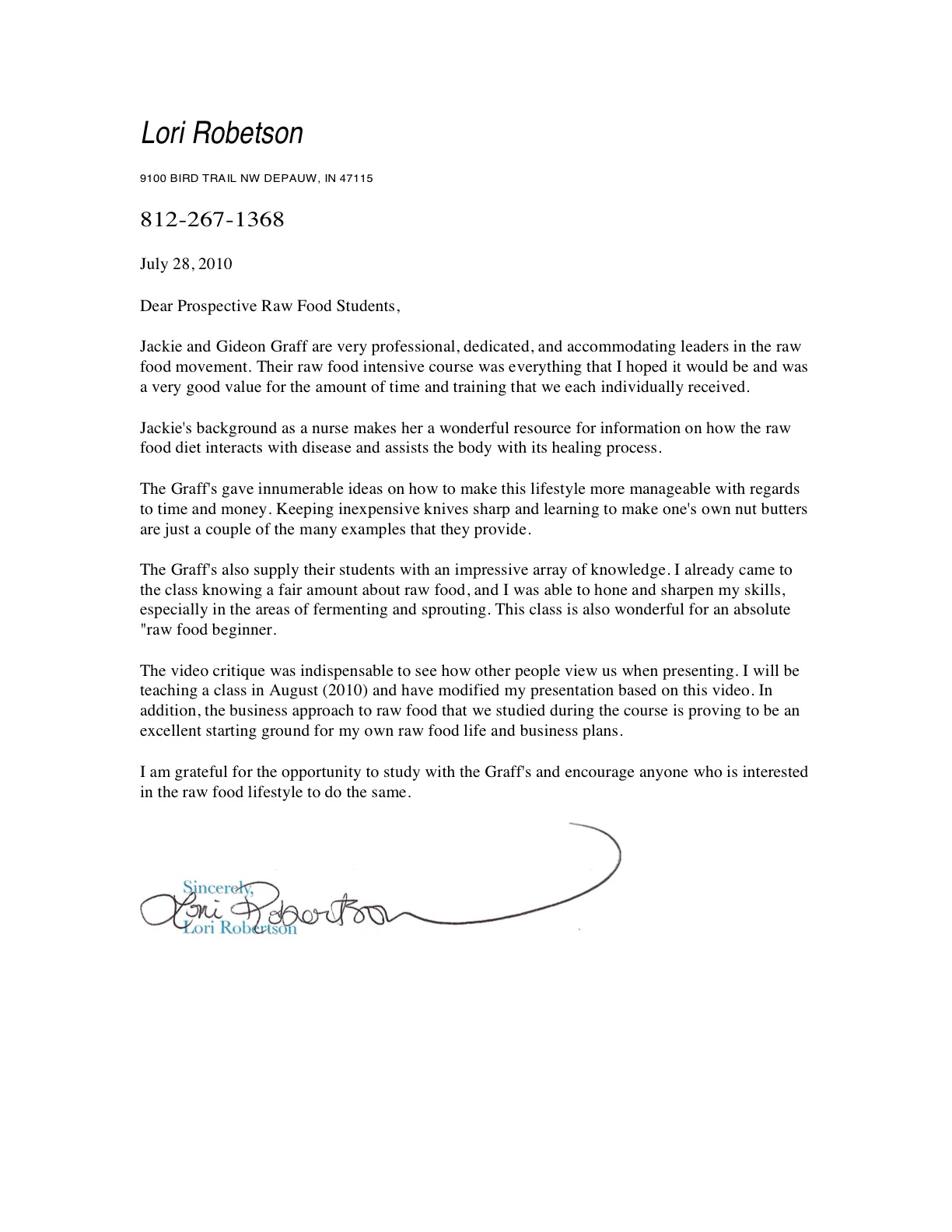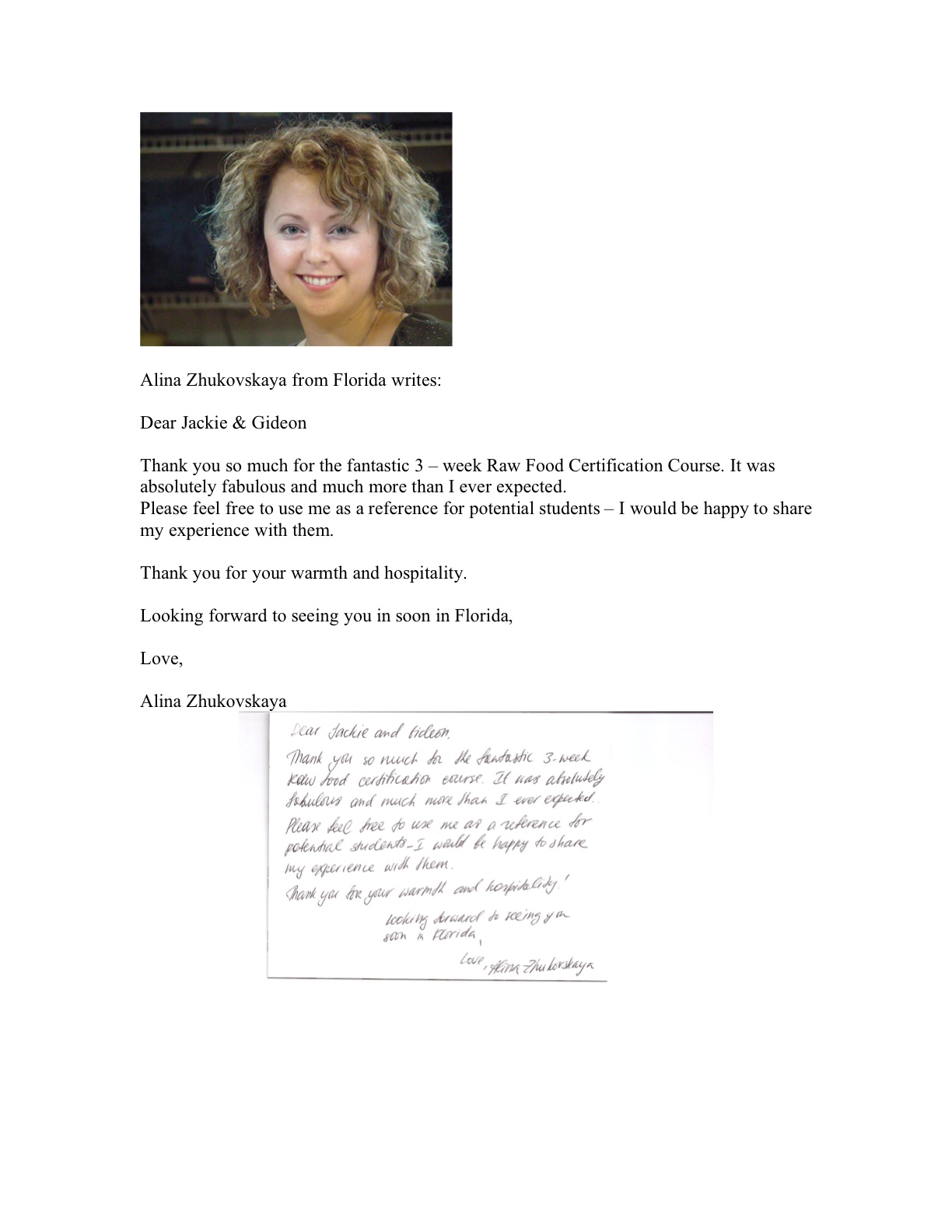 Who are Jackie & Gideon Graff
Gideon Graff – along with Jackie has taught raw food preparation for almost a decade. His roles include raw food chef, health coach, and director of Sprout Raw Food, the Graff's consulting and raw food catering and distribution business. He has served as an instructor for Hallelujah Acres® Culinary Academy. Gideon has 35 years experience in food and hospitality management. An accomplished public speaker, he is experienced in both conference planning and fund raising. Previously, Gideon and Jackie co-founded and operated the Sprout Café and Shinui Living Food Learning Center, a first-of-its kind center devoted to teaching and promoting the raw food lifestyle in Roswell, Georgia. Together they lost weight, and eliminated many physical problems, resulting in them no longer requiring blood pressure, cholesterol and other medications. They attribute their healthy state to eating raw foods.
What Raw Food Leaders say about Jackie & Gideon's classes:


 

Matt Monarch
www.RawSpirit.org
"Jackie and Gideon Graff are widely known for making some of the best tasting Raw Food Recipes out there.  They are well-known pioneers in the Live Foods Movement.  What I love about their work is that the info they share is not all just about 'food prep'.  They are also dedicated to teaching and promoting the living foods lifestyle for mind, body and spiritual awareness.  I highly recommend welcoming Jackie and Gideon to your area to share their programs.  They are two of the most generous people I have ever met, giving their all into the classes, with passion, insight and joy.  You can be assured that their program is first-class and will be loved by your entire group - ENJOY!"




Cherie Soria
Living Light
Making healthy living delicious
www.RawFoodChef.com
707-964-2420
Jackie and Gideon Graff are pioneers in the raw vegan community with high standards of integrity. Jackie is a teacher and nurse, as well as a creative chef, whose simple-to-make recipes are based on comfort as well as nutrition. As a couple, they bring an element of fun and real worldliness to all their presentations.

 





Happy Oasis, Founder
Raw Spirit Festival
www.rawspirit.com
 

"Gideon and Jackie Graff are two of America's leading professional raw food teachers. I am profoundly grateful for the Gideon's coordination and management of the Raw Demo Chefs Program in 2007 and 2008 at the Raw Spirit Festival in Sedona where Jackie assisted greatly and led a vibrant vegan prep class each year.  Raw Spirit Festival endorses the Graff's teaching programs and looks forward to working with Gideon and Jackie for many years to come!"   




Paul Nison,
Author, Speaker and Raw Food Chef.
www.paulnison.com
 
 "The Graff's courses truly are outstanding, and they make the best tasting raw food! The comprehensive superb instruction and the delicious foods, make these courses worth any cost. "



Dr. Douglas N. Graham,
Author of the 80/10/10 Diet
www.foodnsport.com
  "Gideon and Jackie Graff come through with flying colors, again. Their zest for what they do is only exceeded by how well they do it."



Rhio,
Author of Hooked on Raw
www.rawfoodinfo.com
 
"Jackie and Gideon Graff, a charming couple who are extraordinary raw/live food chefs, make preparing raw food dishes easy and fun. Whether it's throwing a few things into the blender or preparing a gourmet feast, Jackie and Gideon will make you a 4-star chef in your own kitchen. "



Dr. George and Rhonda Malkmus,
Founders of Hallelujah Acres
www.hacres.com
 
"Although Rhonda has been teaching culinary food preparation classes for years and has authored several recipe books, she has learned so many new and different techniques from Jackie and Gideon Graff.   Jackie and Gideon's expertise in the realm of raw food preparation is renowned.  They have previously owned and operated a very successful raw foods restaurant and are Culinary Chefs who have the desire to share their wealth of knowledge with others.  They teach classes not only in the Atlanta area, but have also been teaching classes on a regular bases at Hallelujah Acres since 2004 Now, you too, can have the privilege of "learning at their feet" so to speak; by simply taking their classes in your home town.. "  


We have more endorsements from other raw food leaders, but we think this will give you the idea.

What Students Say About Our Classes.
We have hundreds of testimonials from satisfied students, and in our teaching career, we receive excellent evaluations with many saying that they got much more than they expected and was an excellent value compared to other courses available. We will share a few of these with you.

"Can't tell you how much your class has given me the confidence and insight needed to do well with the raw food lifestyle.  I did not use to do much of anything in the kitchen - now my wife can't believe the transformation.  I'm in there preparing the recipes and experimenting.  She has now joined in and is actually doing most of the work.  The cooking class is crucial to staying with the
program. "

Devon McIntosh
17609 Clinton Dr.
Accokeek, MD 20607


I would encourage everyone to make it to the Graff's classes. They are excellent teachers and the most wonderful and sincere people - not to mention excellent chefs!! AND if you are looking for a fun filled class - I highly recommend checking them out. I promise you won't regret it. They have shaped and changed my life so greatly and I will be forever grateful because, honestly my raw food prep before taking their class was known to make people cry it was so bad. Now people beg for it thanks to my excellent teachers.

 


Rhonda Locklair
Barefoot Artist
NC
When & Where

The Graff Academy of Raw Food Education
1085 Lake Charles Dr
Roswell, GA 30075


Thursday, November 2, 2017 at 7:00 PM

-

Sunday, November 5, 2017 at 6:00 PM (EDT)
Add to my calendar
Organizer
About Us
Since 2000, the Graff  Academy of Health Science,  based in Atlanta has trained the next generation of leaders and teachers in holistic health and nutrition with raw vegan food. The Academy's 1,000 graduates have gone on to successful careers as restaurant owners, raw food teachers, detox experts and nutrition consultants.