Raw Food Nutrition Science, Health Educator, Raw Culinary Chef Certificate...
Description
The Graff Academy of Raw Food Education offers a Three Week Certification Course, One Week Home Chef Course, and a Three Days Weekend course. Click here to view the list of courses and dates planned
Sunday June 11 - Saturday, July 1, 2017
Raw Food Nutrition Science, Health Educator, Raw Culinary Chef Certificate
Earn your certification as a raw culinary chef and develop a raw food business plan.
Increase your earning potential and professional status with our three-week certification program that includes all four components crucial for launching a successful raw food business:
Raw Food Nutrition Science

Health Educator

Culinary Arts

Business Basics
We provide individualized consultation and coaching to develop a personalized business plan for each student. Our course will be limited in size to ensure we can give individualized direction.
Who should attend:
Anyone with a passion for the raw food lifestyle looking for a raw food certification course with a goal of starting their own business

Existing culinary chefs looking to expand their knowledge and expertise in raw food preparation and presentation

Current raw food chefs still struggling to find their "niche" or who want to enhance their professional learning and knowledge
What you will learn:
Food Nutrition:
The latest nutrition facts, including why the raw food diet should be individualized

Why some ingredients used by raw food chefs are not raw or the most healthy and what substitutes can be used
Health Educator:
Consultation training with menu planning for some major health issues

Presentation skills for teaching raw food classes with video feedback
Culinary Arts:
Principles and skills to become a raw food chef with time-saving ideas

Experience working in a Professional Raw Kitchen with advice on how to build one to meet your needs

Hands-on instruction in raw food recipes, including how to make nut milks, fermented foods, pickling vegetables, sprouting, cheeses, breads, chips, wraps, delicious cookies, pies, ice creams, cakes, salad dressings, marinated salads, nutmeats, entrees, juicing and many more raw foods with a focus on shelf life

How to garnish, plate and make beautiful presentations

How to use kitchen tools efficiently and identify the best tools

How to plan and execute raw event catering and entertaining
Business Basics:
Packaging and labeling: what is required by law and what works best

The important state and county rules for producing and selling food

Compliance and licensing for food processing establishments or restaurants

Recipe development with planning and costing menus

How to develop a raw food delivery business out of your home

How to shop for wholesale ingredients, produce and packaging

Unique ways to finance your business

Raw Business 101: where to start, defining the right business for you, digital marketing tips to maximize your visibility online
Cost for the 3-week (6 days a week) certification course including manuals, recipes, accommodations, and all food is $3950 per person. Compare our course with other Certifications that cost $6000 or more to include all of the different classes, and receive less information. Our classes are small and individualized. We do not use volunteers or other students to teach, with all classes being taught by us. Register soon as space is limited. Payment plans or financing is available. No need for car rental, we can arrange pick-up from the airport and transportation to public transportation on days off.
To get an application, please email gideongraff@gmail.com or call us at 770 634-1572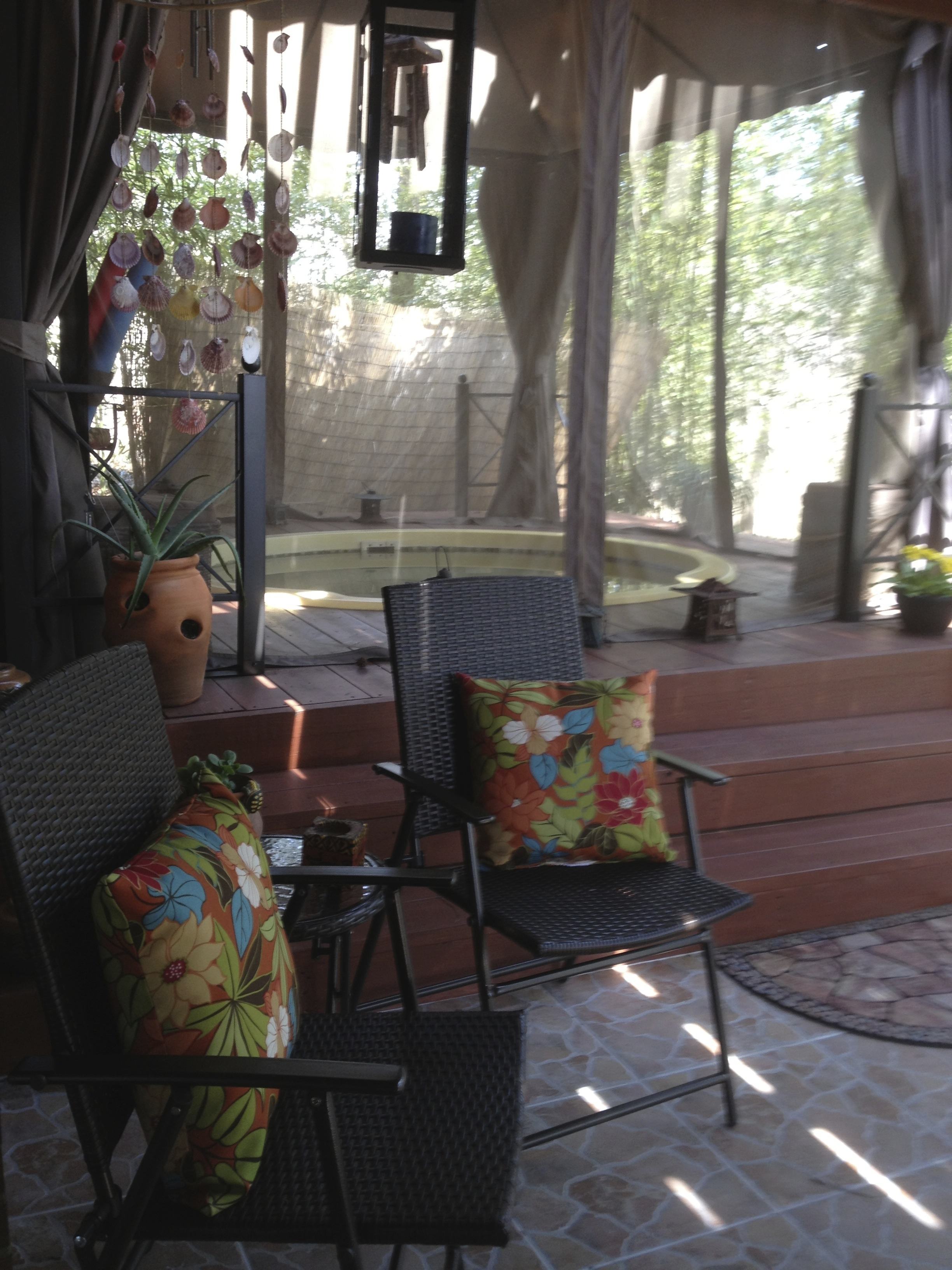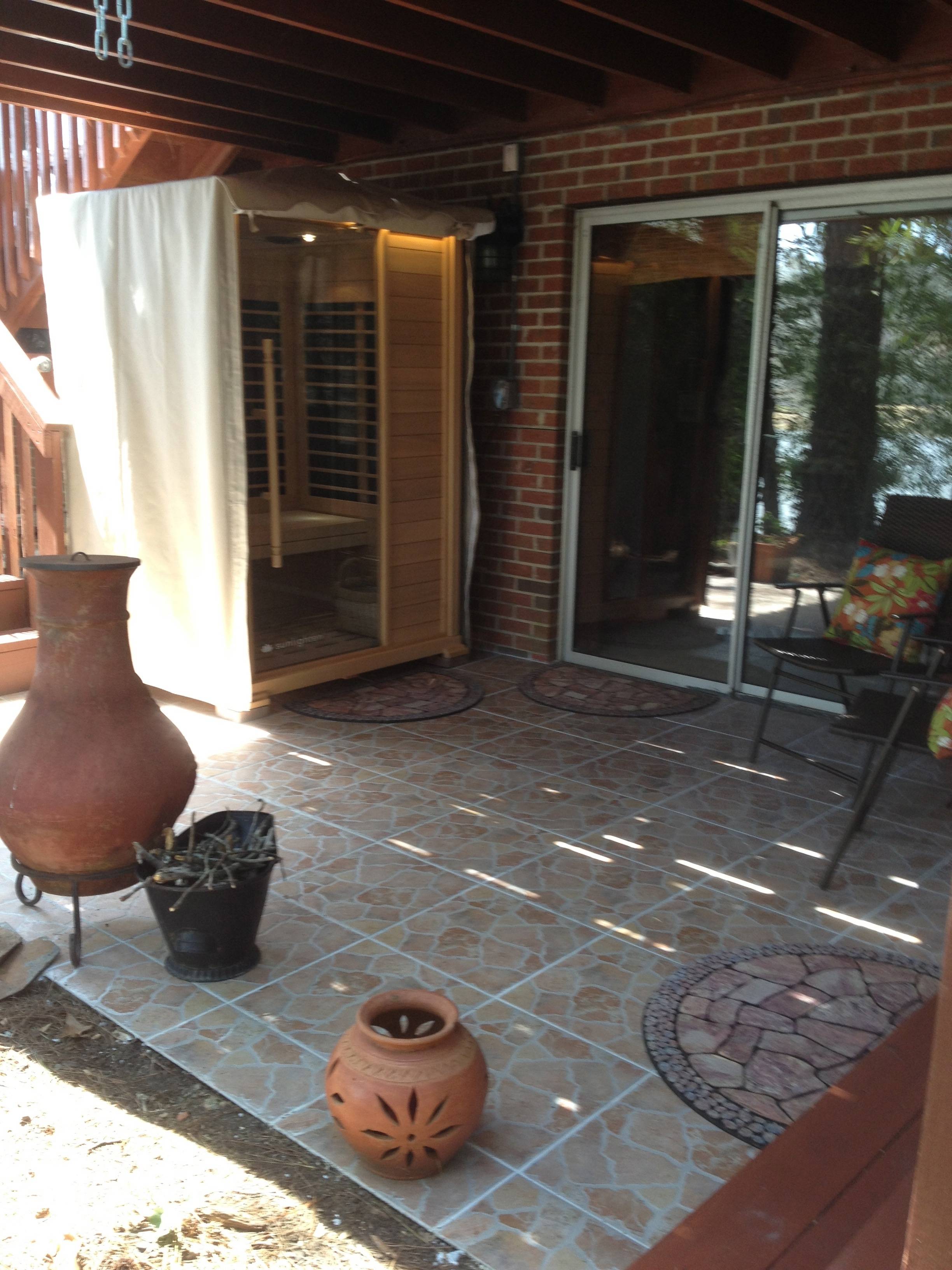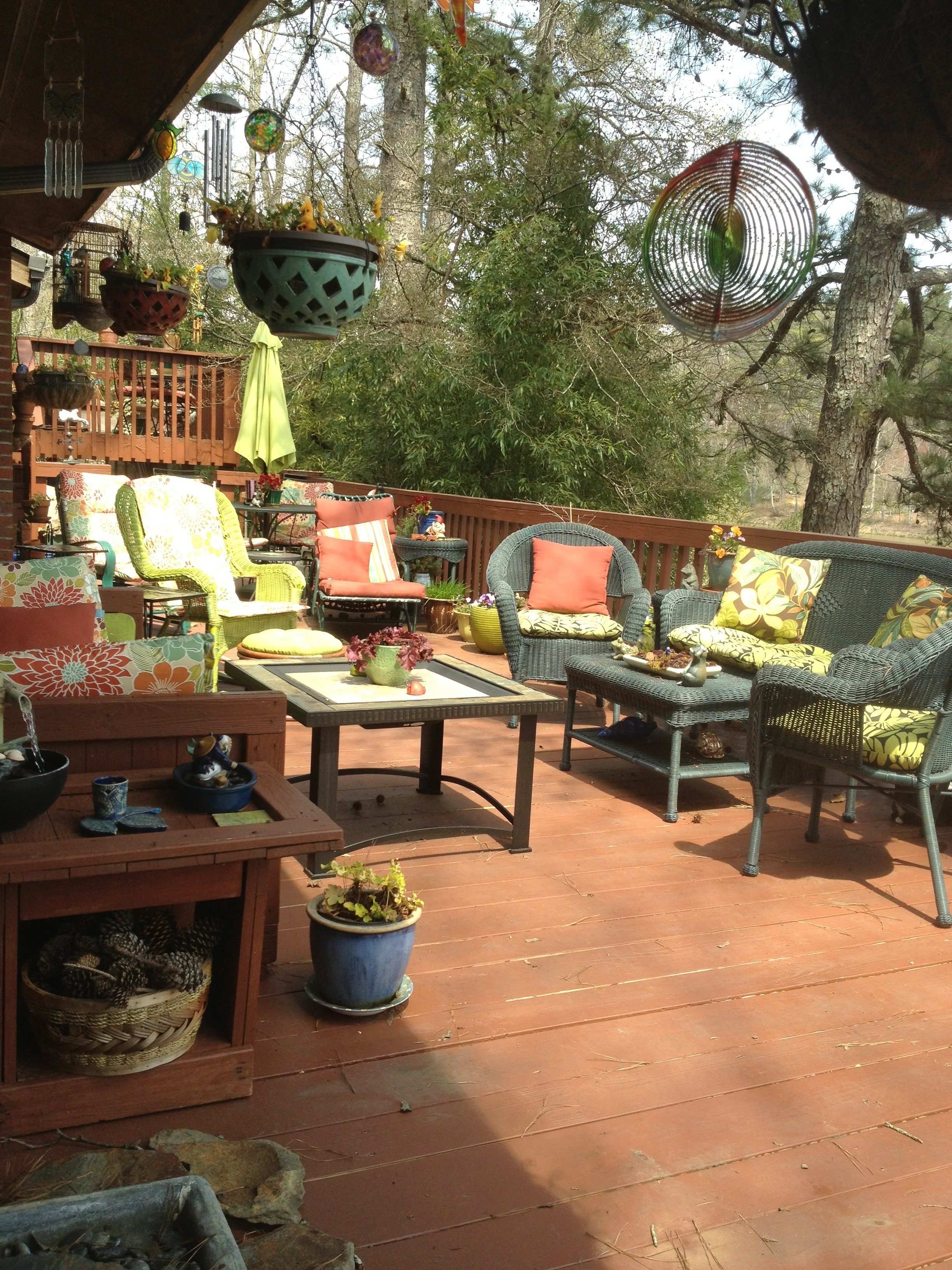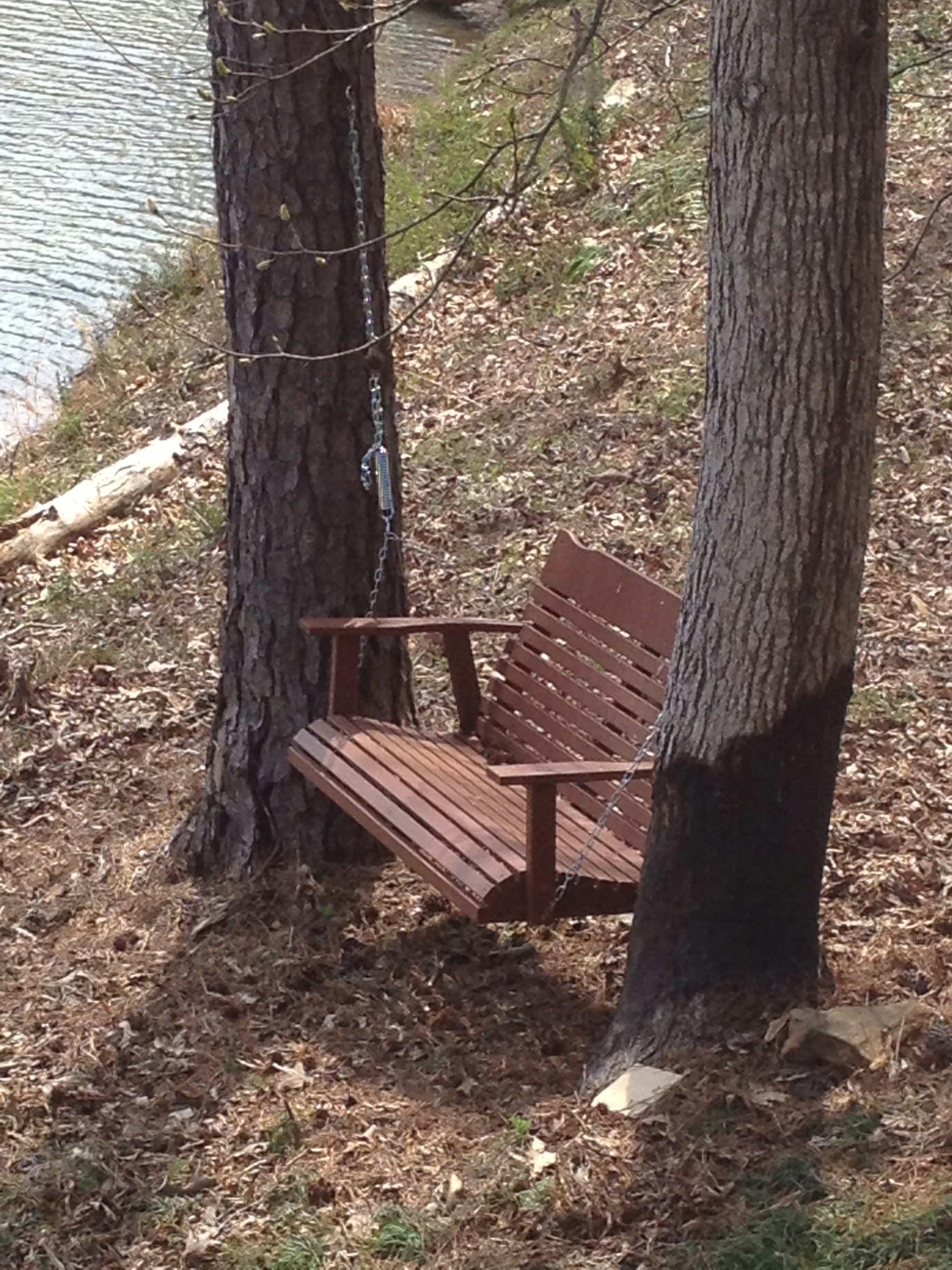 The Graff Academy of Raw Food Education 3-Week Raw Food Chef Training is a slam-dunk Grade A+ experience for any individual looking to advance their knowledge and expertise in the world of Raw Food meal preparation. From the individualized
attention given by both Gideon and Jackie Graff to each student to the relative inexpensive tuition for the hours spent making food, there is no better raw food training experience out there. With both classes and accomodations provided in the same location, the students can relax and enjoy their time from the very first meal in the Academy.

I came to The Graff Academy of Raw Food Education looking to understand what the world of raw food was all about. I left an aspiring chef with the experience that comes from spending hours working in a restaurant. Jackie's amazing recipes and Gideon's food industry knowledge compliment each other to make each day's experience at the Academy a nugget that builds on the next so that when you leave each student has a found their pot o' gold.

If you are wanting to build your raw food knowledge or just enhance what you have I strongly encourage you to look into attending The Graff Academy of Raw Food Education. You will be so glad you did.

Jim Amacher
Albuquerque, New Mexico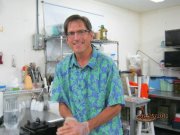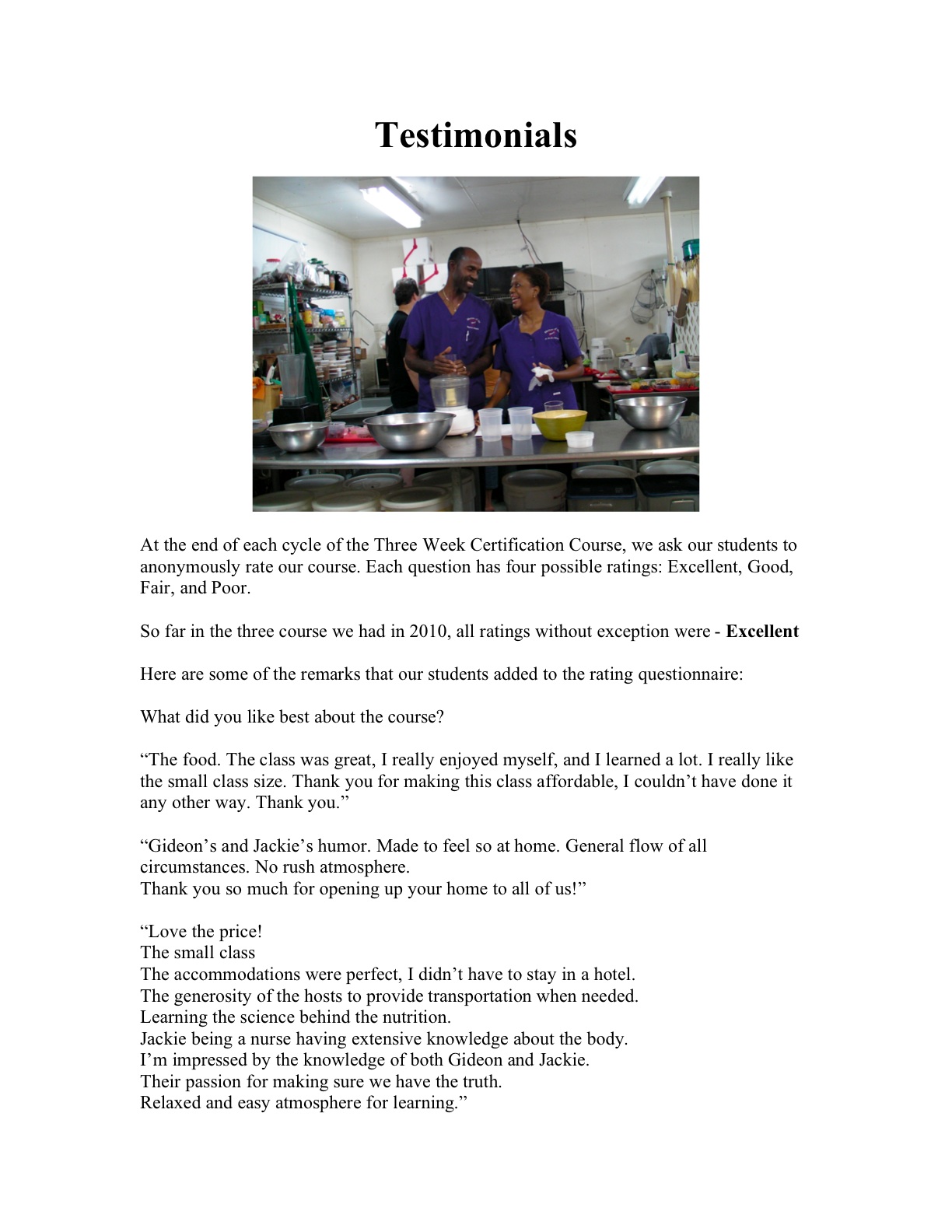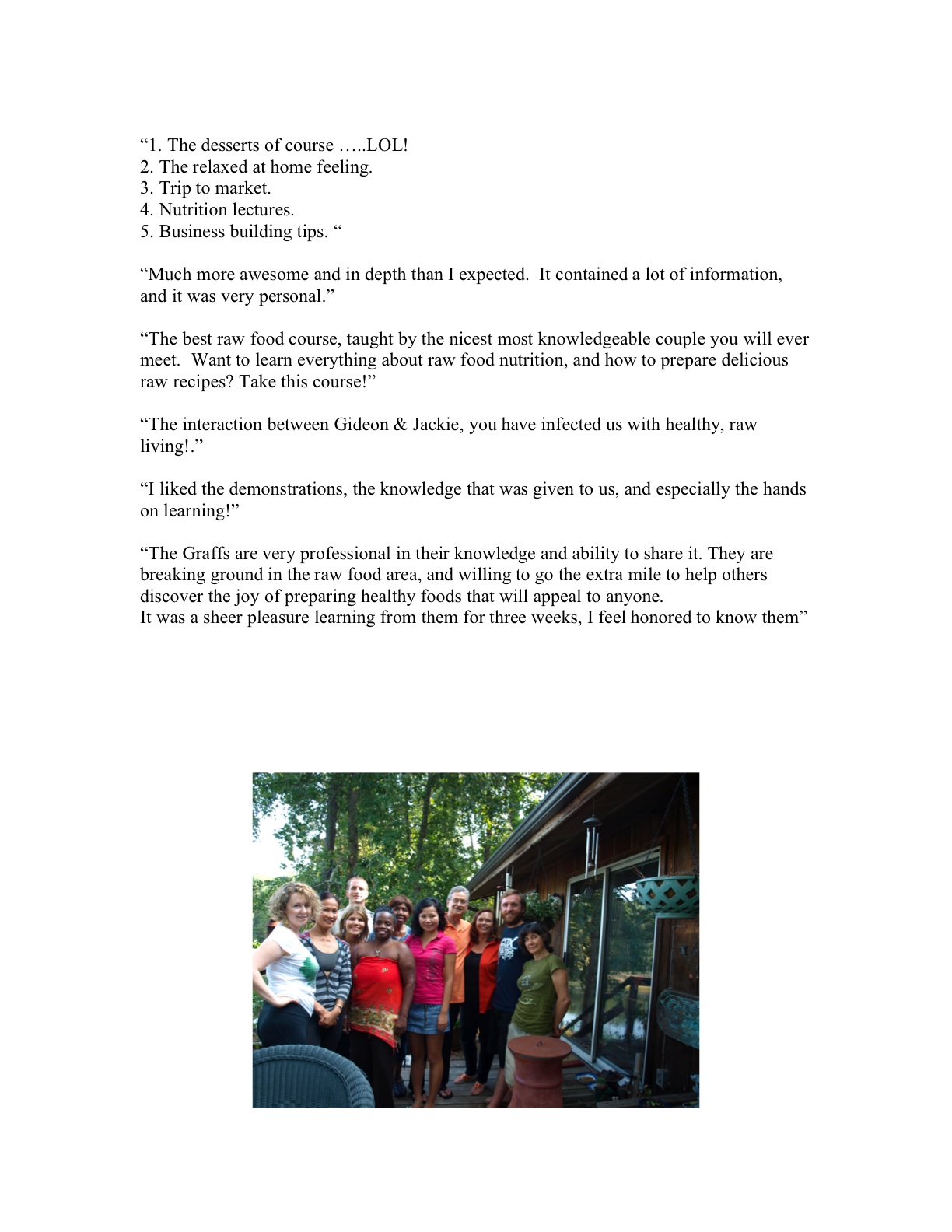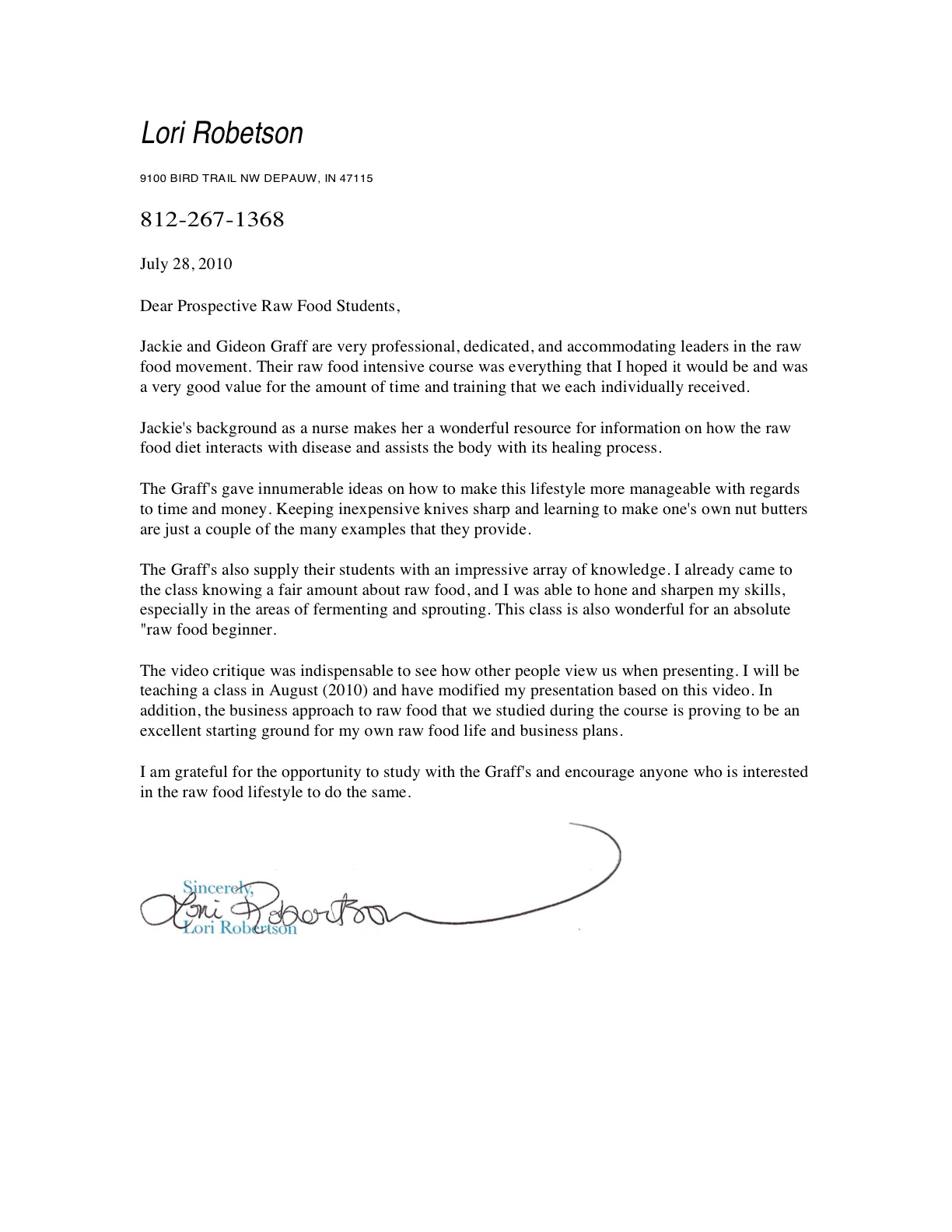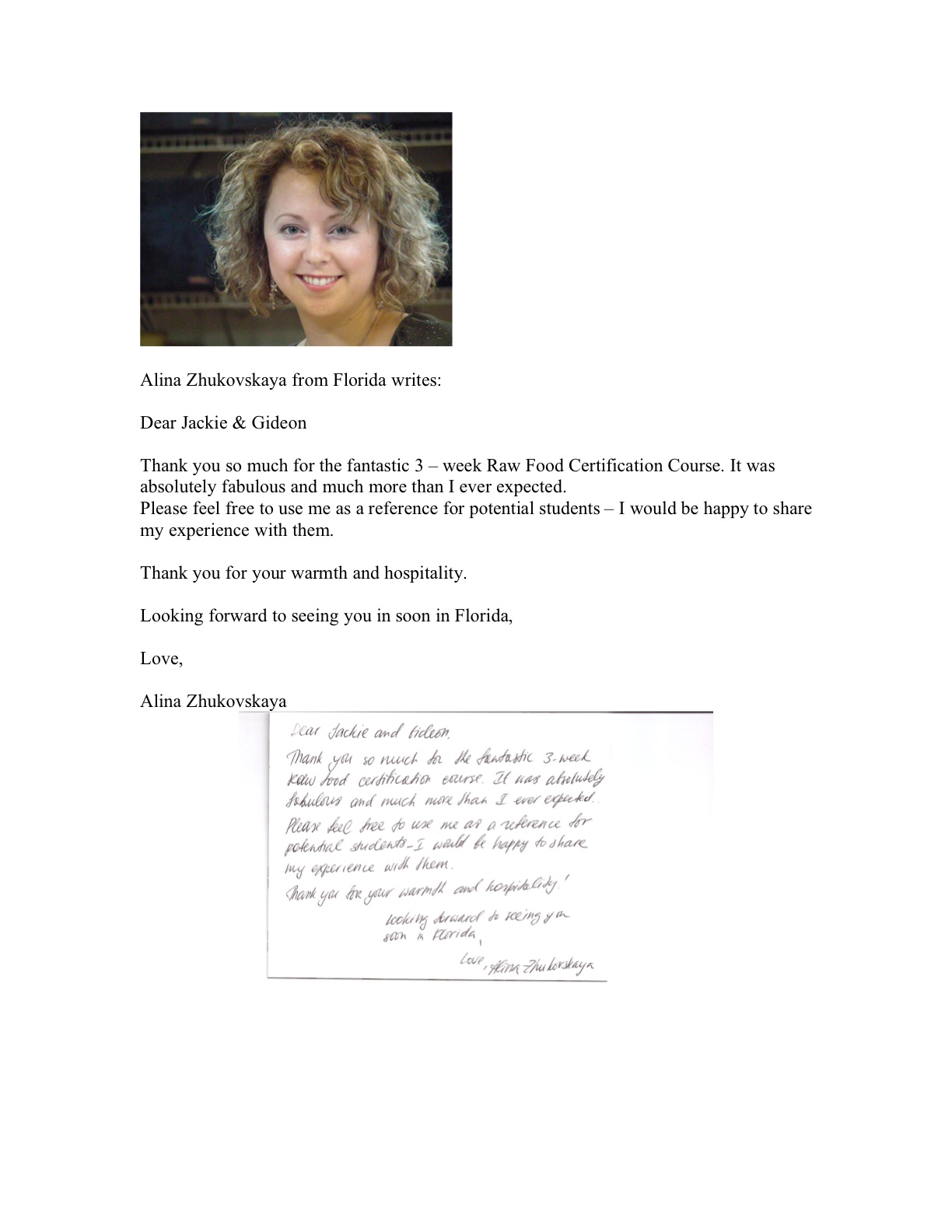 About Us
Jackie Graff
The Graff Raw Food Academy has bid farewell to our beloved co-founder Jackie Graff, RN, one of the country's top raw food chefs and nutrition consultants, who passed away from cancer on December 7, 2015.
Jackie' spirit and creativity live on in our Academy. Her energy, knowledge and unique approach to raw food remain a focal point of the Academy's courses and her example will continue to inspire our many Academy graduates, who have taken her teachings to their own communities and raw food businesses.
In her 15 years as a raw food chef, nutrition science expert and author, Jackie built a national reputation for her raw food lifestyle classes, serving on the faculty of Hallelujah Acres® Culinary Academy in North Carolina, the Hippocrates Health Institute in West Palm Beach, Florida, and Life University in Marietta, Georgia.
A Nursing graduate of the University of South Carolina who worked for more than three decades at Northside Hospital, Jackie held key hospital management positions and was a clinical instructor to nurses.
During her career, Jackie published 22 themed recipe books, and demonstrated her unique food-preparation techniques on leading news outlets, from CNN Headline News to Fox 5 "Good Day Atlanta."
The Graff Raw Food Academy will continue to serve as a vital hands-on learning destination for individuals who hunger for a new, healthier way of life. It is our mission to honor Jackie's lifelong passion to educate and inspire the community, and her philosophy remains at the heart of this raw food learning center.
Gideon Graff brings 15 years of raw food preparation and teaching experience and 35 years in food and hospitality management to the Graff Academy.
A raw food chef, health coach, and director of the Graff Academy, Gideon oversees the Academy's business and marketing strategy and leads the Graff's raw food catering and distribution businesses that have delivered delicious fresh raw cuisine to Atlanta residents and high-profile celebrities.
Previously an instructor for Hallelujah Acres® Culinary Academy, Gideon also was co-founder of the Sprout Café and Shinui Living Food Learning Center. Hear Gideon's secret to starting and sustaining a successful raw food business.
Gideon Graff

The Graff Academy

Organizer
Organizer of Raw Food Nutrition Science, Health Educator, Raw Culinary Chef Certificate - Summer 2017 Session
About Us
Since 2000, the Graff  Academy of Health Science,  based in Atlanta has trained the next generation of leaders and teachers in holistic health and nutrition with raw vegan food. The Academy's 1,000 graduates have gone on to successful careers as restaurant owners, raw food teachers, detox experts and nutrition consultants.