Raw Food Home Chef Course With Basic Nutrition Science, Lifestyle Changes

Sunday, July 22, 2012 at 7:00 PM

-

Saturday, July 28, 2012 at 6:00 PM (EDT)
Event Details
The Graff Academy of Raw Food Education offers a Three Week Certification Course, One Week Home Chef Course, and a Three Days Weekend course. Click here to view the list of courses and dates planned
Raw Food Home Chef Course
With Basic Nutrition Science
And Lifestyle Changes
Come stay with us for a week and learn raw food preparation techniques, tips and kitchen magic. Learn to easily make delicious food that will impress your family and friends. We give individualized consultation and coaching for food that will be best for our students and their families. Our one-week program is limited in size to give individualized direction and will incorporate other lifestyle changes needed to stay healthy. We are professionals that have over eleven years experience educating students in raw food preparation and nutrition science. Choose one of the following sessions.
July 22 - 28 2012
Are you looking for a way to get started on raw food or are you and your family simply bored with the raw food you are eating? Have you been searching for a comprehensive, affordable class taught by professionals, respected by leaders in the raw food movement? Many of our prior students have requested that we teach this course, including what to serve for holidays, parties, daily meals, feeding children and many other situations. You will learn the following:
Basic Raw Food Nutrition Science empowering you to take control of your own health.

Learn why the raw food diet should be individualized.

Menu planning for individual students and their family's health Issues.

Learn ways to introduce raw food into the family's diet with the most acceptance.

Learn principles and skills to make any raw food dish with time saving ideas.

Learn the principles to make delicious nut milks, fermented foods, sprouting, cheeses, breads, chips, wraps, delicious deserts, salad dressings, marinated salads, nutmeats, juicing and many more delicious raw foods with a focus on shelf life.

Learn why some ingredients used by raw food chefs are not raw or healthy and what substitutes can be used.

Making delicious substitutes for foods you think you cannot give up.

 

Learn how to use kitchen tools efficiently with hands-on experience; what are the best tools, and inexpensive substitutes.

Learn how to spend a half-day making food for the entire week.

Learn how to entertain with ease using recipes that can be prepared ahead.

Learn how to convert some of your cooked recipes into raw recipes.

Learn how to shop, make a list, determine food ripeness, store and prevent food loss.

 
This is the class for you!
Cost for the one-week course including accommodations, manuals, recipes, and all food is $1200 per person. Compare our course with other weeklong classes. Our classes are small and individualized. We do not use volunteers or other students to teach, with all classes being taught by Jackie and Gideon Graff.  Register soon as space is limited. Payment plans or financing is available. No need for car rental, we can arrange pick-up from the airport and from public transportation. Accommodations at no cost are available at our facility. Call us at
770-634-1572 or email gideongraff@att.net or go to www.rawfoodrevival.com
If you like more extensive education, or a career in raw food nutrition, check out our three week course at http://rawfoodcert.eventbrite.com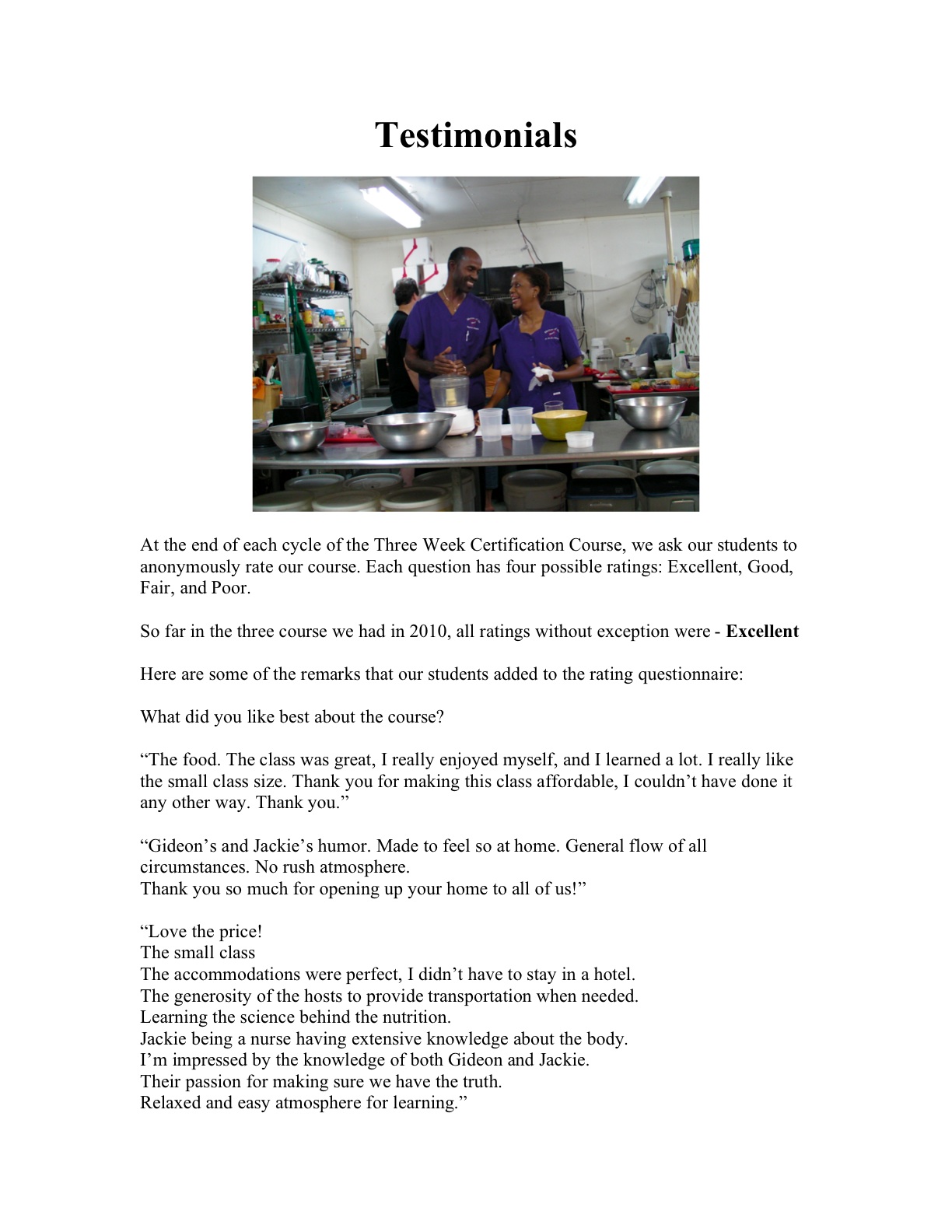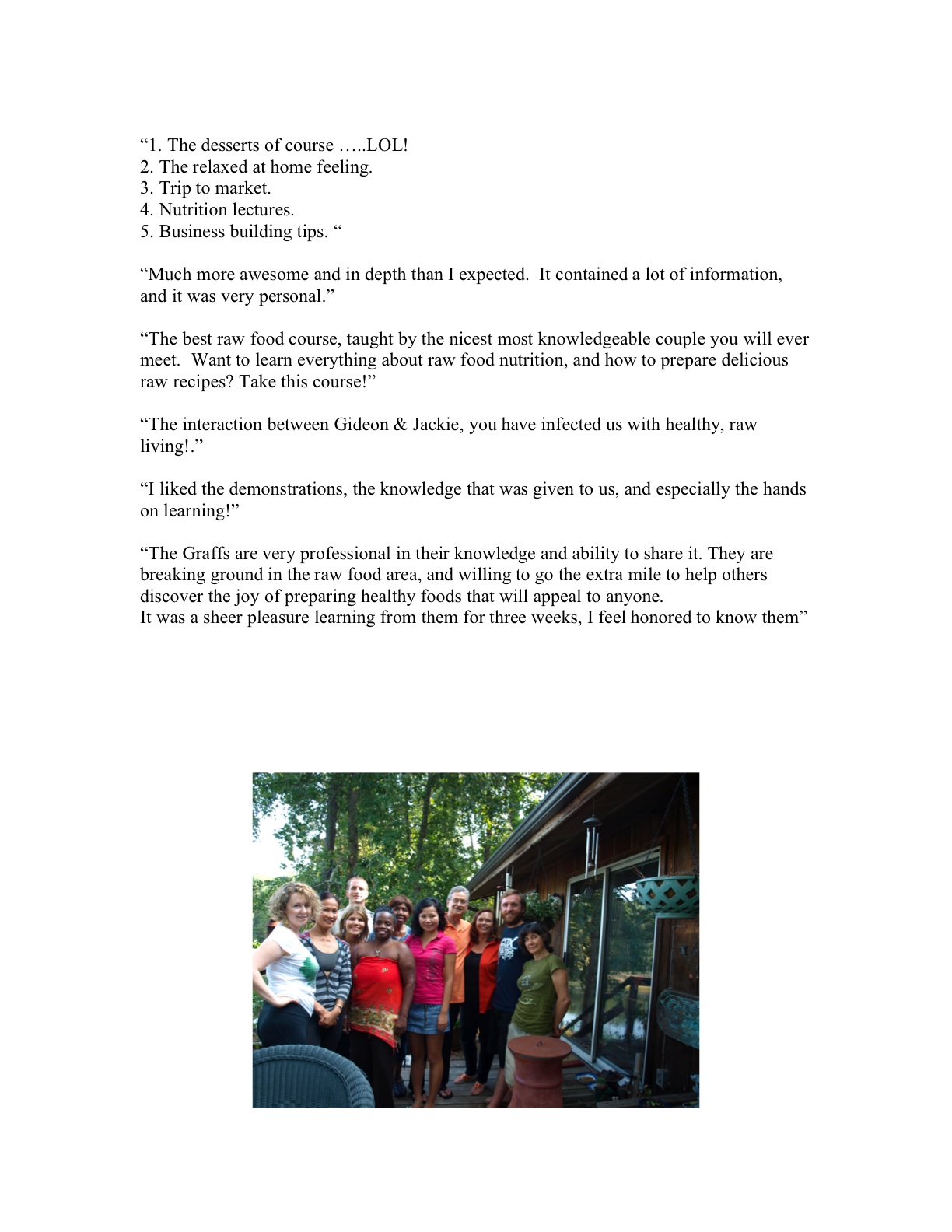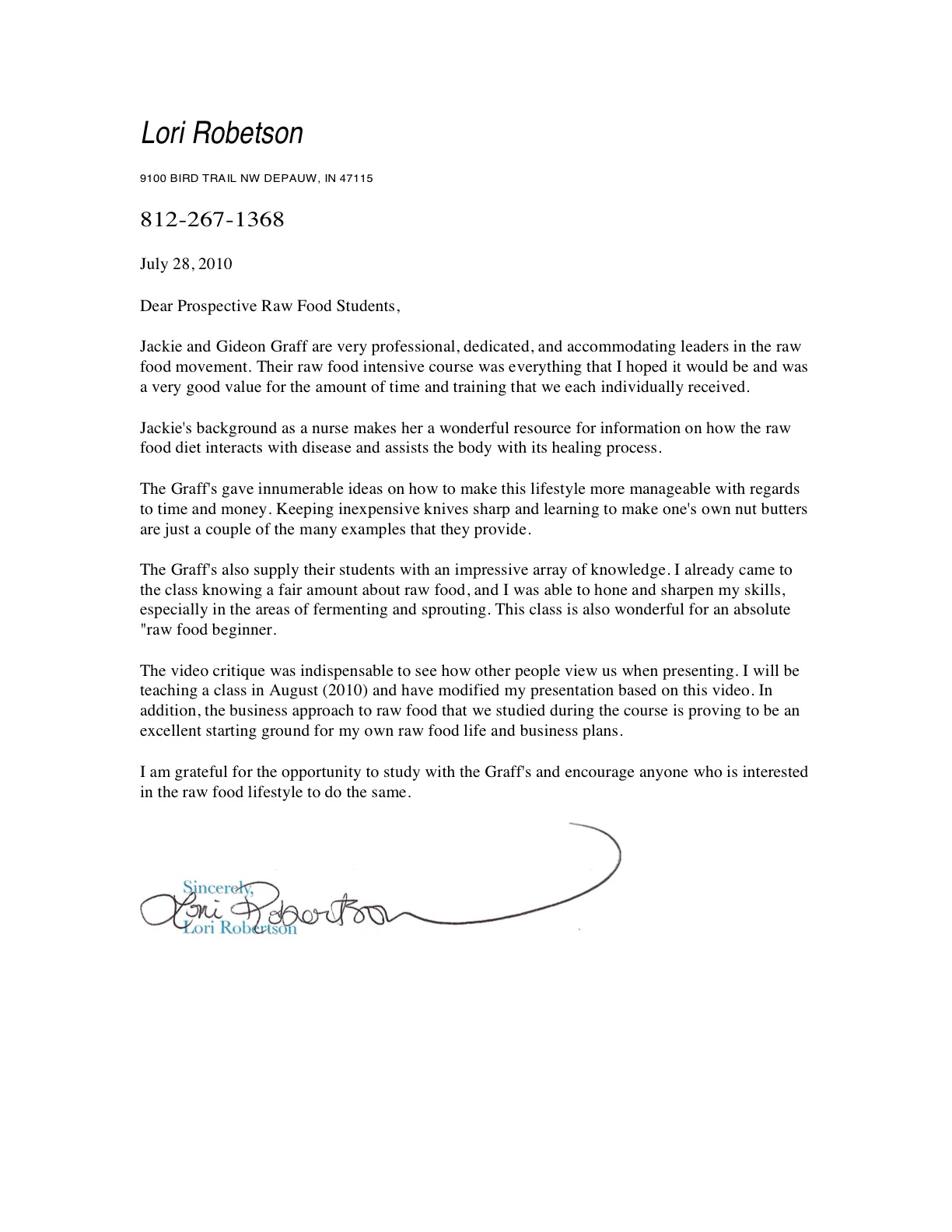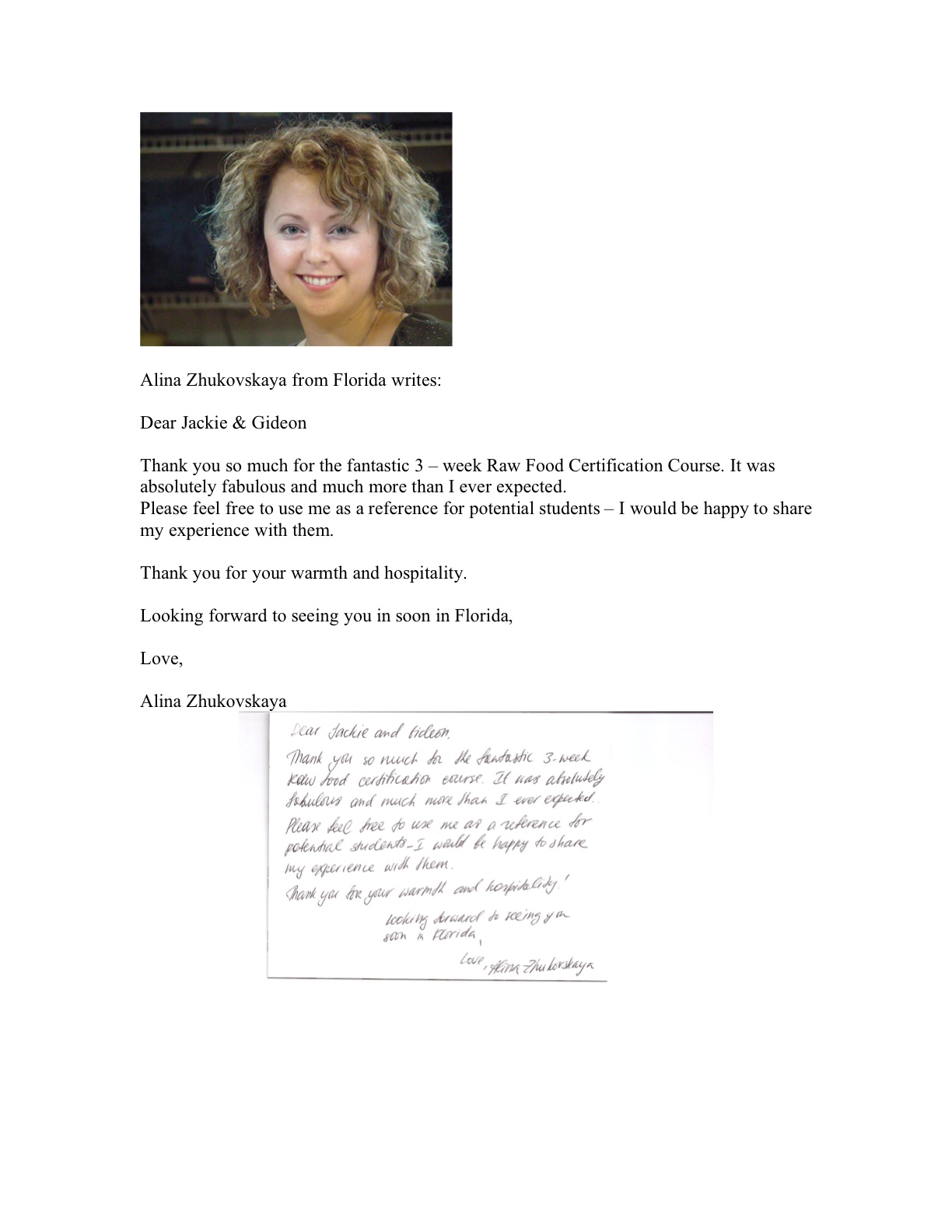 Who are Jackie & Gideon Graff
Jackie Graff has been teaching raw food preparation and food science for more than a decade. An RN with 40 years' experience in various areas of patient care and education, Ms. Graff is considered one of the country's top raw food chefs and nutrition consultants.
She continues to teach raw food lifestyle classes throughout the country, is an instructor for Hallelujah Acres® Culinary Academy, and at the Hippocrates Health Institute in West Palm Beach FL. She has been frequently quoted in print and broadcast news outlets, including the Atlanta-Journal Constitution, Atlanta Woman magazine, Atlanta Jewish Life magazine, Fox 5 Good Day Atlanta, CNN Headline News, and North Georgia Today. Jackie is the author of 23 theme raw food recipe books, and has produced two instructional raw food DVDs. Jackie also contributed articles to several national and local magazines.
As an RN, Ms. Graff has held key hospital management positions and was a clinical instructor to nurses. She also served as an associate professor at Life University, teaching raw food instruction to returning alumni. She has an understanding of nutrition, anatomy and physiology of the human body and possesses a firsthand knowledge of the negative consequences of the Standard American Diet (SAD) on a person's long-term health. She earned her B.S. degree in Nursing from the University of South Carolina.
Gideon Graff – along with Jackie has taught raw food preparation for almost a decade. His roles include raw food chef, health coach, and director of Sprout Raw Food, the Graff's consulting and raw food catering and distribution business. He has served as an instructor for Hallelujah Acres® Culinary Academy. Gideon has 35 years experience in food and hospitality management. An accomplished public speaker, he is experienced in both conference planning and fund raising. Previously, Gideon and Jackie co-founded and operated the Sprout Café and Shinui Living Food Learning Center, a first-of-its kind center devoted to teaching and promoting the raw food lifestyle in Roswell, Georgia. Together they lost weight, and eliminated many physical problems, resulting in them no longer requiring blood pressure, cholesterol and other medications. They attribute their healthy state to eating raw foods.
"The raw vegan lifestyle, made is possible for us to enjoy our senior years beyond our wildest dreams, making it indeed a golden time. We like the opportunity to pass this knowledge to you"
Jackie & Gideon Graff
When & Where

The Graff Academy of Raw Food Education
1085 Lake Charles Dr
Roswell, GA 30075


Sunday, July 22, 2012 at 7:00 PM

-

Saturday, July 28, 2012 at 6:00 PM (EDT)
Add to my calendar
Organizer
About Us
Since 2000, the Graff  Academy of Health Science,  based in Atlanta has trained the next generation of leaders and teachers in holistic health and nutrition with raw vegan food. The Academy's 1,000 graduates have gone on to successful careers as restaurant owners, raw food teachers, detox experts and nutrition consultants.