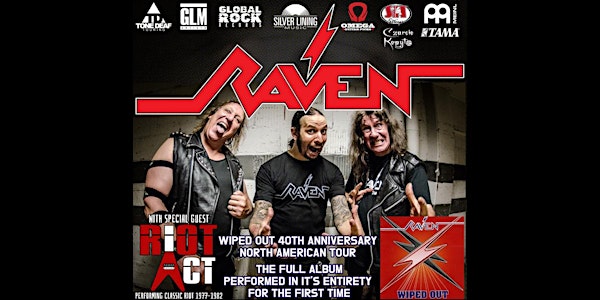 Raven w/ Riot Act
Ages 21+
The Pour House Music Hall & Record Shop
Wiped Out 40th Anniversary Tour! The album performed in it's entirety for the first time! WSG Riot Act, featuring original members of Riot!
When and where
Location
The Pour House Music Hall & Record Shop 224 S Blount St Raleigh, NC 27601
About this event
RAVEN are that rare thing in music, true originals – cut these guys with a razor and they will BLEED true heavy metal. A more intense live band does not exist on this planet!
Hailing from Newcastle Upon Tyne in North East England , the band formed by brothers Mark & John Gallagher went on to release three of the most influential metal albums of the NWOBHM (New Wave Of British Heavy Metal) in turn inspiring EVERY band of that era and beyond. Basically, without Raven you just would not have thrash/speed metal.... after all, the band did give Metallica & Anthrax their first tours!
After a colorful career involving moving to the US .. world tours , a plethora of album releases, personnel changes and near death experiences.. the band regrouped
in 2017 with the phenomenal Mike Heller (Fear Factory, Malignancy) making the drum position his own, immediately injecting a new level of energy and enthusiasm into the band.
Following an intense few years of solid touring, Euro festivals & guest slots with UDO and Saxon... the band prepared to take things to the next level .. and then some.
The new studio album " Metal City" released in September 2020 , was greeted with universal praise by fans and critics alike... raising the bar immensely as regards songwriting, musicianship and flat out energy and aggression!
The astonishing fact is this band - unlike many of its peers - is currently putting out its best work and shows no signs of slowing down whatsoever !
In a jaded world where bands are not "gangs" but corporations - Raven continue to stand out - recording and performing authentic, no bullshit, in your face unapologetic Metal with raw power!
RIOT ACT features former Riot guitarist Rick Ventura, Don Chaffin-vocals, Paul Ranieri-bass, Claudio Galinski-drums. Riot Act is hard driving Rock-n-Roll!
The band made their live debut January 2020 at the Heavy Metal Hall of Fame Gala. Their strong performance made a lasting impression on host Eddie Trunk. Catch it on Amazon Prime!
Riot Act tragically lost founding member Lou Kouvaris as the band was about to release an EP and embark on a European tour.
After a few dark months and facing a world in quarantine, the band decided to go on, releasing a tribute video of the early Riot classic "Overdrive". The band was ready to rock again!
Currently working on a new album and video, Riot Act ushers in a new era in hard driving rock! Stay tuned!