Description
"All the flat top cats and dungaree dolls" are headed to the Watchung Arts Center on January 20 for an evening of 1950's rock-n-roll
RAVE ON! is back at the WAC!

RAVE ON! is a band that features the music of Buddy Holly and Roy Orbison, playing hits like "That'll Be The Day," "Not Fade Away," "Peggy Sue," "Pretty Woman," "Crying," and "Only The Lonely," along with other classic, early rock-n-roll songs.
This is the music that paved the way for rock-n-roll and influenced The Beatles, The Rolling Stones, Bob Dylan, Bruce Springsteen and countless other artists.
RAVE ON! is living proof that Buddy Holly, Roy Orbison and the music of early rock-n-roll is timeless and continues to appeal to people of all ages.
RAVE ON!'s show is always a crowd pleaser.

RAVE ON!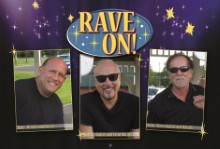 Chris Roselle - Guitar & Lead Vocals
Pete Farley - Bass Guitar & Background Vocals
Don Guinta - Drums & Background Vocals