Description
The reunion has been cancelled due to low registration. Follow our Facebook page to stay abreast of family news. https://www.facebook.com/groups/689235204450197/permalink/2170739409633095/
Our 13th modern day Rathbun Rathbone Rathburn family reunion, the third one planned by RRRIFA, will take place in Newport, RI from July 30 to August 1, 2018 at the Mainstay Hotel and Conference Center. The event brings together descendants of John Rathbone and Margaret Acres who emigrated from Lancashire, England in the late 1650s and were among the original settlers of Block Island, Rhode Island. Rathbone later owned a business in Newport and was a member of the Rhode Island General Assembly from 1681-1684.
During the reunion we will renew our family bonds, tour Block Island guided by Pamela Littlefield Gasner, one of many Rathbun descendants still living there along with her parents Lydia (Rathbun) and Don Littlefield, visit the Rathbone grave site, tour Newport and the Vanderbilts' summer home, The Breakers, visit sites where early Rathbuns lived, worked, and died, dine at the Atlantic Resort, and learn more about our family's history and each other. Be sure to bring family memorabilia, trees, pictures, and genealogical records for sharing in our hospitality room, open throughout the reunion.
We will also be conferring RRRIFA Awards. These include the Frank H. Rathbun Family History Award (Rob Rathbun and John D. Bowen, past awardees), the RRRIFA Service Award (Jesse Rathbun, Peter Rathbun, and Gail Rathbun, past awardees). For more information about these honors and a nomination form go to the Rathbun Rathbone Rathburn Family Association web page. Nominations are due by May 1, 2018.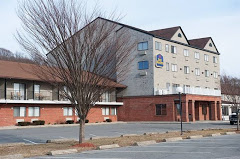 The reunion will take place between the Newport Folk Festival, July 27-29, and the Newport Jazz Festival August 3-5, so you should reserve your hotel room early. RRRIFA has a special rate of $139 plus tax for a double available until June 30, 2018. To secure your room call (401) 849-9880 or go to http://www.mainstayhotelnewport.com/.
Registration and pre-payment is required. Please click on the green "Tickets" button in the upper left of this screen. We must have your registration and payment by June 15, 2018 so that RRRIFA may finalize all arrangements by vendor deadlines. (Sorry, though we will accept checks, we cannot refund payment by check.)
To learn more about all of the wonderful things to do and see in beautiful Newport visit the Newport Visitors Center web site at https://www.discovernewport.org/ or call 1-800-326-6030.