Description
The San Francisco Wrestling Watching Club #SFWWC is proud to take over the Knockout (3223 Mission St. SF) for Rasslemania XXXIII.
April 1 - Doors 1pm
Pre-Show - Don't know yet!
Mania Start - Don't know yet!
The Knockout
3223 MISSION STREET AT VALENCIA 94110 • 415.550.69.94
www.theknockoutsf.com
www.wrestlingwatchingclub.com
All Social Media: @SanFranciscoWWC • #SFWWC
Elvira Pinball--Snack Machine--Tacos Next Door--Old School PhotoBooth--Tron Arcade

San Francisco's Wrestling Watching Club is a not for profit group dedicated to professional wrestling in the arts, sciences, and community. Hosted by K! (Brock Lesnar Enthusiast) and Eric Jackson (WWC Founder). Our goal is to bring people together in public to watch professional wrestling in the manner best for that city. Bring your Championship Belts, costumes, and awesome wrestling swag to win cool prizes! If you cannot hear or see please let the staff know and they will be more than happy to help. Please remember to tip your server.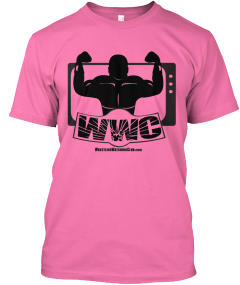 Rasslemania XXXIII Apparel
$24.99
We partnered with Teespring to create some awesome merchandise for this event. Show your support and look good wearing it. Check it out!