Rassawek Spring Jubilee June 7 & 8, 2014

Multiple Dates
Event Details
2014 Rassawek Spring Jubilee
Saturday, June 7, 10AM - 6PM
Sunday, June 8, 11AM - 5PM

(NOTE THE DIFFERENT TIMES FOR SUNDAY)
Celebrate Wine!  Byrd Cellars Winery, Elk Island Winery, First Colony Winery, Grayhaven Winery, Hunts Vineyard, Lake Anna Winery, Mattaponi Winery, Saude Creek Vineyard, Thistle Gate Vineyard and Villa Appalaccia will be onsite for tasting or purchase a bottle to enjoy with friends. Valet wine check will also be available for those special purchases.
Celebrate Art!   Over 25 Artisans including Ryan Gothrup Live Glass Blowing, plein air painters, pottery, handmade instruments, basket-making, wood turners and Jason Taylor Steamroller Printmaking.
Celebrate Our Heritage!    Walk back in time and experience Battaeu Boats, Steamboats, 
Spinning, Hearth Cooking, small engine displays and so much more! And, special guest Covert Action, Secretariat's grandson.
Celebrate Kids!  Kids of all ages can enjoy animals, fishing, Tree House, storytelling and Steam Engine rides.
Celebrate Food!   Anything from homemade ice cream, crepes to burgers, wood fired pizza, bbq and fresh cheeses.  Bring a blanket and chairs and enjoy a picnic with the family.
Celebrate Music!   King Edward & the BD's is a new headliner this year and may return favorites including Susan Greenbaum, Heavy Duty Bluegrass, the AcoustiPops, and John Emil. Be on the lookout for the new Pontoon Stage!
Celebrate Community ! Through collaboration with the community of Goochland, we've come together to assist in our passion to keep trade skills alive by onsite build demonstrations, educate the public on local programs and contribute to our active duty and veterans who we feel deserve our support.
  The terrain can be a bit bumby, be sure to wear comfortable shoes.  Bring picnic blankets and chairs to create your own special experience.  Bring the entire family but please leave the well-behaved dog at home.  This is an open, rustic environment with limited cover so please come prepared for all weather (sunscreen, umbrella, bug spray, etc.)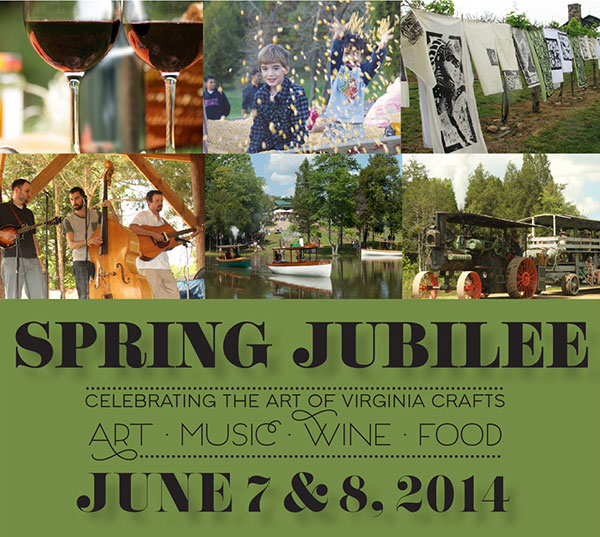 Organizer
Rassawek Vineyards
Rassawek is a property steeped in local lore where old buildings and materials from the region–otherwise slated for demolition– are salvaged from the wrecking ball and are relocated, repurposed and rebuilt.
In 2000, the land- a "blank slate" and stunning in its natural beauty- was acquired by a family passionate about preserving the past and motivated to create a retreat unlike any other. They named the property "Rassawek," in honor of the namesake village of the Monacan Indians, believed to be a series of camps that stretched out along the James River from the main hub at Point of Fork where the Rivanna and James Rivers converged nearby, and set to work planting a vineyard and reclaiming structures for the enjoyment of future generations.
The vineyard was planted in contour rows following the lay of the land. Ponds and roads were added to the property. It's hard to say what came first- the serendipitous acquisition of materials or a master plan.
The property bears the signatures of the craftsmen, who contributed their skills to various projects, in the details. An arched stone bridge, crafted by a master mason, flanked by redbuds and dogwoods, invites visitors to follow the road which winds through rows of grapevines. 
Rassawek Spring Jubilee June 7 & 8, 2014