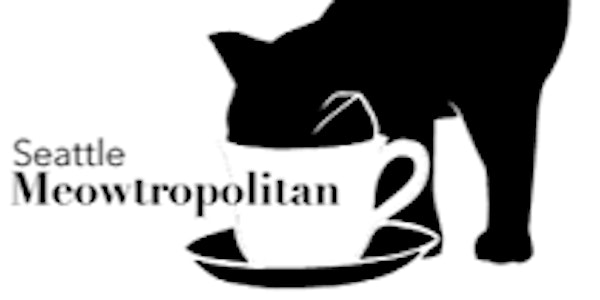 RASKC Volunteers @ Meowtropolitan 1pm (Mon., Aug 6)
When and where
Location
Seattle Meowtropolitan 1225 North 45th Street Seattle, WA 98103
Description
As a RASKC "thank you" for your wonderful service, key volunteers are being invited to visit with our cats at no charge at the Seattle Meowtropolitan Cafe on Monday, August 6, for 50 minutes.
You do not need to bring your EventBrite ticket(s), but Sarah will be at the door to allow entry only to people who are pre-registered through this process.
You may bring one (or two*) people to enjoy this experience if they are registered---
If you register and bring just one other person, it can be anyone who is at least eight years old.
* If you register and bring two other people, ensure that at least one of those other people is a RASKC volunteer.
* If you volunteer with more than two people, you may bring all of the family members you volunteer with if there's space (and if everyone is at least eight years old):
First register yourself and up to two others.
Then check with Sarah about registering the others in your crew, so we can ensure there's enough room.
Note: Children under eight years old are not allowed.
Because space is limited (16 people per timeslot), it's important that everyone attending be registered ahead of time.
Volunteers may sign up for one timeslot- 11am, 12pm, 1pm, (or the 2pm yoga time with cats). This link is for the 1pm- 1:50pm timeslot.
During the registration process we'll explore possible carpooling options.
Seattle Meowtropolitan's cat lounge is closed to the public on Mondays, so it will be "just us" in the lounge on this day. (Their coffee lounge will be open to the public).
Normally the charge is $10 per person for a 50-minute visit, but for you it's free on this day during RASKC's reserved time periods. RASKC will provide some snacks, but the cafe asks that you pay for any beverages (aside from water).
If you're not familiar with Puget Sound's first cat cafe, here's the website: www.seattlemeowtropolitan.com
RASKC provides the cats to the cafe.
Thanks for all that you do for RASKC animals, other volunteers, and staff!
Questions? Contact Sarah.Luthens@kingcounty.gov c: 206-225-4899- texts welcome