RAREaffair A Beer For Brains Foundation Event

Saturday, November 5, 2011 from 6:30 PM to 10:30 PM (PDT)
Event Details
On Saturday, November 5, 2011, the Beer for Brains Foundation will be hosting a RAREaffair™ at Talking Stick Resort in Scottsdale, Arizona from 6:30 - 10:30pm (5:30 p.m. admission for VIPs.) RAREaffair™ provides the exclusive opportunity to enjoy over 75 rare craft-beers, wines, select spirits and cigars, local gourmet cuisine, three live bands, a silent auction, raffles, door prizes and more. The Beer for Brains Foundation invites anyone with a passion for excellence to join us in ... this celebration under the stars to raise awareness and funds for  braincancer research.
Select Spirits and Cigars
Gourmet Cuisine
Live Band and Entertainment
Silent Auction, Raffles and Door Prizes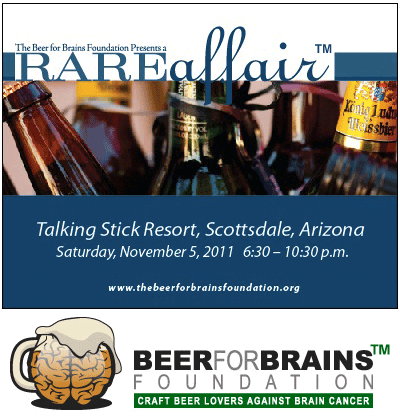 When & Where

Talking Stick Resort
9800 East Indian Bend Road
Scottsdale, AZ


Saturday, November 5, 2011 from 6:30 PM to 10:30 PM (PDT)
Add to my calendar
Organizer
The Beer For Brains Foundation
Who We Are

The Beer for Brains Foundation is a national, non-profit organization of craft-beer lovers, distributors and brewers, who are committed to:
Raising public awareness about brain cancer

Engendering compassion for its victims and

Helping fund groundbreaking research leading to a cure.
Based in Phoenix, AZ, we also are one of only a handful of beer industry-related charities currently operating in the United States.
What We Do
Each year, we stage unique, large-scale craft-beer appreciation/fundraising events across the country, working independently or in partnership with breweries and local organizations. Our events run the gamut from open parties featuring huge assortments of rare, craft beers and an equally diverse – and off-beat – assortment of foods and entertainers to local chef beer-wine food pairing competitions, special craft-beer educational dinners and much more. BFBF events are all about having fun while supporting a worthy cause.
The money we raise currently goes to support the development of cutting-edge brain cancer research and treatment options at the new Barrow Brain Tumor Research Center (BTRC), in Phoenix, AZ. The BTRC is part of the Barrow Neurological Institute, one of the nation's leading centers for brain tumor imaging, brain tumor surgery, cancer research and stem-cell science. Led by a team of clinical and scientific experts, the center runs brain tumor clinical trials and looks for ways to rapidly incorporate new scientific discoveries into patient treatments.
Get Involved
Visit us online at TheBeerForBrainsFoundation.org to learn about upcoming BFBF events and to:
Shop for head-turning BFBF t-shirts, hats and more

Make a tax-free donation at our 'virtual bar'

Volunteer your time

Sign-up to get news about important brain cancer treatment breakthroughs
And please, share your photos, thoughts and comments with us on our Facebook fan page under "The Beer for Brains Foundation."
Why We Do It
Brain cancer is the second leading type of cancer in children under age 5 and the third-most common type in young adults. This year, 22,070 new patients in the U.S. will be diagnosed with the disease, and nearly 13,000 people – or slightly more _________.
RAREaffair A Beer For Brains Foundation Event