New York Adventure Club | www.AdventureClub.com
About this event
What do Rihanna, Anne Hathaway, Reese Witherspoon, and Crazy Rich Asians all have in common? Tucked away on the 7th floor of a building in the heart of the New York City Garment Center is a century-old business that has created fabric flowers for everyone including A-list celebrities and film & television productions. Now's your chance to visit the historic facility where they're all made, one individual flower at a time.
Join New York Adventure Club for a private exploration of M&S Schmalberg, a fourth-generation family-owned business in Manhattan's Garment District that has been hand-making custom fabric flowers for over 100 years.
Led by one of the company owners, our unique experience with the last custom flower maker in New York City will include:
An overview of the artificial flora industry, and how fast fashion and offshoring have affected the niche fashion craft
The history of M&S Schmalberg, from brothers Morris and Sam Schmalberg starting the business in 1916, to becoming the premier fabric flower makers for top fashion designers including Oscar de la Renta, Ralph Lauren, and Marc Jacobs
A private tour of the historic factory to see the fabric flower process from beginning to end — from cutting out the fabrics in a myriad of different designs, to hand assembling petals into tulips, carnations, or other varieties
A live demonstration by the company's veteran artisans of the century-old cutting machines and custom-made hydraulic presses still in operation
Afterward, you'll have the opportunity to shop for your own custom-made M&S Schmalberg fabric flowers (at a steep discount), and even go home with a stylish piece of history!
Click here to read a featured article of M&S Schmalberg in The New York Times!
Click here to see pictures from one of our last visits to M&S Schmalberg!
See you there!
*This experience is only conducted on weekdays when the factory is in operation
**Guests are encouraged to bring photos of clothes or dresses they want to pair with a fabric flower so the M&S Schmalberg staff can assist with finding the perfect match after the tour concludes
***Due to COVID-19, wearing a mask is required for this indoor tour
Disclaimer
By attending a New York Adventure Club experience, you accept our terms of service.
Categories: In-Person, Factory & Facilities Tours
Organizer of Rare Look Inside M&S Schmalberg, NYC's Last Custom Fabric Flower Factory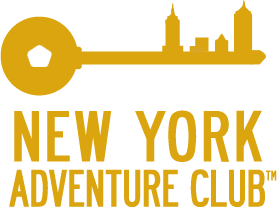 NEW YORK ADVENTURE CLUB
Unlock Your City
We give you insider access to the city's best-kept secrets. But we're so much more than a tour company.
WHO WE ARE

We are a community-driven club that curates the most unique experiences in town, with a focus on history and storytelling. We show you a city you never knew existed, and offer a community you can't live without.
You won't find our special-access tours and exclusive events anywhere else. Think after-hours tours of New York City's most celebrated spaces, themed parties in unexpected locations, and weekend excursions to incredible destinations. All of our events end with social hangouts so you can meet people who love exploring as much as you do.
THE 'CLUB' IN NEW YORK ADVENTURE CLUB

Our current community is more than 23,000 members strong and includes everyone from recent NYC transplants to lifelong residents. Whatever borough you're from (or city or country, for that matter), we'll make it easy for you to take full advantage of the unique places and great people this city has to offer.  
WHERE WE GO
To ensure a one-of-a-kind experience each and every time, we handpick events and outings specifically for the New York Adventure Club community. Recent events include:
* An after-hours tour of New York City Hall
* Special access into some of New York's most coveted private social clubs, including the Explorers Club and National Arts Club
* Petting baby kangaroos, holding sloths, and feeding leopards at Staten Island Zoo

* An NYPD Precinct tour, including a meet-and-greet with detectives and Emergency Service Unit crew members
* A tour of the Polish Consulate led by the Consul General and Vice Consul General of Poland

* A special-access tour of Brookhaven National Laboratory and its Relativistic Heavy Ion Collider (RHIC)
* A Halloween party in a historic gothic crypt, complete with a five-piece brass band
Subscribe with our newsletter to get the inside scoop on the city's most interesting events: http://eepurl.com/1cnVH
Unlock Your City with New York Adventure Club