About this Event
For any wheelchair or ADA needs, please contact the Box Office in advance of the performance at (202)-769-0122.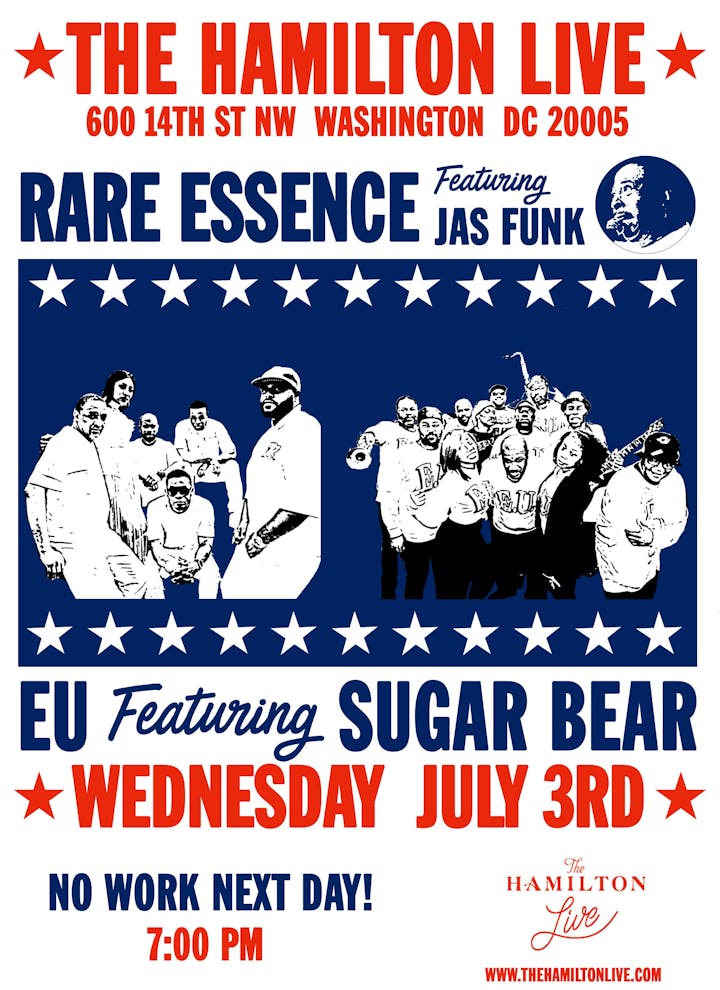 Rare Essence, Washington's premier Go Go band for more than four decades is a DC institution that has built a devoted fan base that spans multiple generations, drawn to the indigenous funk sired in the mid '70s bythe late Godfather of Go-Go, Chuck Brown.
Rare Essence would be one of Brown's earliest, and have remained his most enduring progeny, with a consistently combustible live show honed through countless performances in the Washington region. Go-Go thrives live and that's where reputations, and legacies, are cemented. As the Washington Post noted in a 2010 review, "....this band has performed more than 5,000 times. Like so many Rare Essence concerts, it's easy to believe you're seeing the best one."
Little wonder they were dubbed "The Wickedest Band Alive" by rap pioneer Doug E. Fresh, who has collaborated with Rare Essence, one of many artists to incorporate Go Go's percolating percussion, and some of its key players, into their own recordings.
Rare Essence first came together in 1976 when a group of elementary students at St. Thomas Moore Catholic School in Southeast Washington gathered after school and started playing the then new, as yet unnamed, music (Go-Go's breakthrough chart topper, Brown's "Bustin' Loose," was still three years away). The band was kept on track by several no-nonsense moms. Drummer Quentin "Footz" Davidson along with guitarist/vocalist Andre "Whiteboy" Johnson, bassist Michael "Funky Ned" Neal and trombonist John "Big Horn" Jones and, calling themselves the Young Dynamos, jammed on Top 40 hits by that era's funk and soul masters, earning their initial show stripes on the city's recreation center circuit.
Changing its name to Rare Essence, the band expanded its lineup and as teens started playing on a thriving Metro Go-Go circuit that included Maryland and Virginia. They built a huge following, and a reputation as one of the city's top Go-Go bands, through spirited battles with the likes of Chuck Brown, Trouble Funk, Junk Yard and EU (Experience Unlimited), putting on marathon shows that might run until 5 a.m., stacked sets seamless and unending. Rare Essence quickly developed into the city's most powerful Go-Go band, performing six to seven nights a week.
The 1987 video "Go Go Live at the Capital Centre" captured the first time that venue hosted an all go go lineup, with Rare Essence, Chuck Brown, EU and others drawing 14,000 enthusiastic fans to what was then the area's largest concert and sports arena. Rap stars learned early on the dangers of sharing a bill with Go Go acts and their big live band energy.
Over the years, many great musicians have been part of Rare Essence, with several going on to form their own bands, including Little Benny and the Masters. A 30th anniversary concert featured close to 30 musicians associated with the band.
They have performed with Run DMC, Wale, DJ Kool, LL Cool J, Doug E. Fresh, Biz Markie, Ice Cube, Heavy D and the Boyz, Wu Tang Clan, Redman and Method Man, French Montana, Scarface, TLC, Eric B and Rakim, YoYo, Shabba Ranks, The Roots, Erykah Badu, Thievery Corporation, KRS-1 not to mention Chuck Brown, Trouble Funk, The Junk Yard Band, & EU. While no two shows are alike, music lovers new to the Go-Go experience and Rare Essence sound will quickly feel at ease among an allegiance of loyal fans chanting along to hits like "Lock It," "One On One," "Hey Buddy Buddy," and the ever popular "Overnight Scenario," which is covered by Fantasia all over the country.
Also lovingly known by fans as RE, "The Inner City Groovers", or Essence (if you are from DC), you can't help but know who "The Wickedest Band Alive" is and that you gotta be there to experience the party in person!
About EU
EU (Experience Unlimited) is one of the original Washington DC Go-Go bands. Fronted by founding member Gregory "Sugar Bear" Elliott, the original members all attended Ballou High School in Washington, DC. The band chose the name Experience due to their respect for the Jimi Hendrix Experience, and Unlimited because they did not want to limit the range of their music. Their early regional hits included EU Freeze, Lock Your Butt, and Knock 'Em Out Sugar Ray. Although they are best known for their Grammy nominated, massive worldwide hit Da-Butt from Spike Lee's "School Daze" soundtrack, EU scored hits with Salt & Papa (Shake Your Thang), with rap innovator Kurtis Blow (Party Time), and on their own with Buck Wild and Taste of Your Love. Da Butt won Soul Train's best R&B/Soul Single, Group in 1989.
EU has performed with Teena Marie, Morris Day and The Time, Mint Condition, Cameo, and countless others. They performed on a show with Bob Dylan in 1989, one of Sugar Bear's career highlights. EU released the hit Umm Bop Bop in 2000. They dropped the single Bounce in 1999, garnering extensive airplay. EU appeared in the tribute DVD to Chuck Brown, Put Your Hands Up in 2002 (called quite possibly the best live concert DVD ever made by Murder Dog Magazine) with a brilliant set of live music, featuring a percussion showdown between Ju Ju House and Mighty Mo Hagans, along with blistering renditions of EU Freeze. Dog Star, Da Butt and much more. In 2003, EU performed to a national audience on the televised NAACP Awards' Tribute to Spike Lee. EU has been featured in 2009 in VH1 one hit wonders of the 1980's. Sugar Bear received the Legend Award at the second annual WKYS Go-Go Awards in 2007. Sugar Bear also teaches special education at TC Williams.
Performers
Date and Time
Location
Refund Policy